Quick-service, or fast food restaurants won big in the Outdoor category at the 2018 Cannes Lions International Festival of Creativity. While QSR is a high-spend category for OOH in the US, with $212 billion in ad spend last year, agencies for Burger King, KFC, and McDonald's won multiple Outdoor Lions for campaigns around the world, including the Grand Prix.
Jury president Chris Garbutt, Chief Creative Officer at TBWA, said the jury had been deliberating until 1:30 am.
"I think the best outdoor [work] stops you in your tracks and it telegraphically pulls you in … and transcends language, in a way," he said.
McDonald's
McDonald's and its agency Cossette (Toronto) earned the coveted Grand Prix Lion for the Follow the Arches campaign. Cossette created billboards based on the McDonald's logo, directing drivers to follow the curves of the "M" in the arches in whichever direction they need to go.
Garbutt called McDonald's work Cossette "pure and iconic."
"I think there's a difference between good and great, and great and iconic, and I think this piece, because it's so simple, elevates itself right to iconic," he told Strategy. "I think when you're an iconic brand like McDonald's, you should behave iconic and in a confident way. We were very aware of not over-indexing on work that was just trying to stand for a cause. It was refreshing to see brands just doing work that was a great idea, that encouraged people to simply go to a McDonald's. It was unashamedly simple and cunning."
DM9DDB in Sao Paulo, Brazil, won a Silver Outdoor Lion and a Bronze for the McDonald's Instagram Menu campaign. The agency tracked real photos on Instagram that people shared tagging McDonald's profile or the product's hashtags. The photos were streamed in real time to the new digital in-store menu screens in five Sao Paulo restaurants. As a result, tagging increased by 58.5 percent.
https://www.youtube.com/watch?v=NQzbY4B7oCM
In the US, We Are Unlimited (Chicago) won a Silver Outdoor Lion and a Bronze for McDonald's The Flip. To honor 60 percent of its managerial staff – women – on International Women's Day, the restaurant inverted its iconic Golden Arches signs to a "W." Watch the video entry.
https://www.youtube.com/watch?v=3p8NU3PfByU
In Switzerland, TBWA (Zurich) earned a Bronze Outdoor Lion for McDonald's Find Happiness campaign. These OOH ads featuring McDonald's icon Happy Meal box hidden among other symbols of fun for children — balls, balloons, and wood blocks.
Burger King
Lola Mullenlowe (Madrid) won three Gold Outdoor Lions, one Silver, and two Bronze for Burger King's Scary Clown Night campaign. Burger King trolled its competition, and its iconic mascot, by offering free Whopper sandwiches to anyone dressed as a clown on Halloween. The campaign, which included social media video and traditional OOH, involved 35 countries in a coordinated effort with more than 1,500 restaurants, resulting in a global sales increase of 15 percent.
Germany also jumped on the clown bandwagon, but in this case, Grabarz & Partner (Hamburg) used the popularity of Stephen King's "IT," a remake of which hit theaters last year. Immediately following the film's German pre-premier, cinema ads told viewers to "never trust a clown" before the credits ran. A video of the activation quickly became Germany's most watch, liked, and shared the online film. The Loving "IT" campaign earned three Silver Outdoor Lions and three Bronze.
To round out Burger King's efforts to troll their top competitor, DAVID (Miami) launched a global OOH campaign to point out most people prefer flame-grilling, including McDonald's employees. In the McMansions campaign, public images from actual properties that belonged to former McDonald's executives, each featuring a flame-grill in the backyards, were featured on billboards in multiple cities. The message: even the competition prefers it the Burger King way. The campaign won two Silver and one Bronze Outdoor Lions.
KFC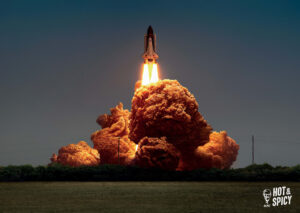 For its KFC Hot & Spicy campaign, Ogilvy (Hong Kong) won five Gold Outdoor Lions and two Silver. In its OOH ads pieces of friend chicken seamlessly replaced fireballs in real-life photos to bring to life the product's fiery taste.
In the July 7 special issue of OAAA's Outlook, all top OOH winners from Cannes and other creative awards programs will be compared and analyzed.
All Cannes winner can be reviewed here.
Post Published June 25, 2018