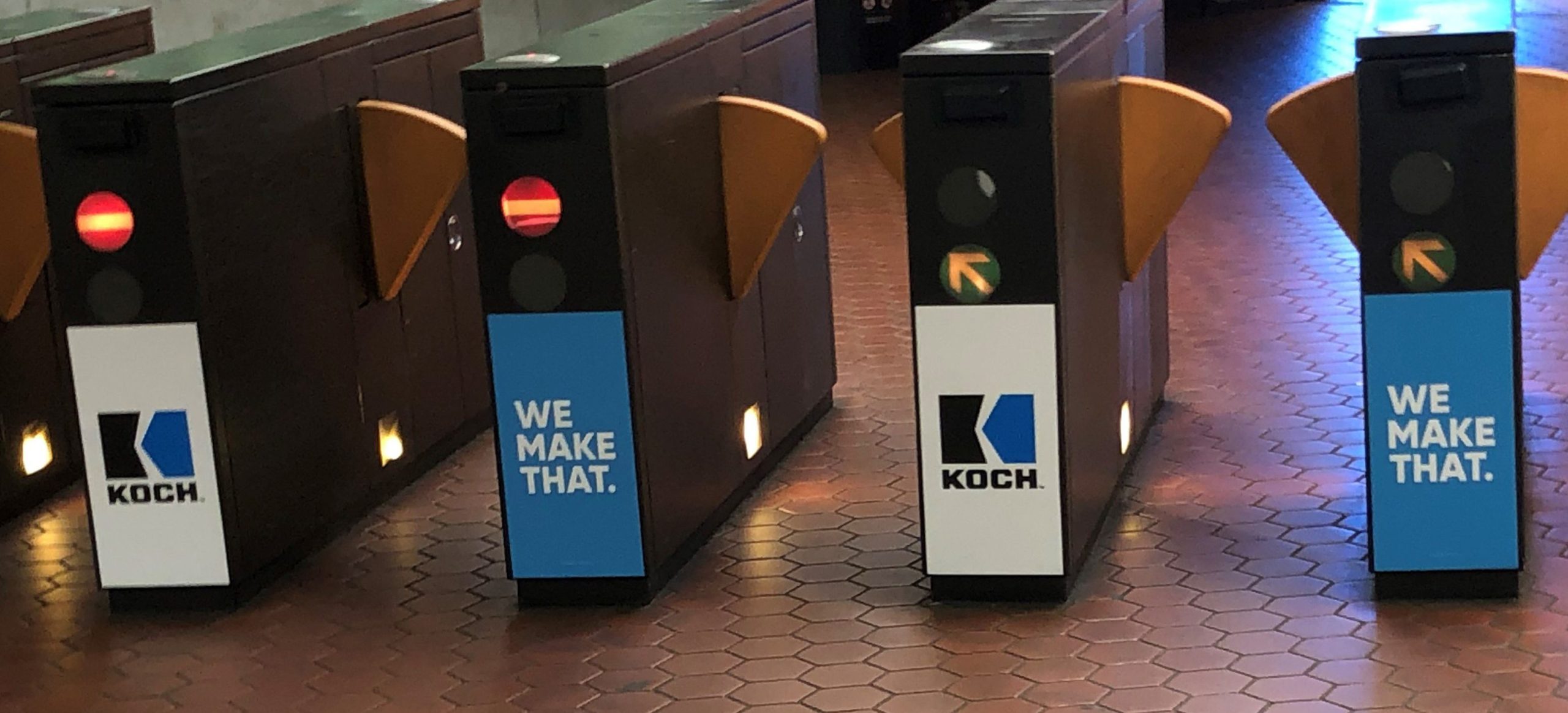 Thousands of congressional staff and lobbyists – key influencers in the nation's capital – commute through a transit domination station currently sponsored by Koch Industries.
Above ground, not far from The White House, an innovative bus shelter ad displays a digitized National Debt Clock.
Proximity to power is an elixir that drives advocacy advertising in Washington, DC, and places like it. Advocacy pitches are an important revenue stream for publishers, broadcasters, and out of home (OOH) media near the center of power (OOH was up 7 percent in the United States in the third quarter).
On the day the US House voted on impeachment (December 18), the print edition of Politico ran six full-page advocacy ads:
AARP on the medical-expense deduction
United Mine Workers on retiree benefits
National Association of Manufacturers on drug pricing
C-Band Alliance on spectrum
A consortium of groups for federal testing and regulation of CBD (cannabidiol)
A coalition on health insurance taxation
The next day, The Hill printed a two-page ad from the American Lung Association on Medicaid funding and a full-page ad placed by Jewish Voice for Peace criticizing President Trump's Executive Order on antisemitism.
The goal of the Koch corporate ad campaign is to explain the conglomerate beyond the well-known conservative political identity of its leaders.
"Among some people, there's a misperception about Charles and David Koch, and while this [ad campaign] won't directly address those misperceptions, it will fill in the blanks a little bit about Koch and about what kind of company our shareholders lead," Steve Lombardo of Koch Industries said in 2018.
David Koch, 79, died in August.
Some 10,000 people work for the US House of Representatives, more than half in Washington, DC. A key chokepoint in their daily travels is the Capitol South metro stop near the Cannon, Longworth, and Rayburn House office buildings. Omni-present Koch ads remind this target audience that the sprawling company makes durable fabrics, glass, 5G connectivity, plant nutrients, and more:
Transit agencies turn down some ads. Last year, a federal appeals court upheld Washington's transit system's refusal to sell Christmas-themed advertising to the local Archdiocese.
In promoting ridership, Metro's own ads promote the environmental advantages of transit. In downtown Washington, DC, the Peter G. Peterson Foundation reminds pedestrians of the $23 trillion national debt. As part of its multi-city debt-clock campaign announced in late September, the Peterson Foundation is updating the debt on out of home media.
A high-tech bus shelter shows the ballooning debt. Throughout the capital city – on digital bus-shelter posters — the federal traffic safety agency warns drivers not to text and drive. Environmental advocates criticize Arctic drilling, in this example near the high-volume Farragut North metro stop. Globally, advocacy advertising is attracted to power. In central London, a group called Justice 4 Grenfell paraded three truck-side billboards to push for government action after the deadly Grenfell Tower fire.
An iconic three-part message – modeled on the award-winning "Three Billboards" film by Irish-British director Martin McDonagh – posed questions seen around the world:
71 Dead
And still no arrests?
How come?