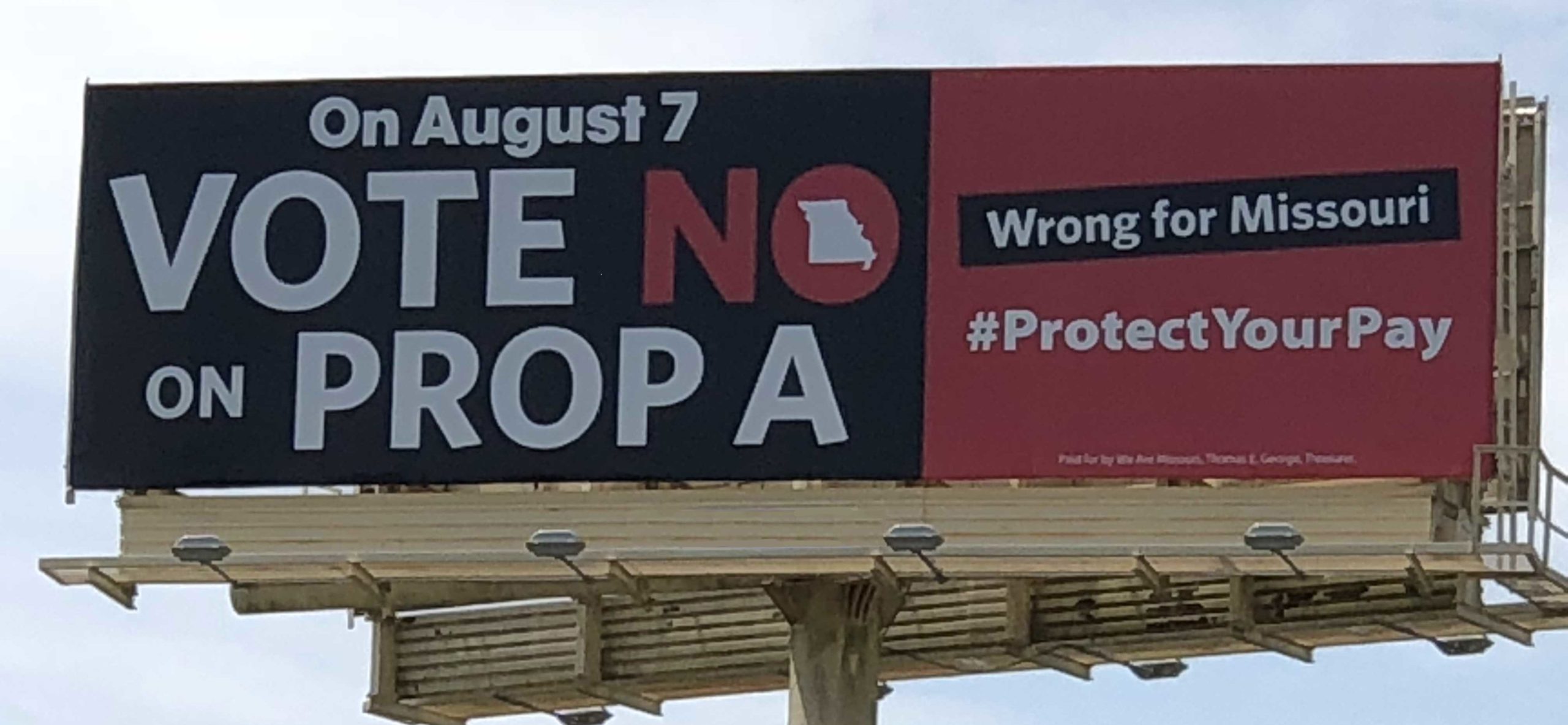 OOH media companies with locations in the following states, may find additional opportunity as the countdown to the November elections continues.
Enormous US Senate race ad spend is occurring in these 13 states with digital, TV, and radio receiving the majority of the spend. However, TV and radio can only offer limited inventory available on a discrete number of outlets, which translates to even more ad scarcity and much higher ad rates for congressional and other down ballot races and initiatives.
Historically, OOH's political ad spend strength has come from more local races, so it's important that campaigns are made aware of the viability of OOH as part of their media strategies. The billboard ad above, from an issue campaign in Missorui this summer, helped defeat the proposition. Other case studies are available in OAAA's OOH Political Primer along with valuable insights on positioning OOH to candidates and campaigns, including the top ten benefits OOH offers:
ALWAYS ON – BREAKS THROUGH CLUTTER
Cannot be delayed, skipped or turned off, and produces highest levels of recall.
BUILDS AWARENESS & BRANDING/NAME ID
Builds awareness rapidly with BIG larger than life, bold impact. Strong potential to create conversation and controversy leading to additional exposure on social media and other free media, significantly magnifying audience impressions.
AMPLIFICATION & VALUE
Improves all media investments by increasing the reach of all channels, including TV and digital. Pure ad play, no programming or editorial content, so not disrupted by audience fragmentation like other media. Offers some of the lowest CPMs, and tied for #1 in consumer ad favorability.
TARGETING
Targetability by geographic location or by key demographic groups with OOH ratings.
SPEED AND FLEXIBILITY
Digital OOH offers instantaneous updating of message, and ability to make changes as much as needed.
ENHANCES DIGITAL
Increases ROI for search 40%, more efficient at driving online activation than all traditional media and banner ads, and can increase internet reach by more than 2X in the afternoon.
MOBILE ENGAGEMENT
Greatest level of engagement with consumers in the important half hour before key mobile activity such as search and social media activity.
REACHES HIGH PROPENSITY VOTERS
Over-indexes with some of the most likely voters – adults 25-54, HHI $100K+, those with advanced degrees.
REACHES DIVERSE VOTERS
OOH reaches voting minority blocs – over-indexes with Blacks and Hispanics.
REACHES YOUNG VOTERS
Adults 18 – 34 are the segment most heavily engaged with OOH media.
Ad Age's Datacenter and Kantar Media's Campaign Media Analysis Group have partnered to examine TV (broadcast, cable and satellite) and radio political advertising for key midterm battlegrounds in congressional and gubernatorial races. Here's their summary of what's been spent on US Senate seats from late April through Election Day 2018, including both spending YTD and advance bookings, which totals $498.4 million on TV and radio advertising. That eye-popping figure only represents the 13 major Senate races, and these races are already the most-costly midterm Senate TV-radio advertising battles in history.
SOURCE: Kantar Media/CMAG. Spending includes broadcast TV, local/regional cable and satellite TV, radio and Spanish-language local TV from April 26, 2017, through Election Day (including advance bookings) as of Aug. 30, 2018. Numbers rounded. For each state, (D) or (R) on first line indicates whether seat is currently held by a Democrat or Republican. Spending shown on map excludes $4.0 million in other spending (mostly advertising by advocacy groups that doesn't explicitly support a specific candidate or party).
Over half of the $498.4 million Senate races total is allocated to be spent in just three states—Florida, Missouri and Nevada. Florida is at the top of the list with $128.5 million in spend.
Ad Age's Datacenter and Kantar Media's Campaign Media Analysis Group will also be issuing data on spending for key U.S. House of Representatives and gubernatorial races, so watch for those important updates.