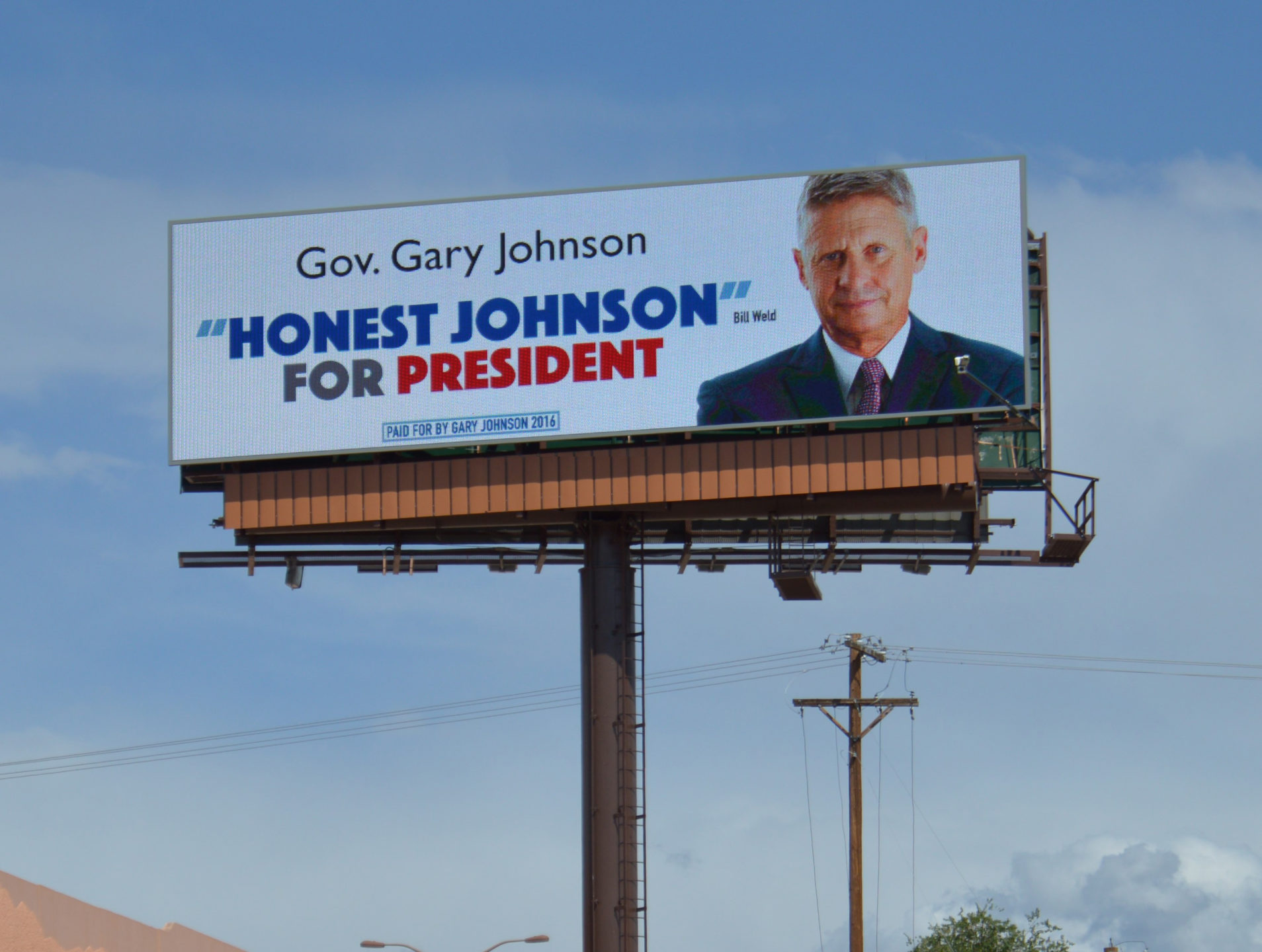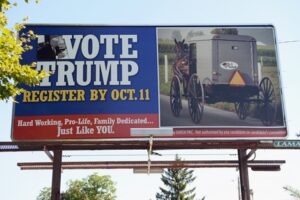 In election years, when the press reports record spending (again) on political advertising, out of home (OOH) media companies wonder why they don't get more.
In 2014, the OOH share of political ad spend was 1 percent, up from 0.8 percent in 2012, according to data from Kantar Media. Even in the midst of massive digital growth, the lion's share of political advertising goes to TV.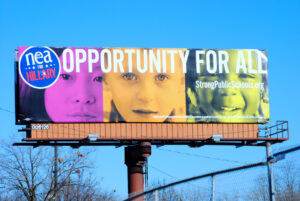 Why is the political category a challenge and an opportunity, and who's buying OOH in this election?
Based on pitch meetings I've seen, selling out of home to political buyers can be a challenge because:
Inertia. Political buyers bought TV the last time.  Placing TV ads is quick and profitable.  And the other side is buying TV.  Political buyers are buying Facebook and Google ads; it is easy; the other side is doing the same thing.
Buyers aren't up to speed, that OOH is easier to buy and faster to install. Some cite evidence of a disconnect:  We tried to buy billboards for the Iowa Caucus; they said we could get on the boards after the Caucus.
Some OOH sellers worry about controversy. Political buyers love controversy.
That said, this category is an opportunity because:
Big signs create noise and news. Political buyers put a premium on "earned media," or free media, generated by advertising.  An Amish political action committee bought pro-Trump posters; the publicity was global.
TV is fragmented, expensive, and sold out in some battleground markets.
OOH is nimbler, it reaches voters outside the home, and it connects to social and mobile.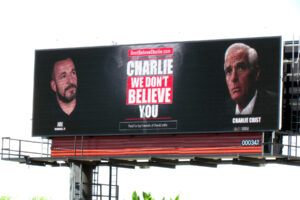 2016 Examples
These examples showcase the opportunity, as well as the thinking of those who are buying OOH.
In Florida, a competitive congressional race in St. Petersburg/Clearwater features innovative creative on digital billboards.
In northern Nevada, Congressman Mark Amodei runs his campaign for re-election, personally directing the media mix:
Mark Amodei, R-NV
No TV, which the candidate says is fragmented. Plus, a competitive US Senate race in Nevada and the presidential race are "sucking air time."
No direct mail, which amounts to an expensive throwaway item, Amodei says.
Online ads are his No. 1 expenditure
Digital billboards are a close No. 2
Some radio
"What sold me (on digital billboards) is the feedback," says Amodei. "I get nothing but good feedback."
Two other attributes please him.  Digital billboards are easy, with no production.  Plus, they project a clean, sharp, modern image for his campaign, he says.
Amodei's re-election campaign is buying five digital billboards in Reno and Carson City (from August 4 to Election Day, November 8).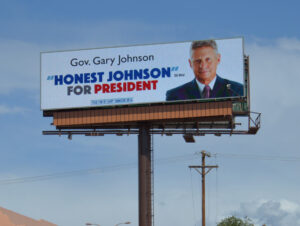 Meanwhile, the Lamar Advertising office in Reno noticed a new political customer this year:  the Libertarian candidate for President, Gary Johnson.
"Gary Johnson continues to build momentum with the help of digital OOH," says Matt Strohfus, Lamar-Reno.
On September 13 Johnson was added to the ballot on all 50 states, the first time a third candidate has been added in more than 20 years.
The buyer is Evan Twede, who has been placing media for Gary Johnson for 25 years.  Johnson, a former governor of New Mexico, is running for President with Bill Weld, a former governor of Massachusetts.
From his small ad agency in Sandy, UT, Twede buys radio and digital billboards, lots of them.  He wants voters to hear and see his client.
"We're up in 10 markets (on digital billboards)," Twede said on September 9, "and we will be in 14."
Content on Johnson for President boards changes constantly, promoting the times and locations of campaign events and delivering messaging.

Twede summed up the appeal of digital billboards calling them quick and affordable.
Factoids: Political Ad Spend
The doomed Jeb Bush bid for the presidency put its money into TV and radio ($80 million combined from the Bush campaign and pro-Bush groups).
By the summer of 2016, overall political ad spend was tracking 122 percent above 2012 levels.
Political customers will buy more than $1 billion in digital ad space (online, mobile) this election, compared to a trickle in 2012, according to Borrell Associates. Media analysts say Facebook and Google will get the biggest share of that billion.
Originally published in Billboard Insider.