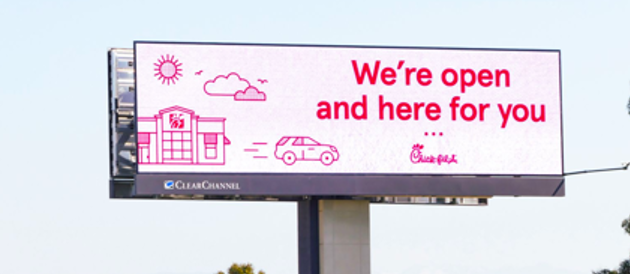 On June 16, Anna Bager, President and CEO of the Out of Home Advertising Association of America (OAAA) sat down with Scott Wells, CEO of Clear Channel Outdoor Americas (CCOA) for an engaging and oftentimes surprising conversation about Out-of-Home (OOH) advertising and brand safety during the Virtual Brand Safety Summit New York hosted by The 614 Group. The following is an excerpt from the discussion.
AB: Scott – It's such a pleasure to be here with you today. With the nation starting to reopen and consumers starting to resume a more normal lifestyle, we know that OOH is going to be one of the mediums brands turn to first as they seek to reengage with consumers. From a brand safety perspective, OOH has several unique attributes that serve brands well including (1) control of the medium and creative; (2) the ability to amplify other media channels; (3) The ad itself is the content so you can't block it and (4) there's no fraud.
I'd love to dive into this topic with you as well as discuss how OOH has been working with brands through the current pandemic. And I know you're as optimistic as I am about the opportunity for OOH in the weeks and months ahead, so I want to talk to you about that, too.
SW: Anna, it's great to be here and I agree with you that this is a fascinating time to be in advertising and a particularly exciting time to be in OOH. Many people don't realize how sophisticated OOH data analytics are these days, and we have some really interesting observations to share with you about consumers' change in behaviors over the past few months.
AB: I can't wait to hear. So let's dive right in. Clear Channel Outdoor (CCO) has always played a vital role as both a brand and community partner. In late Feb/early March as COVID-19 was quickly becoming a major health risk, your company was among the first in the industry to step forward offering its team, its services and its media to help health professionals at the local, state and federal levels. What role did Clear Channel seek to play during these early days of the crisis and how have your brand and community support evolved as the situation worsened and shelter in place orders were issued?
SW: Early days were about public awareness for hand-washing, covering your mouth – it was what we knew at the time given guidance and direction from the CDC. As we learned more, the term "social-distancing" was coined and we worked with the Ad Council and the CDC on a campaign called #AloneTogether—which encouraged everyone to stay home and was the on-ramp to instructing people to practice "social distancing." The creative went live in under 48 hours.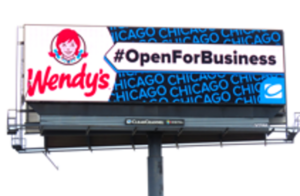 Next, as non-essential workers holed up safely inside their homes, we turned our attention to those frontline workers like grocery workers, truck drivers, warehouse workers and nurses who couldn't just "stay home." And we wanted to send a message to them that we valued what they were doing for us all. As the situation progressed even further, we turned our attention to our valued brand partners who remained open as an essential business during the pandemic. We then created the #OpenforBusiness campaign as one more way to support them during this challenging time. Over 60 brands ended up participating. Our local and national business partners are the lifeblood that drives our economy.
AB: This was, and will continue to be, a challenging time for brands as they work to "get their advertising message right" against an ever-changing tide of consumer sentiment, and, as they work to rebuild their businesses post-COVID-19. Talk about how you worked with your partners who stayed in the advertising game during this time to remain "on message" and "brand safe."
SW: Our partners are quite savvy and in-tune with consumer sentiment—and some even more so during this time. And our teams are too. I'd say what we were able to do as a consultative partner was work with them to leverage our full suite of tools for maximum impact during a very uncertain time where consumer habits, behaviors and travel patterns were in upheaval. One of those assets was leveraging the flexibility of our digital displays at a time when each state and market were in a different stage of "shelter in place."
AB: I love the juxtaposition of the Chic-fil-A and Eaze campaigns we discussed because the contrasts are great examples of the different paths brands took to get out the message that they were open for business. While Chic-fil-A was a more obvious essential business, Eaze seems, at a glance, more of a non-essential business, when in fact that wasn't the case. Talk a bit about the significance of Eaze remaining in the game, as essential, and staying "on brand."
SW: I thought this was nicely done on the part of the marketing and creative team at Eaze. While everyone can appreciate why QSRs like Chic-fil-A wanted to stay in front of consumers during lockdown, cannabis businesses were also deemed essential in many states across the country – and I'm sure many of their customers agreed! Eaze's OOH strategy illustrates how you can take a creative approach to advertising—even during a pandemic and still remain "on brand" and "brand safe."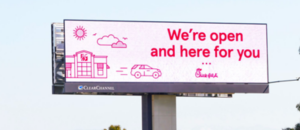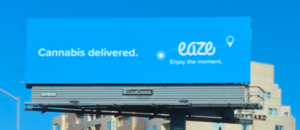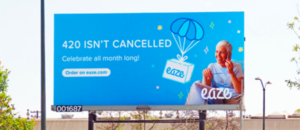 AB: I know that CCO has been hard at work using your measurement tools to try to uncover brand relevant changes in consumer travel patterns and behavior during the pandemic. Can you share some of what you've uncovered thus far? 
SW: Sure. We wanted to better understand consumer travel and exposure to billboards and their combined influence on in-store visitations during the COVID-19 pandemic, and we put CCO's RADAR suite of solutions to work to help get a clearer sense of how consumers were behaving. The big takeaway is that our research revealed that brands that continued to use OOH advertising during COVID-19 saw their in-store visit rates increase. More specifically, our analysis showed the average visitation rates to QSR, grocers and convenience stores during the pandemic were significantly higher after seeing OOH ads, and, in some cases, higher than pre-COVID visitation rates.
What data suggests is that while the crisis altered consumer travel behavior and patterns, OOH continued delivering for advertisers who maintained their ad spend. What this means looking forward is that coming out of the pandemic, advertisers will need to reach those customers who haven't visited their store since shelter in place orders were issued. And our tools are delivering the insights to help them identify those audiences and those new travel patterns.
AB: One final question. What's the biggest opportunity in OOH right now? From my vantage point, I  think another can be found in the OAAA study we just released that looked at Americans' travel plans for the summer. Americans are looking to travel in big numbers this summer and spend even more money than last summer while they're vacationing. We think this is great news for roadside, in particular, and many other forms of OOH. That's the opportunity – focusing on travel and vacation and all of the businesses that are buoyed by summer travel and supporting them with our assets – from hotels to national parks to restaurants and shopping.
SW: Ditto. We're excited by the opportunity for brands as the country opens back up and we can't wait to support businesses that cater to summer travelers.