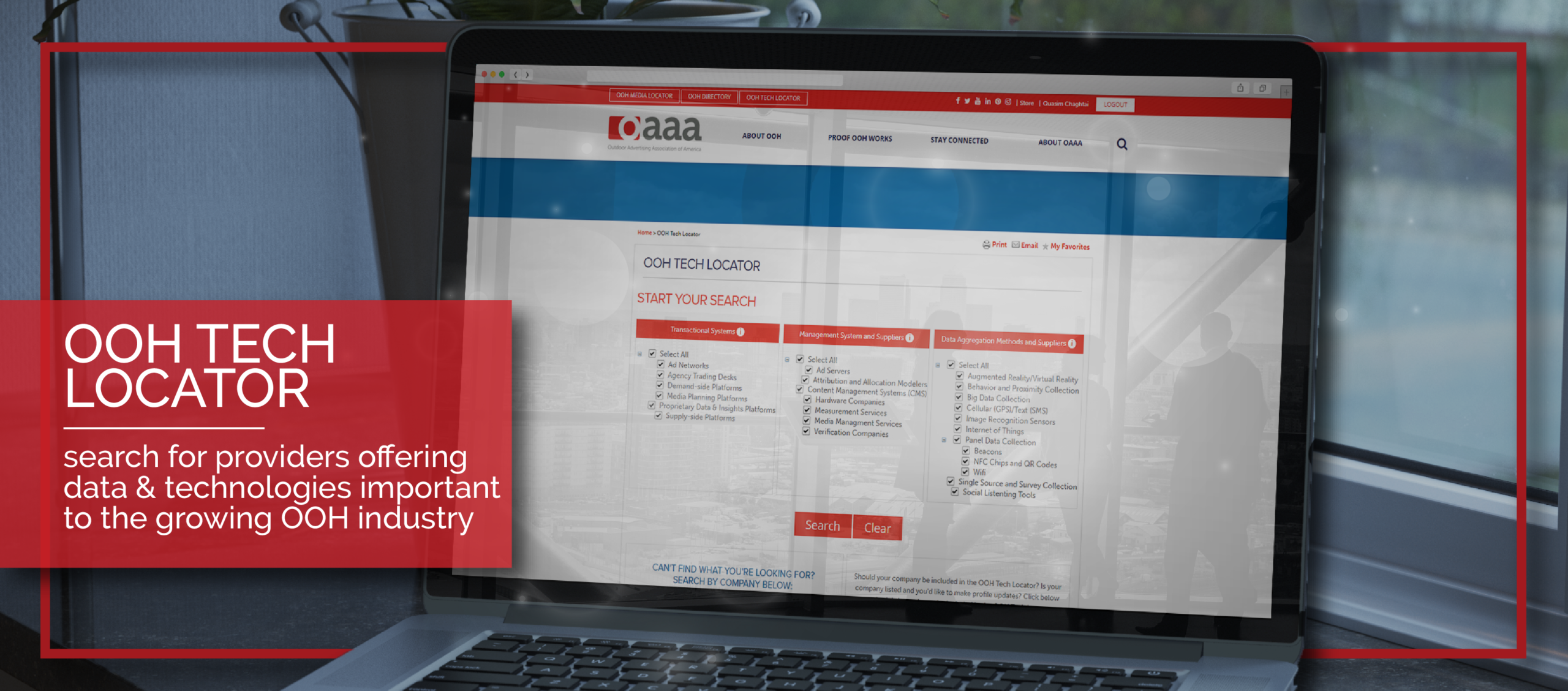 Access to rich data sources have and continue to transform the out of home (OOH) industry. Data allows OOH companies to strengthen bonds between brands and consumers, to improve targeting and ROI analysis, and to stay ahead of where consumers are heading. With continued development of connected networks and platforms, OOH is becoming a fully integrated partner in the broader media planning and buying ecosystem, making OOH more of a core medium than ever before.
Geo-targeting and enhanced audience measurement is producing deeper consumer insights while more data and better analytic tools deliver more expansive and accurate campaign performance metrics.
The change is occurring swiftly. Unfortunately, the pace of change has sometimes made it difficult for agencies and clients to keep up with all the exciting innovation happening in the OOH industry.
That's why OAAA has launched the OOH Tech Locator.
This easy-to-use online tool allows anyone the ability to quickly search for providers offering data and technologies important to the growing OOH business. The locator sorts providers by services and technologies, providing links to important information about products and services offered from OAAA's tech members.
The tool streamlines understanding about the OOH tech ecosystem, highlighting the three primary use cases for data:
Measurement data (the currency of OOH provided by Geopath)
Targeting data (used to more accurately pinpoint OOH audiences and where they go)
Attribution and ROI data (used to measure the outcomes of an OOH campaign)
The Tech Locator identifies data collection methods and suppliers, services that range from cellular suppliers to beacon manufacturers, social listening tools to single source survey collection. The tool also lists attribution modelers and ad servers, the major agency trading desks and ad networks active within the OOH industry.
With a growing number of data and analytics providers in the marketplace, the locator can help OOH buyers and sellers find the right partners. For example, the Tech Locator highlights prominent Demand-Side Platforms (DSP) and Supply-Side Platforms (SSP) operating within the OOH channel. A DSP is software that automates the purchase of OOH media for buyers. An SSP is software that automates the selling of OOH inventory offered by an OOH media company.
Finding the right DSP and SSP providers is only a small part of what the Tech Locator offers. Use the tool often to help your company expand its services to deliver better customer results.
Access the tool here.