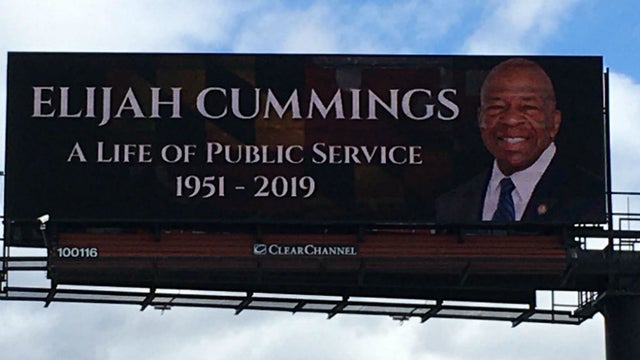 News about the passing of Rep. Elijah Cummings (D-MD) quickly spread across the internet, as admirers and constituents praised his accomplishments as a long-time public servant. Digital billboards in Baltimore, Cummings' hometown and congressional district, posted messaging to honor the Congressman.
A photograph of one of the billboards was spotlighted in political newspaper The Hill under the headline "Baltimore Remembers Cummings with Billboards." Online, this article has been shared more than 11,000 times.
Other efforts of public service and community support featured on OOH has recently made headlines across the country:
Tampa Bay, FL
A one-year-old girl made the evening news in Tampa Bay after she was featured in a nationwide digital billboard campaign created by OUTFRONT Media to celebrate children living with spina bifida.
Dayton, OH
CBS affiliate WHIO 7 in Dayton, OH, interviewed the daughter of a man in need of a new kidney. When she approached Lamar Advertising Company to purchase an ad seeking a donor, she was gifted space on nine digital billboards. Family-owned and operated Key-Ads, Inc. joined the campaign and donated billboard space.
Tanner Honenbrink with Lamar in Dayton told WHIO, "We always want to look for ways to reach out and help out the community."
After the billboards had been live only three days, Karen Huynh said seven people have approached her with offers to help.
Phoenix, AZ
Billboard ads in Phoenix aimed at sparking conversation about domestic violence are doing just that. Nonprofit Chrysalis posted simple messages as part of Domestic Violence Awareness Month, and according to the organization's leader, the response has been huge.
NBC 12's Nicole Zymek reported, "A local group put up eight of these billboards, and they've been flooded with calls ever since."
Trisha Klahr, President and CEO of Chrysalis, said, "We get referrals from the billboards and it just makes your heart go – it's working!"
Since the billboards went up, Klarh said, they've seen as much as a 30 percent uptick in traffic to their website (noabuse.org), phone calls to their crisis line, and traffic on their website.
"Some of the different emails we've received have been, 'I've seen your billboards time after time and I'm reaching out because I know I need help,'" said Klahr.