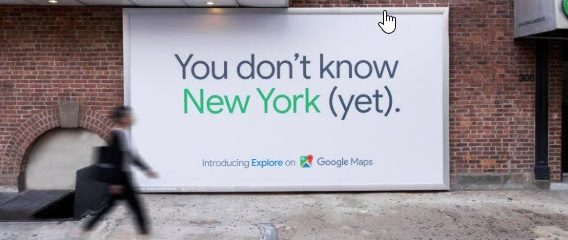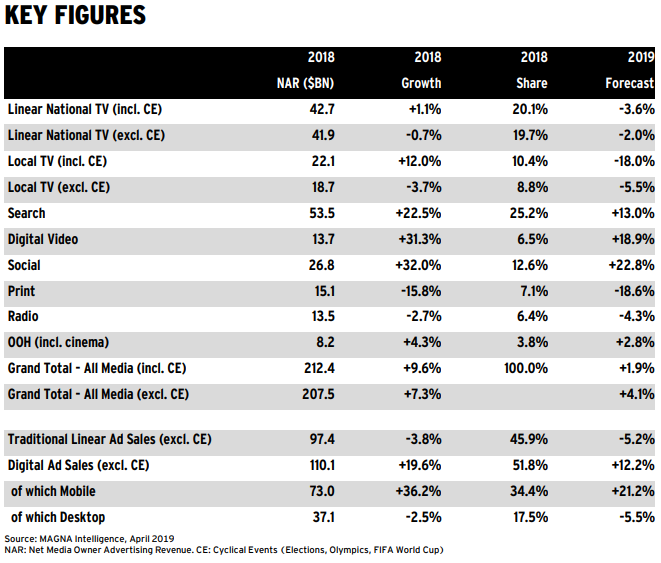 Driven by OOH and search, advertising sales in the US reached an all-time high in 2018, according to a new study by MAGNA. Advertising spending grew by almost 10 percent to $212 billion.
The best performers of the year, according to the report, were paid search (ad sales up +23% to reach $54 billion) and OOH, up 4.3 percent to $8 billion. MAGNA reports OOH's strong year is partly due to the huge increase of ad spend from the technology sector.
One entity showed record growth in both the supply side and the demand side of the ad market: Amazon more than doubled its advertising revenues in 2018, reaching an estimated $6 billion, to emerge as a real competitor to Google, according to MAGNA. Amazon increased its ad spending by 50 percent last year, to join the club of the 10 largest advertisers (#6 behind P&G, ATT, Geico, Comcast and GM). Amazon ranks at eighth on the list of top OOH spenders.
The fourth quarter of 2018 showed the strongest quarterly growth in 18 years (almost +12%). OOH had its best quarter in more than a decade, as ad sales grew by +8.5 percent, excluding cinema.
US Outlook for 2019
For 2019, MAGNA predicts US ad revenues to grow for a tenth consecutive year (2010-2019) to reach $217 billion. The rate of growth will slow down, however, to just +1.9 percent (or +4.1% excluding cyclical events), as the economic environment starts to cool down.
OOH is expected to grow by +2.8 percent as new digital screens are likely to attract brands from sectors like technology, luxury, and travel.
Around the World
According to WARC's Global Marketing Index, digital and OOH were the only media to see marketing budgets grow around the world in March 2019. Other media channels registered declines.
With a benchmark score of 50 points to indicate no change, digital (excluding mobile) budgets saw the quickest growth in March, with an index value of 65.5. Mobile budgets were close behind, at 65.2, and OOH showed an increase at 50.2.