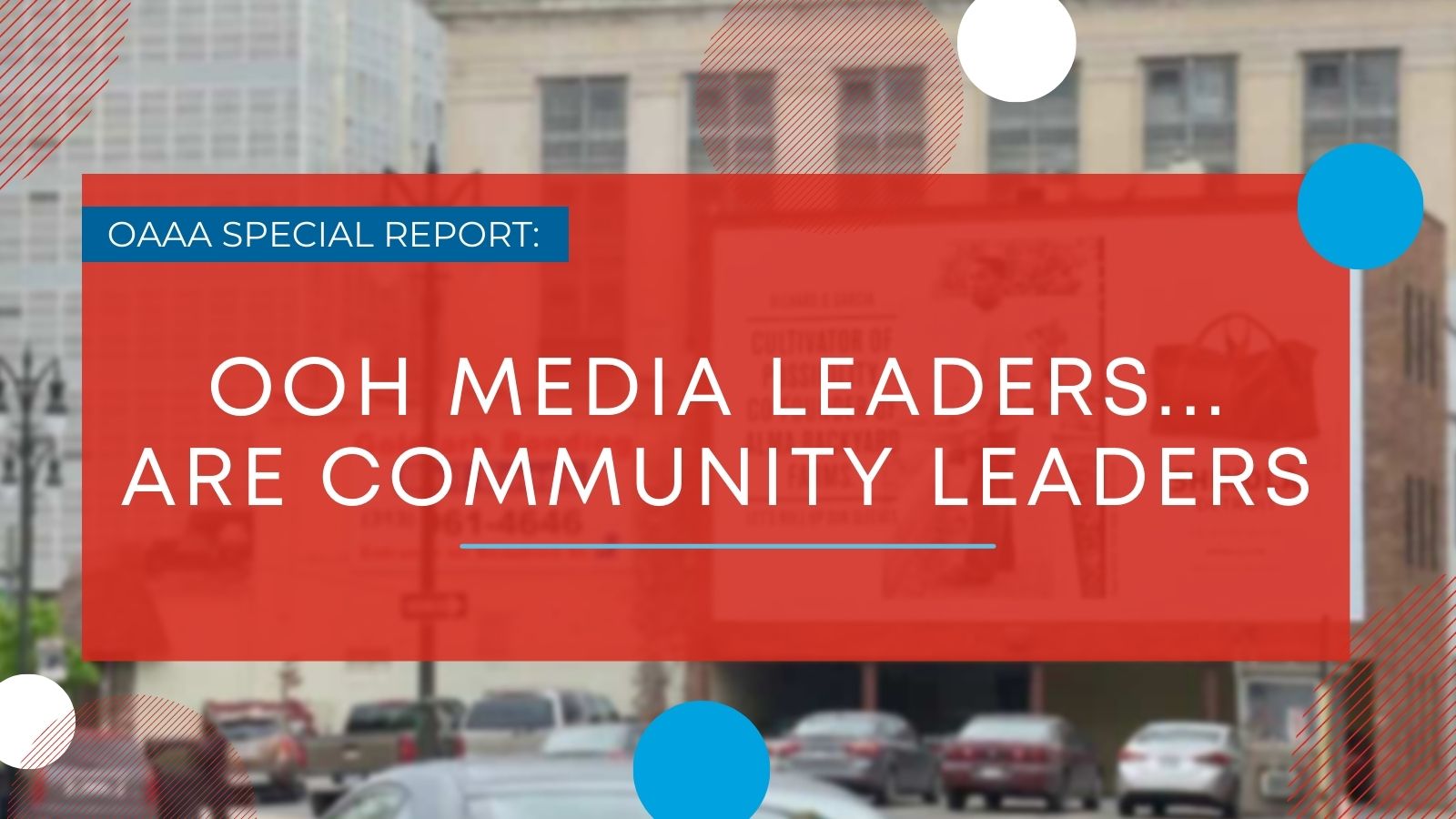 They feed the hungry, help the vulnerable, hold office, lead Chambers, and more.
Across America, out of home media leaders personify community-civic involvement. Here are some of their impressive stories:
For more than 10 years, Winter served on the board of the Manhattan Chamber. When he was asked recently to  step up as chairman, "I felt a responsibility to accept . . . in these difficult times when many businesses are facing enormous challenges, it is more important than ever to try to assist businesses."
The COVID-19 lockdown closed businesses, boosted unemployment, and reduced occupancy rates in New York's business districts. Recovery depends on a business-friendly environment and the Chamber can be an effective advocate, Winter says.
(Don Winter is a member of the OAAA Legislative Committee)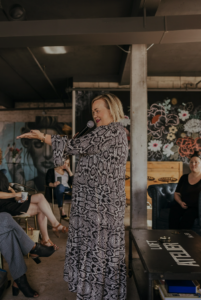 In Detroit, Candice Simons is community.
She runs Brooklyn Outdoor, based in Detroit with satellite offices in Chicago and Los Angeles (billboards, hand-painted murals, digital billboards, wallscapes, transit advertising, and more). When Simons returned to Detroit in 2013, she shared her discoveries about the Motor City online, via j'adore Detroit.
Then, literally, she brought the community to her . . . creating "The Loft" at Brooklyn Outdoor's headquarters, for special events and corporate networking. Simons utilizes the space to host workshops, panels, and events that serves and mentors a group of female entrepreneurs and aspiring small business owners.  Simons also donates the venue for female empowerment events such as the Lululemon "Worth 100" International Women's Day event and events and meeting for the Detroit chamber of commerce meetings, City of Detroit mayor's office and chief of police, non-profit organizations, Women's Business Enterprise National Council, supplier diversity professionals, and mentorship (including The Young People in Public Relations), and more.
Simons is a founding sponsor of Murals in the Market, an outdoor mural art festival in Detroit's Historic Eastern Market showcasing the power of out-of-home through art.
Singer-songwriter Paul Simon famously touted Detroit's connection to hockey ("Detroit, Detroit . . . Got a hell of a hockey team"); Simons supports Figure Skating in Detroit, an extension of the renowned Figure Skating in Harlem (nonprofits).
(Candice Simons is a member of the OAAA Marketing Committee and OOH United working for diversity, equality, and inclusion)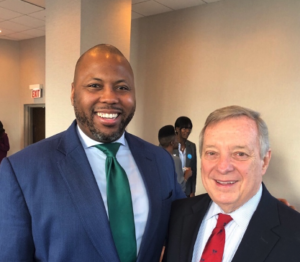 Kam Buckner, Vice President, OUTFRONT Media, Chicago
Kam Buckner was elected to the Illinois General Assembly in 2020. The vote was 41,804 to 1.
Buckner, a government-affairs VP at OUTFRONT Media, says his upbringing led to civic involvement.
"I am the son of a police officer and a teacher," he says. "My parents made it very clear to all of their children from a very young age that public service is the rent we pay to be on earth. It's that spirit that drove me to where I am. I've also been driven by my love for people and community and creating a better future for those who need it the most."
A board member of the South Side YMCA and the Getting Grown Collective, Buckner started as an intern for US Senator Richard Durbin, D-IL.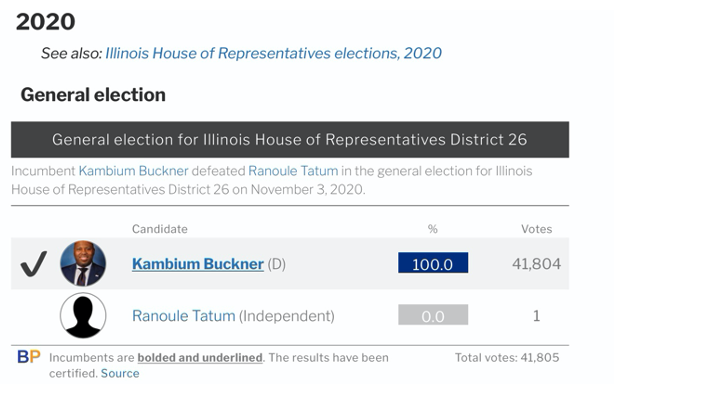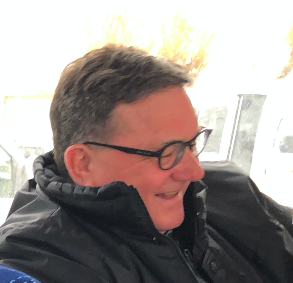 For 12 years, Zukin has been president of The Dalles Community Meal.
This volunteer group (no paid positions, no government money) of churches, civic-service organizations, pastors, and families has been serving free hot meals on Friday, Saturday, and Sunday evenings since 1983.
"I was invited by a friend to help prepare a meal," recalls Zukin. "It just struck me that this group was meeting one of the basic needs of all humans: food. The simplicity and pureness appeals to me."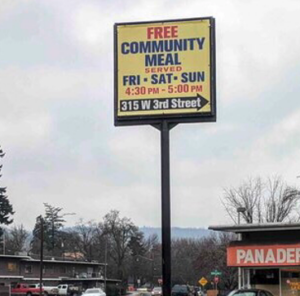 Chris and Judy Zukin prepare the meal about once a month. His favorite menus features smoked pulled- pork sandwiches. Meadow Outdoor Advertising provides a sign: "FREE COMMUNITY MEAL."
This year, Meadow Outdoor was ranked the best small company to work for in Oregon by Oregon Business.
(Chris Zukin is a member of the OAAA Safety, Standards, and Technology Committee).
Swygert says the mission for him and his team is to deliver results to their company while being active community partners.
In Orlando, Swygert's recent community involvement was front-page news. Swygert is President of The University Club of Orlando, a volunteer leadership position. Swygert and his board decided to acknowledge (in a public way) the club's past racial and gender exclusion, honoring those who were barred from club membership decades ago (a judge, newscaster, and cameraman) with honorary lifetime membership.
The University Club's membership and leadership have been diverse for decades, but that wasn't enough, said Swygert.
"Yes, we can say, 'look at our board because our board is very diverse,' but to actually acknowledge it and not ignore it (the past), to me sends the signal that we're doing the right thing," Swygert said.
After the club honored those who were once excluded, an ex-professor asked bluntly via social media: why did it take so long?
Swygert thanked the professor emeritus, saying the Club's restrictions had been changed long ago. "Our leadership felt taking this action and being intentional was the right thing to do during these challenging times. We want to do our part, and proud to be inclusive," he responded.
The critic replied to Swygert: "Commendable."
(Craig Swygert is immediate past chair of the Florida Outdoor Advertising Association)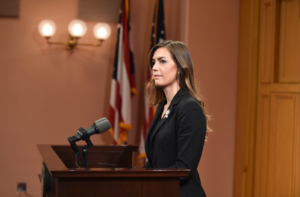 Powell, R-OH, Re-elected to Ohio House in 2020 with 76 percent (District 80).
Named to Forbes 30 Under 30 list (Law & Policy, 2019); Forbes published her story:
"Jena Powell sold her first company before turning 20 in order to start billboard company, with her brother. Although the company owned over 450 billboards in Ohio and Indiana, Powell was frustrated with local zoning policies. This inspired the young Republican to run for office for the first time in 2018. As the youngest state representative in Ohio, she promises to reduce regulation, cut taxes, enact pro-life legislation and defend Second Amendment rights."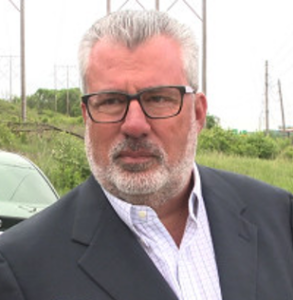 Again this year, Fessler plans to run the charity golf tournament that helps fund the Ali Kemp Educational Foundation, which has trained thousands of women in self-defense tactics. Fessler has been associated with the charity golf event for 17 years; he's been in charge of the tournament most years.
In 2002, college student Ali Kemp was assaulted and killed at her summer pool job in Leawood, KS. Her father Roger Kemp and Fessler pioneered the use of "wanted" billboards that helped lead to an arrest and conviction in the Ali Kemp case. Roger Kemp received the Presidential Citizens Medal in 2011.
In their community (Cookeville, TN), Dave and Diane Roland saw the need for long-term residential treatment for drugs and alcohol addiction. They started Next Step for Life, a transitional housing program that helps young adults vulnerable to addiction, trafficking, or other abuse. The goal — after 12 to 18 months — is independence.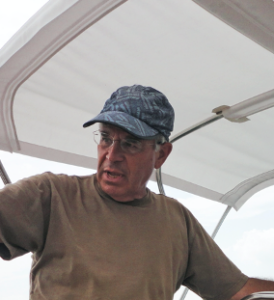 Eric Rubin, counsel, Out of Home Advertising Association of America (OAAA)
A sailor, Rubin saw a need to preserve Annapolis' maritime heritage and the ecology of Chesapeake Bay. For six+ years, Rubin served as chairman of the board the Annapolis Maritime Museum & Park. He is a founder of the Chesapeake Legal Alliance.
The out of home industry bestowed its highest honor to Rubin (Myles Standish Award), in 2005.
Jim Moravec ran track and cross country in college; he stays connected to his alma mater (Black Hills State University in South Dakota, class of 1979).
Moravec serves on the board of directors of his university's foundation; Jim and Laura Moravec established a scholarship and included the university in their estate plans. He received the Distinguished Alumnus Award in 2017.
Moravec runs regularly and bikes more than 10,000 miles a year.
In Chico, CA, Moravec has supported the local public radio affiliate and also served as chairman of the Chico Chamber and the city's Parks and Playground Commission.
(Jim Moravec is on the OAAA Board of Directors)