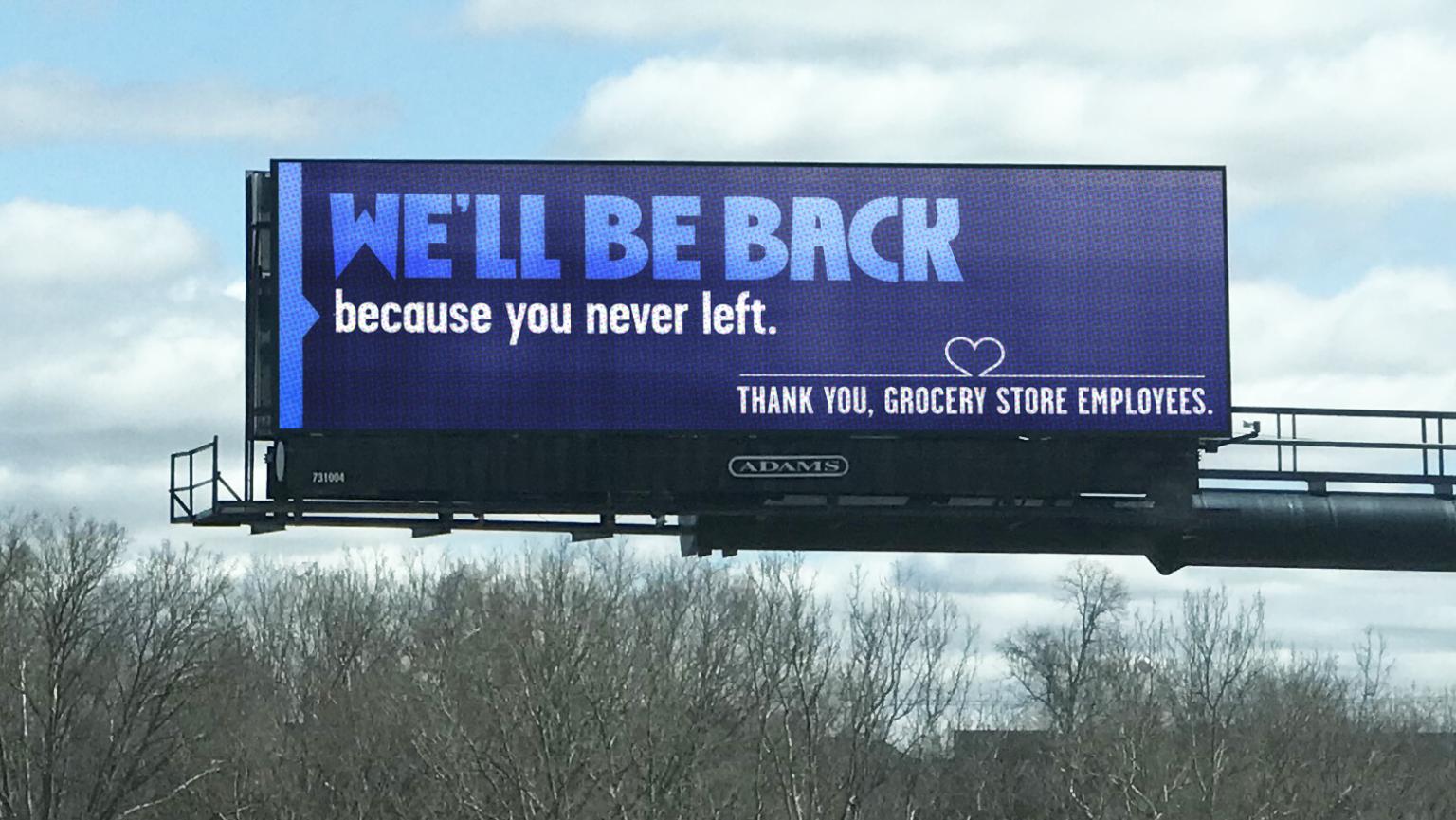 With the spread of novel coronavirus (COVID-19) across the world in a matter of weeks, citizens across the globe are doing what they can to care for the sick and prevent further spread.
The out of home (OOH) industry is doing its part, as well, serving as an emergency response medium to reach audiences as they still travel in public places. From public service community awareness to government-paid ad campaigns to real-time emergency updates, OOH around the world is spreading the word about not spreading the virus.

National Partnerships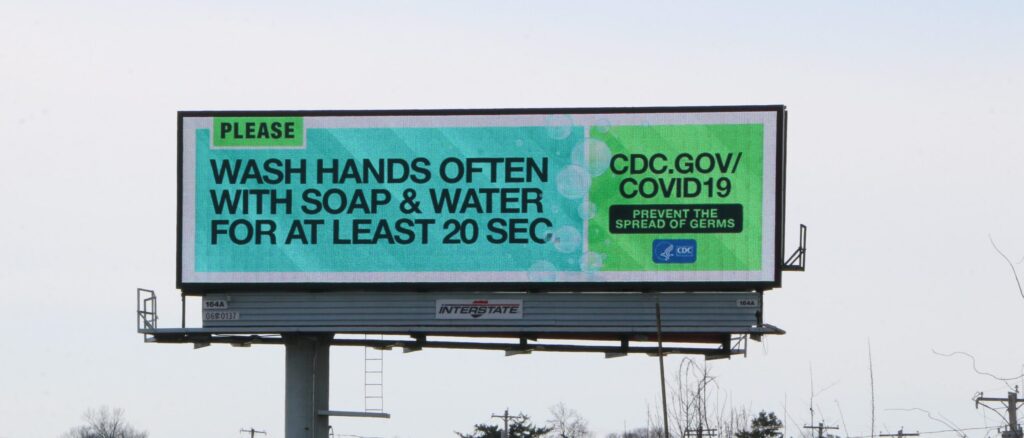 In early March, OAAA partnered with the Centers for Disease Control and Prevention (CDC), the nation's health agency, to offer public-health PSAs in a variety of digital OOH formats. Since then, the ads have been downloaded more than 500 times and are currently live on more than 7,000 digital screens.
Together with the CDC, the OOH industry is delivering unified messaging and supporting public-information goals set by health professionals. OAAA will continue to take direction from the CDC in the event messaging changes.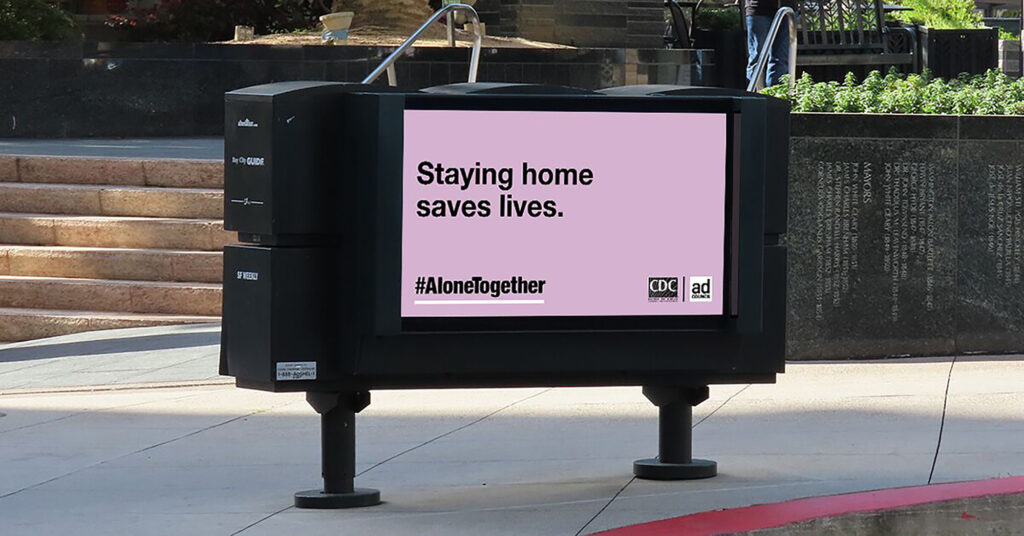 To participate in this urgent national health PSA campaign, view and download OOH creative here.
The Ad Council partnered with CDC and The White House to launch #AloneTogether, which is centered around the vital message, staying at home and limiting your contact with others can help prevent the spread of coronavirus. #AloneTogether unites the isolated to form and inform a community that's stronger together.
OAAA is working with the Ad Council to distribute available OOH creative. Digital files for bulletins, posters, and vertical screens are available to download here.
Michigan creative agency Extra Credit Projects developed OOH messaging available at no cost. According to Founder Rob Jackson, "The message both connects us and reinforces the CDC mandate of social distancing." Download creative here.
OAAA has provided public service messaging to the Federation of Internet Alerts (FIA), the group responsible for distributing AMBER Alert and other emergency messaging to internet service and digital ad providers. The public is also welcome to use these animated gifs for digital sign networks, email signatures, and other online platforms.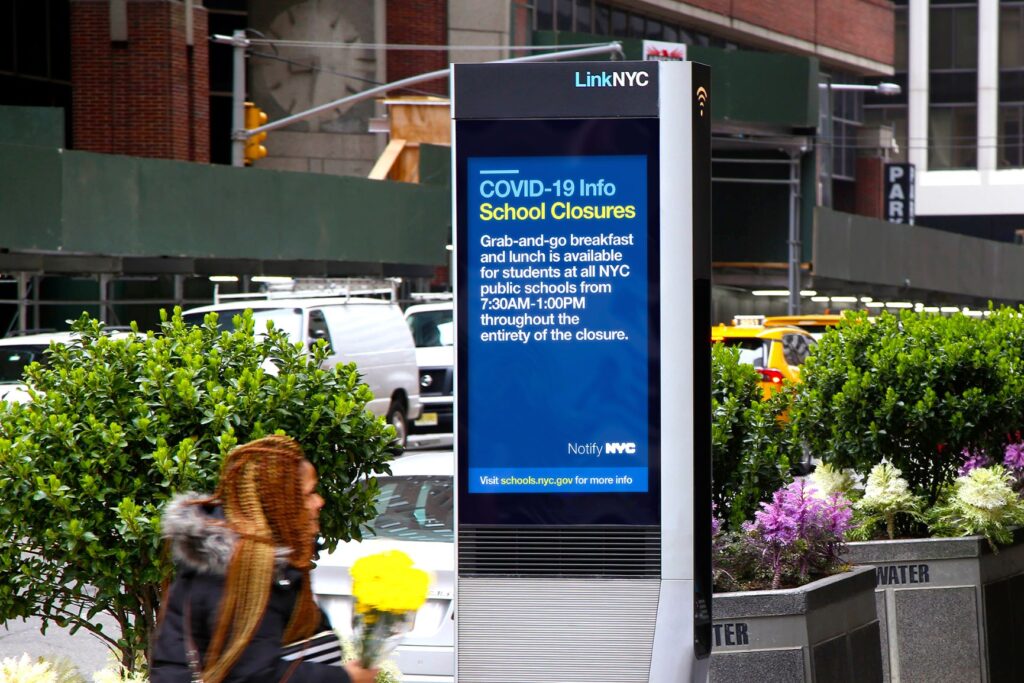 Local Partnerships
Intersection is working with the City of New York to publish up-to-date prevention tips, closures and restrictions, and resource information on thousands of LinkNYC screens across the five boroughs.
The City of Baltimore is developing an OOH campaign to communicate information as it pertains to COVID-19 on area billboards, buses, and bus shelters.
"We want to make sure we are reaching people where they are," Councilman Kris Burnett, who is part of Baltimore's Joint Information Command Center, told FOX 45. "We know not everyone has internet access. We're trying to get things up in the city that are physical advertisements so that exact same information that they can find anywhere else can be seen throughout the city. So we can help save lives and keep people safe."
Through a partnership organized with Governor Lamont, the Outdoor Advertising Association of Connecticut is donating 42 electronic billboards and 2 static billboard locations statewide with messages that will help spread awareness to the general public about COVID-19. Governor Lamont said he is grateful to these advertising companies for their donation and emphasized that this is an important public service they are providing.
OOH providers in Nevada have partnered with the Governor's Office and Nevada Resort Association to offer digital mobile billboards and digital roadside billboards to explain preventive measures.
Similar partnerships have been forged in other cities and states, including St. Louis and West Virginia.
[one_half]
Thanks to #Connecticut's outdoor advertisers, including @LamarOOH, @OUTFRONTMEDIAUS and Barrett Outdoor Communications, for generously donating electronic billboards across the state that will display a variety of important public health messages to spread the word about #COVID19 pic.twitter.com/48UxC9Vjph

— Governor Ned Lamont (@GovNedLamont) March 19, 2020
[/one_half] [one_half_last]
Staying home and practicing social distancing will help slow the spread of #covid19US.

Thank you to @CCOutdoorNA for providing this outdoor PSA to @SNHDinfo & us to reinforce and promote #StayHomeForNevada. pic.twitter.com/a6hloT8WH4

— Nevada Resorts (@NevadaResorts) March 25, 2020
[/one_half_last]
[one_half] [/one_half] [one_half_last]
Work together to stay apart to protect yourself, as well as the elderly or immune compromised.

Just like we worked together with the Governor's #StayHomeWV order and the CDC to spread these messages about keeping everyone apart.#BeSafe with #WVOutdoorhttps://t.co/jSfhuL3Nxi pic.twitter.com/Di2KCz7FfY

— WV Outdoor (@WV_Outdoor) March 25, 2020
[/one_half_last]
Louisiana State University's athletics department put up three billboards in Baton Rouge encouraging citizens to heed officials' warning; stay home. The billboards say "Win! by staying in," "staying home saves lives," and "together we win by staying in."
[one_half]
Louisiana…

We're in this together. pic.twitter.com/E6gHbAHlOo

— LSU Football (@LSUfootball) March 19, 2020
[/one_half] [one_half_last]
The game plan is simple: Stay Home! pic.twitter.com/EvWaOqy4OM

— LSU Women's Basketball (@LSUwbkb) March 19, 2020
[/one_half_last]
Brand Messaging

OOH publishers around the world have launched "Thank You" campaigns to recognize essential businesses, employees and everyday heroes, including healthcare professionals, drivers, grocers, teachers, and more.
[one_half]
We are so appreciative of the tireless and selfless efforts of all those on the #coronavirus front lines. We THANK YOU all! pic.twitter.com/1OHYzouAQf

— Lamar Advertising (@LamarOOH) March 25, 2020
[/one_half] [one_half_last]
The sooner we #StayIn, the sooner we #GetOut. #ThankYou pic.twitter.com/OlpkbqMoAR

— OUTFRONT (@OUTFRONTMEDIAUS) March 23, 2020
[/one_half_last] [one_half]
More than words can say – a heartfelt OOH message #ThankYouNHS running across OOH screens UK-wide. #ThankYouNHS @NHSuk pic.twitter.com/4j3GWWi0Zs

— JCDecauxUK (@JCDecaux_UK) March 25, 2020
[/one_half] [one_half_last]
To the superheroes working on the front lines every single day, thank you for keeping our neighborhoods safe and healthy. We're #AllinThisTogether. #OOH4Good #AloneTogether #FlattenTheCurve pic.twitter.com/zUcqog2Fy7

— Clear Channel Outdoor (@CCOutdoorNA) March 27, 2020
[/one_half_last]
Coca-Cola began running a new ad on its Times Square billboard that features its brand name—normally written in tightly connected Spencerian script—with space between each letter. Underneath is the message, "Staying apart is the best way to stay connected."
A Coke spokeswoman said, "It's one of our most iconic pieces of OOH that we could turn over to help get the message out."
International OOH Efforts
The Department of Health & Social Care in the UK launched a "public information blitz" in early March. OOH and social media ads stress the need for people to wash their hands when they return home from work, after they blow their nose, cough or sneeze, and before they eat or handle food.
Another important @gov_procurement campaign reminding people to stay at home & help save lives! Great to see #OOH remaining a trusted media source in these tricky times, as well as a Platform For Good. #DOOH pic.twitter.com/tmAxLDVU8Q

— Clear Channel UK (@clearchanneluk) March 25, 2020
The Australian Government launched a national coronavirus education campaign on March 13. The campaign, which includes OOH ads on buses, at train stations,and in shopping centers, provides timely, factual, and consistent information about the status of COVID-19, and spread advice on behaviors Australians should adopt to prevent and mitigate the impact of the virus, the government said.
In India, wall murals and billboards promote precautionary measures against COVID-19. Watch this Yahoo! Video.
Have You Seen More?
Please let OAAA know about other efforts and actions the OOH industry is taking to support the communities they serve. We'll continue to update and share as we navigate this situation together.