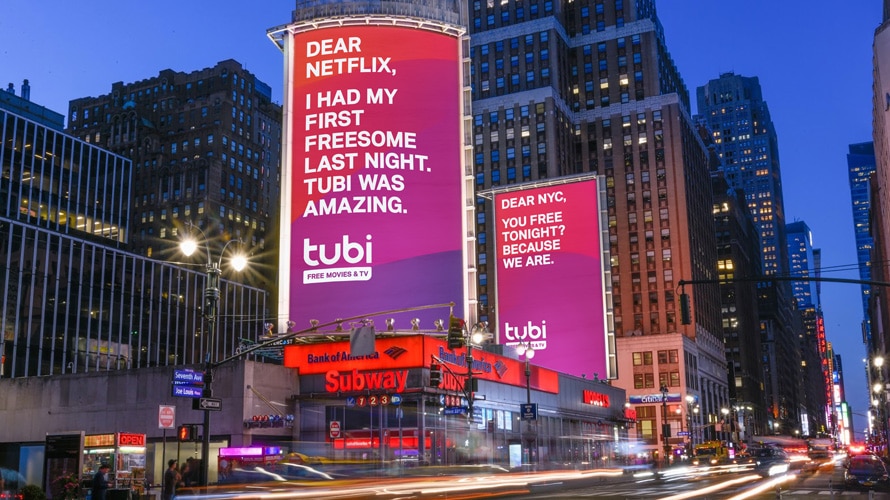 "Using mobile in conjunction with OOH is gold," according to Sruti Dhulipala, senior strategist at global creative shop Stink Studios.
The "combination of scale and trustworthiness, especially at a time when digital channels are under increasing scrutiny for their lack of transparency and data misuse, makes OOH a hugely powerful tool," she told Glossy.co.
Dhulipala knows this from experience, working with start-ups and online brands to increase awareness and amplify marketing efforts with OOH.
Research supports the power of OOH to drive online engagement. According to a recent Nielsen study, 66 percent of OOH viewers used their smartphone in response to seeing an OOH ad. Over 40 percent have searched the brand using their smartphone, 32 percent have visited an advertiser's website, and 21 percent have downloaded an app after seeing an OOH ad.
OAAA's Chief Marketing Officer Stephen Freitas said, "OOH is big screens driving consumers to small screens."
Here are some recent real-world examples of online services advertising in the real world:
Andie Swim
Direct-to-consumer swimwear brand Andie Swim launched its first major advertising campaign, just over two years after its launch. The campaign spans OOH media from subway ads to billboards.
OOH "is helping DTC brands like Andie connect in the 'real world,'" said Dhulipala
The team first used social media to test and learn what kind of marketing and messaging resonates with customers. From there came a big push into OOH.
"Having a multifaceted marketing campaign amplifies a brand's message and makes digital work perform better," said Scott Harkey, co-founder and managing partner at marketing agency OH Partners.
To date, the company has sold out of its inventory 10 times and amassed waitlists of more than 10,000 shoppers for some of its styles. Andie has raised over $5 million in funding and saw conversion jump 90 percent in the first half of 2019, versus the same time last year. The brand credits its OOH campaign with boosted awareness and sales.
Tubi
Free streaming service Tubi is using OOH to let Neflix and Hulu users know there is a free alternative. The creative and strategy, which positions Tubi as a complement to other streaming apps, is featured on billboards, taxi TVs, and digital OOH inventory, as well as digital and social media. Learn more in Adweek.
Tubi takes aim at competition in its largest out-of-home campaign https://t.co/QxNiY0E67p pic.twitter.com/3IHyHUTJY5

— The Drum (@TheDrum) August 5, 2019
monday.com
For the last two years, monday.com has been using transit OOH to boost brand awareness. Last October, it dominated Manhattan's Union Square and Bryant Park train stations, using all ad space from turnstile arms to mezzanine pillars. This year, the online team management platform launched two additional campaigns with ads in 570 New York Subway train cars.
Loving these snarky subway ads from @mondaydotcom that show examples of how to "project manage" New York City. Well played. pic.twitter.com/6sOtwmI94S

— Bethany Crystal (@bethanymarz) January 26, 2019
If you want to reach New York City thought leaders, the subway is a great way to reach them, Joel Goldstein, the company's creative marketing lead, told The Wall Street Journal. "There's a big trend, the last few years, of startups advertising in the New York City subway," he said.
In the last two years, more than 200 such businesses started advertising in the New York Subway system, according to the Metropolitan Transportation Authority.