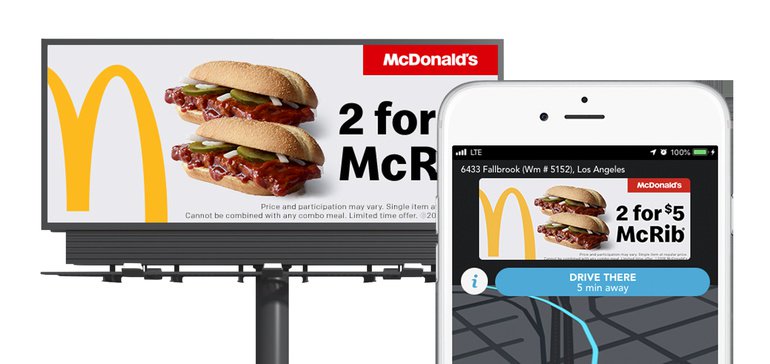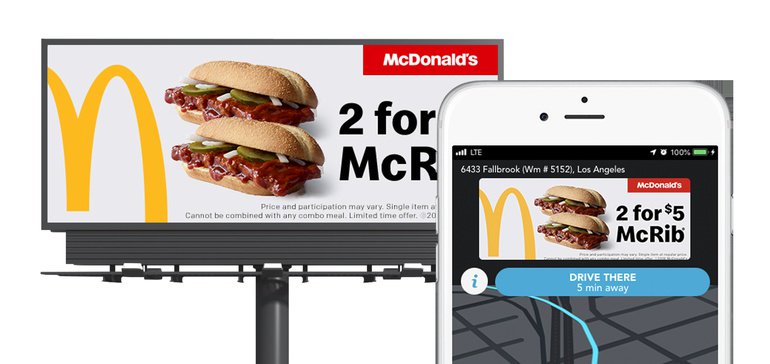 McDonald's earned 6.4 million mobile impressions by tying together billboards and in-app advertising on Waze, a community-based GPS navigation app and OAAA member.
The campaign used more than 300 billboards equipped with geofencing technology in the Southern California market to serve Waze users in close radius in-app ads. The full-screen ads were served anytime a user's car came to a full stop for several seconds.
Messages shown in the ads reflected those on the billboards, touting McDonald's menu promotions, including the limited return of the McRib, and carrying a call-to-action to "Drive There," wherein Waze navigation guided consumers to nearby restaurants.
The campaign resulted in more than 8,400 navigations — meaning a user decided to accept the directions — and reached 1.9 million unique consumers across an eight-week run.
"We're really creating new benchmarks right now," Waze's OOH Business Lead Todd Palatnek told Mobile Marketer. "These are campaigns that have never really been done before from the Waze point of view — we're learning as we go."
"We were able to provide a lot of insights for [McDonald's] that they may not have had in the past from an out of home standpoint, such as performance by creative," he added.
A Different Mobile + OOH Idea
In Brazil, Burger King is leveraging competitors' OOH ads to promote its app. The Burn That Ad effort asks Burger King app users to scan OOH and online ads from other major burger chains. The app user sees the competitor ad burn away, revealing a coupon for a free Whopper and the message "flame-grilled is always better."
"Technology as a means to provide the best customer experience is one of our main investment targets in 2019," Ariel Grunkraut, Burger King's marketing and sales director for Brazil told Adweek. "We offer some fun interaction in augmented reality for our brand's lovers through the app."
Post Published March 25, 2019