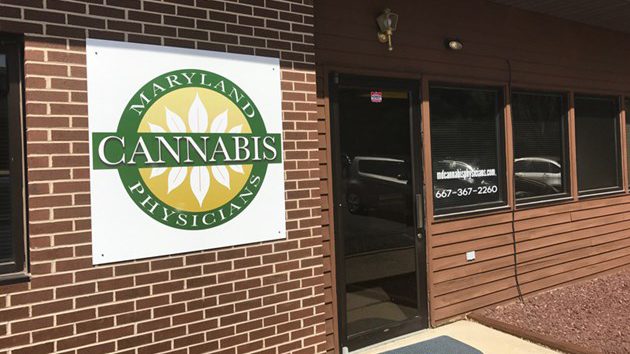 As more states legalize cannabis, regulators are scrambling to figure out rules for advertising.As more states legalize cannabis, regulators are scrambling to figure out rules for advertising.
(Note: federal law considers marijuana a Schedule I controlled substance. Therefore, federal law conflicts with state legalization.)
Here's the latest on state legalization:
What happened in Maryland?
The Maryland Medical Marijuana Commission, on December 6, recommended a ban on billboard, radio, TV, and most online advertising.
Proponents of cannabis adverting will lobby state lawmakers; the proposed rules must first be reviewed by a joint committee (you read that correctly) of the Maryland General Assembly.
A marijuana trade association in Maryland says the no-advertising recommendation is an over-reaction to a billboard in a rural area depicting Michelangelo's Adam with a joint. That billboard copy has been removed.
In Maryland, billboard operators have suggested a series of regulations used elsewhere, such as buffer zones for schools/playgrounds, disclaimers on ad copy, no ads aimed at kids, and no false claims.
First-year medical marijuana sales in Maryland exceeded expectations ($96.3 million compared to an industry forecast of $46 million).
How much does Colorado take in?
Colorado was a pioneer state in legalizing recreational cannabis. Marijuana revenue to the state is approaching a quarter billion annually:
(Colorado) Marijuana Taxes, Licenses, and Fee Revenue
| | |
| --- | --- |
| Calendar Year | Total Revenue |
| 2014 | $67,594,323 |
| 2015 | $130,411,173 |
| 2016 | $193,604,810 |
| 2017 | $247,368,473 |
| 2018 (Jan – Nov) | $244,907,128 |
Does Massachusetts Allow Advertising?
Yes, with restrictions.
The first fully licensed marijuana shops opened November 20 in Leicester and Northampton.
Massachusetts' advertising rules ban deception, claims of curative or therapeutic effects, and promotion of giveaways. Billboard operators have accepted some general-location copy.
What happened in the mid-term election?
Marijuana won, mostly.
On November 6, Michigan approved a ballot measure to legalize cannabis. Voters approved medical marijuana in Missouri and Utah. Legalization failed in North Dakota.
In Illinois, marijuana legalization was part of J.B. Pritzker's successful campaign for governor.
Minnesota Governor-elect Tim Walz wants to "replace the current failed policy with one that creates tax revenue, grows jobs, builds opportunities …"
New Mexico's newly elected Governor Michelle Lujan Grisham said legalizing marijuana would bring "hundreds of millions of dollars to New Mexico's economy."
12/18 UPDATE: Governor Andrew Cuomo announced on December 17 that he would push to legalize recreational marijuana next year in New York State.