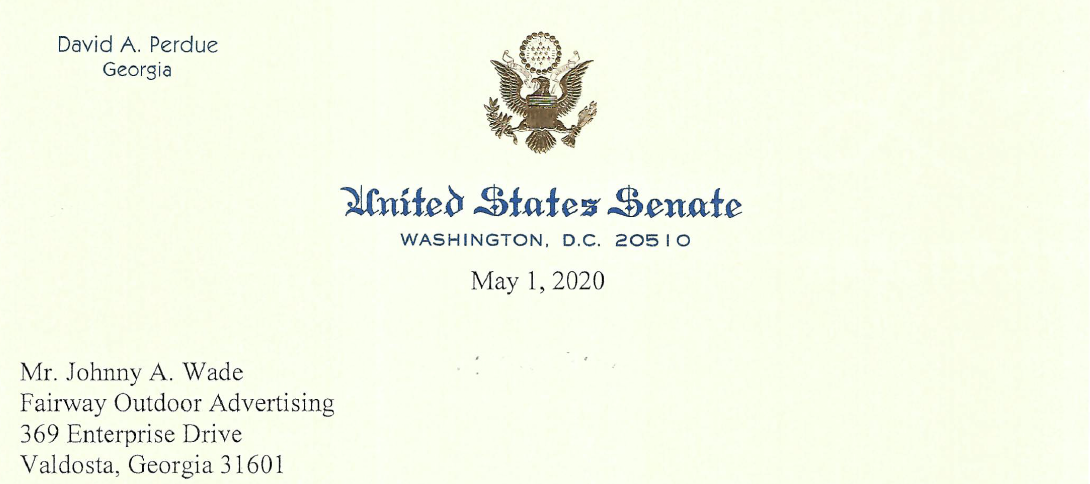 In out of home media, people like Johnny Allison Wade are essential.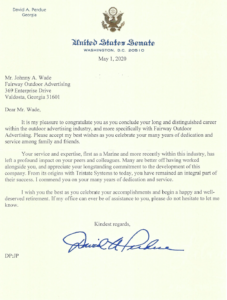 For nearly half a century, Wade built, maintained, and posted billboards in much of the country. Retiring, Wade will be honored on May 1 by the Fairway Outdoor Advertising plant in Valdosta, GA.
"Your service and expertise, first as a Marine and more recently within this industry, has left a profound impact on your peers and colleagues," US Senator David Perdue wrote to Wade. "Many are better off having worked alongside you, and appreciate your long standing commitment . . ."
In the parlance of out of home advertising, Wade is an "ops" professional (operations).
"Johnny has built hundreds of billboards from Tampa to Oklahoma City to Omaha to Baxter Springs (KS) up to Rochester (MN) down to Charleston (SC) and all parts in between," said Virgil Moore, Operations Manager at Fairway Outdoor Advertising in Valdosta.
Essential Business
As states issued shut-down orders this spring in response to coronavirus, government exempted essential business functions. In Connecticut, the governor's executive order mentions billboards as essential. New York State said Lamar Advertising performs essential business functions.
State executive orders typically listed media as essential. Out of home media communicate for other essential businesses ("We Deliver") and also deliver public-health messages for government.
"Out of home operations employees like Johnny are essential to our business," says industry veteran Steve Hillwig, the operations leader at OUTFRONT Media. "They perform in rain, wind, heat, and cold . . . to post client copy, to maintain inventory and keep it looking pristine."
Johnny Wade's History
Wade started with Tristate Systems in Tifton, GA, on June 1, 1972, working in Georgia, Florida, South Carolina, North Carolina, Alabama, and Mississippi.
Tristate Systems became Tristate Outdoor in 1989, extending its footprint to Oklahoma. Magic Media acquired the company in 2002; Fairway Outdoor acquired Magic in 2008.
"Johnny is a Marine, a Vietnam combat veteran, a husband, father, grandfather, great-grandfather, and a turn-key sign man," said his boss, Virgil Moore. "I am truly blessed for the opportunity to work with Johnny for so many years and — like many others — to call him my friend."