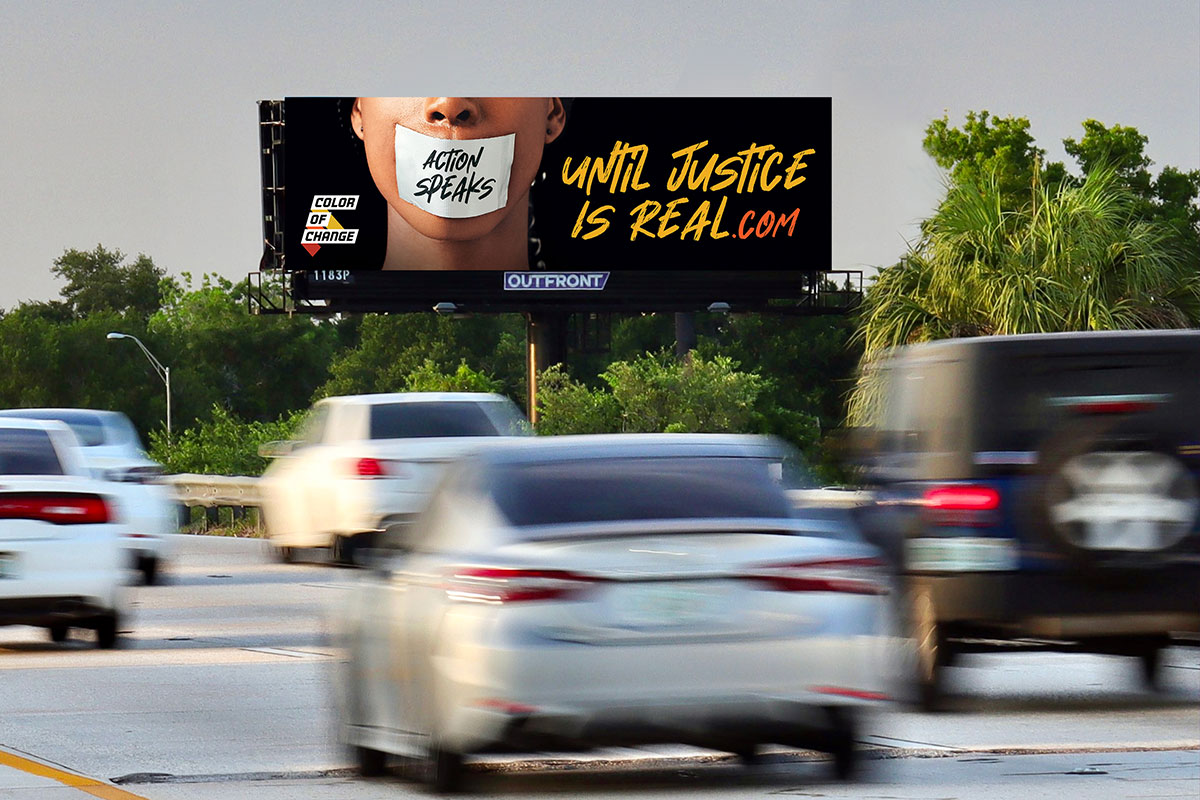 Business leaders have long advised that in order to succeed and remain future proof, companies must constantly reinvent, redefine, and reboot. This advice became mandatory in the past year due to the implications of the pandemic… and the OOH industry delivered. This year's OAAA Conference utilized the theme 'Future Proof' to dive into the learnings of the past year and focus on the strategies for 2021 and beyond. One theme that carried through was the power of purpose and human connection, especially after a year spent apart.
Here at OUTFRONT, our purpose is to help people, places, and business grow stronger. As the most visible platform in America, the OOH industry has a profound opportunity, and more importantly responsibility, to positively impact the people and businesses within the communities where our canvases exist. We share content when the need is at its most critical.
COVID-19 and its impact on everything accelerated the very visible activation of our purpose, which is evident in how we used our canvases for the greater good in the past fifteen months. Over the course of the pandemic, our industry band together to share important CDC safety messaging, both on OOH and mobile assets, reaching communities that might have otherwise been overlooked. In addition, we thanked our essential workers in many ways. A personal favorite was aligning with the world's nightly tradition of clapping for healthcare workers by picturing the applause emoji on all available digital assets from 7-7:10PM local time. Our local businesses have always played an impactful role in the OOH industry. After seeing devastating loss, we launched our own local business stimulus program that offered a 'no cost' outreach to help hundreds of businesses bring people back through their doors when it was safe to do so. We also stepped up in socially important messaging, including supporting the Black Lives Matter movement and encouraging people to get out and vote. These are just a few examples that tied us closer to our communities.
Now we are entering a post pandemic iteration of our purpose. We understand the importance of standing alongside and behind causes that matter to our people and communities. Therefore, we are aligning with organizations designed to defeat Racial & Social Injustice and Food Insecurity.
We are partnering with Color of Change, the nation's largest online racial justice organization, to bring awareness of their mission to fight injustice towards people of color. The "Until Justice is Real" campaign highlights the need for people of all colors to do their part and demand accountability to end the practices that unfairly hold Black people back, while championing systematic solutions that move us all forward.
Later this month, we are launching our partnership with The Farmlink Project, an organization dedicated to repurposing surplus produce to fight food insecurity. By connecting farmers to food banks, millions of pounds of farm fresh produce that would otherwise be wasted reaches families in need. The campaign's witty copy lines will entice commuters to visit the Farmlink Project's website to find obtainable small acts that add up to big change.
The legacy of our purpose starts before and exists beyond what we post on our assets. The way we approach and cultivate our people, our communities, and our business partners pushes us all to grow stronger. The constant growth and iteration will ensure that OUTFRONT and the greater OOH industry remains Future Proof.