Speaking on Behalf of the Industry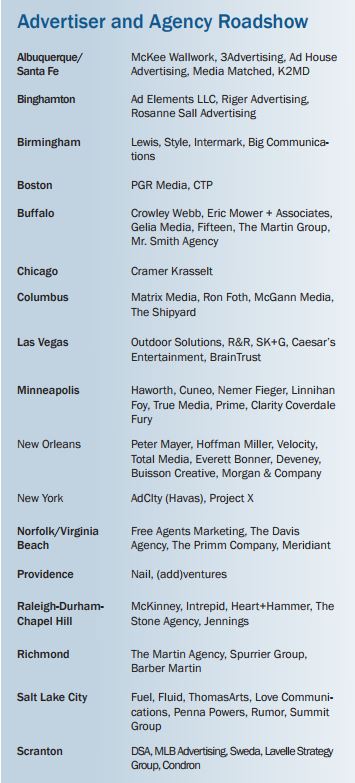 OAAA was on the road again in 2017, presenting to 75 planning agency groups in 16 markets. Since the roadshow program began in 2013, OAAA has visited agencies in the top 50 DMA markets.
OAAA represented the OOH industry as a speaker or panelist at several key industry events including the Interactive Advertising Bureau (IAB) DOOH event, Advertising Research Foundation (ARF) DOOH Summit, Digital Signage Federation (DSF) Coffee and Controversy, DailyDOOH Investor's Conference, Advertising Week, and at four state OOH association meetings.
OAAA's Nancy Fletcher and Chairman Sean Reilly addressed attendees of the 58th FEPE Congress in Stockholm, Sweden in June. They explained how the US OOH industry united to create a positioning strategy – one that is consistent with international industry priorities, proving OOH commonalities across the globe.
CEOs of @YourOAAA & @LamarOOH share their story of collaboration and how they work together to benefit #OOH medium in the USA #FEPE17 pic.twitter.com/E4A6SWM1v0

— Outsmart (@OutsmartOOH) June 8, 2017
Fletcher also attended the three-day Independent Billboard Operators' Conference (IBOUSA) in St. Louis, MO, in September, where she presented on shared industry interests, including advancing technology, defending property rights, and increasing sales.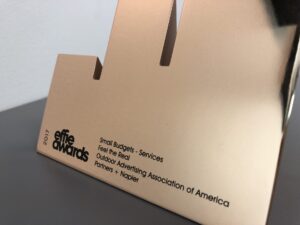 Work began on a new industry ad campaign set to launch in 2018. The campaign will center around the industry's key positioning statement that recognizes OOH is creatively impactful, contextually relevant, and a media amplifier. Several prominent creative agencies were invited to submit campaign ideas, and final campaign selection is scheduled for early 2018. The new campaign follows the successful Feel the Real campaign, which won a Bronze Effie Award in 2017.
The forthcoming ad campaign is part of a broader OOH industry positioning strategy launched in 2016 that identifies how to make OOH more of a core media buy. Implementation of the positioning initiative continued in 2017 and included a suite of new marketing videos and the relaunch of an enhanced OOH Resource App.
Proving Value
OAAA produced an unprecedented number of new marketing research studies last year. Nielsen was commissioned to complete several important reports, including a 10-market study demonstrating the value of posters. The study found younger adults, in particular, notice posters, and over half of all consumers agree posters stand-out more than ads seen in newspapers, online, on mobile devices, or heard on the radio.
Nielsen also completed an OOH and Online Activation Study. According to the study, online activations (search, Facebook, Twitter, Instagram) generated by OOH advertising indexes at over three times the expected rate given its relative ad spend. OOH out performed TV, radio, print, and online banner ads.

OAAA produced two important white papers related to innovation and technology. The first report examined the future of OOH advertising in a self-driving America, exploring the opportunities related to autonomous vehicle technology. The second, to be released in January, focused more broadly on understanding smart cities and the potential role of OOH advertising.
An extensive ROI benchmarking study was completed last year that showed for every dollar spent on OOH advertising, a brand could expect an average return of $5.97. The report, conducted by Omnicom Media Group's Benchmarketing, found when OOH is incorporated into the media mix, it improves overall campaign revenue ROI. OOH increases the effectiveness of digital search by 40 percent and print by 14 percent. The study shows how increases in OOH spend in every brand category analyzed ensures optimal campaign ROI.
OAAA retained Sequent Partners to study marketing mix modeling practices to better understand how OOH media is represented in Return of Investment (ROI) models and why the medium is sometimes disadvantaged in model evaluations. Resulting from the analysis, an ROI workshop was developed for OOH media account executives and specialists. Four presentation modules and video tutorials will be available in 2018.
After several years of development, average planning rates were incorporated into SQAD for the top 100 DMA markets. The information is available to SQAD subscribers, which include many planning agencies. Planning rate data is available for Geopath audited OOH formats.
Educating and Rewarding
In May, more than 1,000 participants attended the 2017 OAAA\Geopath National Convention + Expo in New Orleans, LA, co-chaired by Kevin Gleason, Adams + Fairway Outdoor, and David Krupp, Kinetic North America. With the theme Look Out, the event provided opportunities to explore the latest in OOH trends and celebrate creative excellence.
#technology & #data paired with #storytelling & #creative is why #OOH is having a renaissance moment! #lookout2017 #contexthacker pic.twitter.com/kan8GdlLL5

— Kinetic (@KineticOOH) May 16, 2017
Top business and advertising professionals inspired and informed the audience, including a keynote from Zenith Media's EVP and Global Head of Innovation, Tom Goodwin. National Geographic's Joel Sartore was the highest rated speaker. He inspired attendees to participate in the industry's national Photo Ark public service campaign. (Read more in the Public Service Report on page 11). OAAA's Nancy Fletcher delivered her 26th State of the Industry, which was also highly rated among attendees. Other notable speakers included Joel Lunenfeld, VP of Global Brand Strategy for Twitter; NFL's Chief Marketing Officer Dawn Hudson; and Rob Dembitz, Director of Cannes Lions.
Afternoon sessions included an innovations panel with representatives from WAZE, Corning Glass, Panasonic, FourSquare, NEC, and Spyder, each of whom discussed disruptive technologies transforming the media business. The hard-cover book OPEN3 was distributed to attendees. This creative design book was a cooperative venture between OAAA and four other global OOH trade groups.
The 75th OBIE Awards were celebrated in New Orleans, LA, with a Platinum Award presented to Twitter. Seven Gold OBIE Awards were presented along with 10 Silver and 26 Bronze OBIE Awards. The 2017 OBIE Hall of Fame Award was presented to Warner Bros. Studio. Four new OBIE Craft Awards were also presented.
#Congrats @twitter team on our @obieawards Best in Show Platinum pic.twitter.com/bsSPNawHJy

— Joel Lunenfeld (@joell) May 17, 2017
To commemorate the 75th anniversary of the OBIEs, three popular hosts were invited back to present the awards: Andy Azula from the Martin Agency, Paul Levoie from TAXI, and Steffan Postaer from JUMBOshrimp. Attendees were treated to a riverboat ride up the Mississippi River to Mardi Gras World where the ceremony took place. The show was followed by a festive party in the Mardi Gras World float den, which included a full Mardi Gras parade.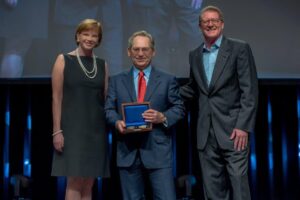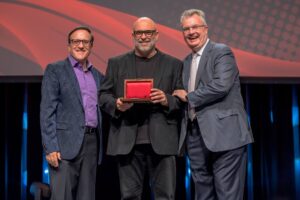 Industry Hall of Fame Awards were presented to Don Avjean, OUTFRONT Media; Paul Cook, Wolverine Sign Works; Greg McGrath, Clear Channel Outdoor; Patrick O'Donnell, YESCO Outdoor Media; and Debra Abdalian-Thompson, Cleveland Outdoor Advertising.
Also during the national convention, Clear Channel Outdoor won the Ad Council Crystal Bell Award, and Reagan Outdoor Advertising won the OAAA/Geopath Local Case Study Award
Industry Hall of Fame Awards were presented to Don Avjean, OUTFRONT Media; Paul Cook, Wolverine Sign Works; Greg McGrath, Clear Channel Outdoor; Patrick O'Donnell, YESCO Outdoor Media; and Debra Abdalian-Thompson, Cleveland Outdoor Advertising.
Also during the national convention, Clear Channel Outdoor won the Ad Council Crystal Bell Award, and Reagan Outdoor Advertising won the OAAA/Geopath Local Case Study Award
The OOH Media Plan Awards were presented in late November during the annual Advertising Club of New York OOH:NOW Conference. The OOH Media Plan of the Yea Award was presented to Rapport and UM for The Emoji Movie.
The Ratings-Driven Media Plan Award went to Clear Channel Outdoor, Sony Interactive
Entertainment America, and Kinetic Worldwide for PlayStation. Additionally, four Gold Media Plan Awards were presented along with six Silver awards.
Serving Members
OAAA unveiled a new online OOH Tech Hub, where information about innovation and technology in OOH is curated for easy access.
In the fall, OAAAedu was launched, a new central source for training and career development resources.
The marketing team serviced more than 500 member and advertiser requests in 2017, ranging from competitive data analytics to customized demographic reports. Nine marketing webinars were presented to members.