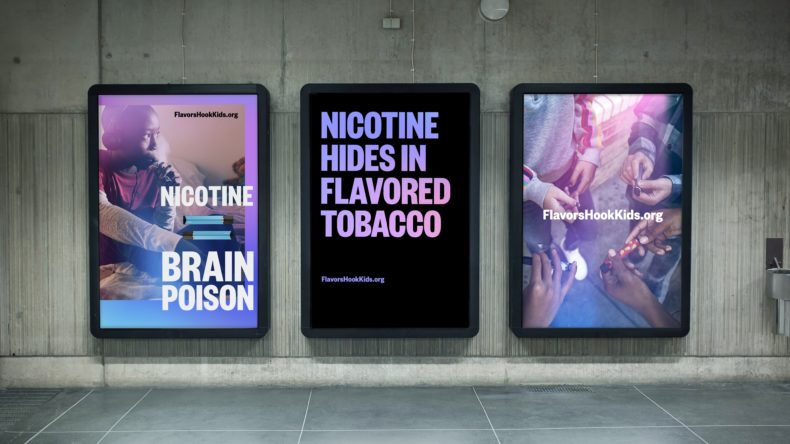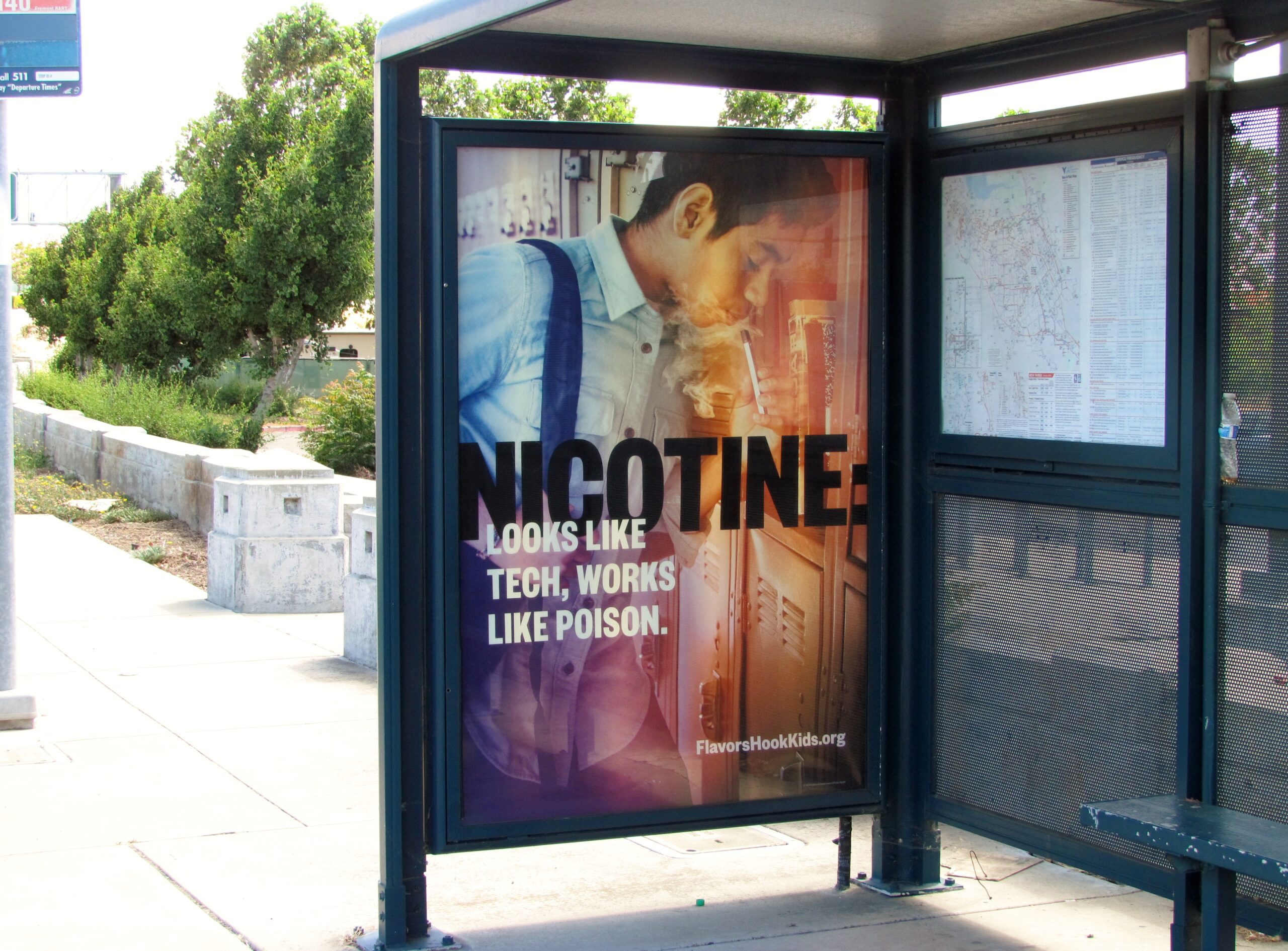 Vaping has been receiving a lot of attention lately, at times championed as a substitute for smoking regular cigarettes but also condemned for creating health problems. To communicate risks of vaping, health officials and anti-drug coalitions are launching public multi-media campaigns, including out of home (OOH).
San Francisco's Duncan Channon is working with FlavorsHookKids.org in California, releasing TV, print and OOH warning teens of nicotine dangers.
Indiana launched a $2.1 million ad campaign, Behind the Haze, in August.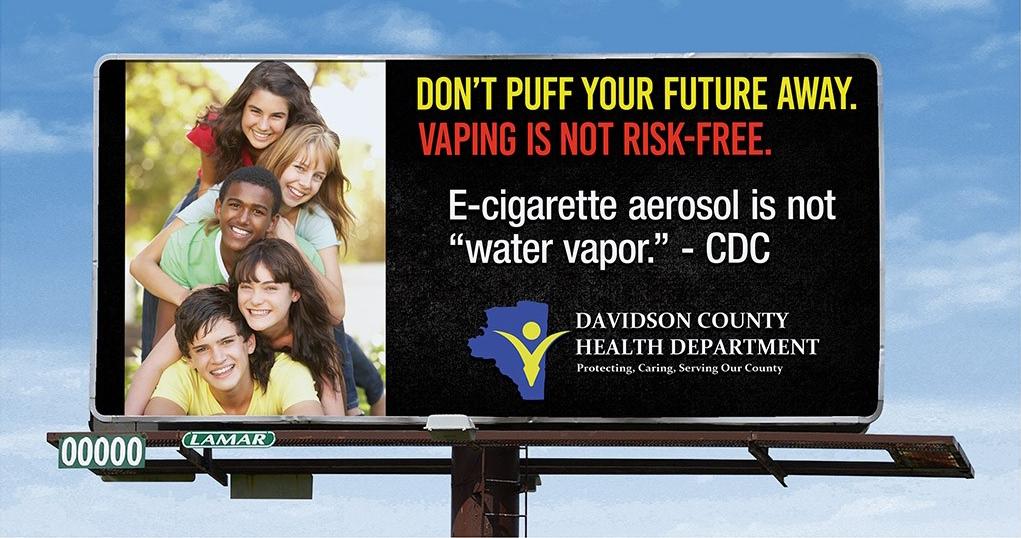 The N.C. Department of Health and Human Services awarded a grant to the Davidson County Helath Department for the specific use of an anti-youth-tobacco campaign. The department used the funds to place an anti-smoking message on billboards.
Tobacco Free Amarillo (TX) launched an anti-vaping OOH campaign in September after learning about local case of vaping linked to serious illness.
In Chicago, the mayor's office and Chicago Department of Public Health launched a public awareness campaign to warn residents of the dangers of vaping. The campaign, targeted at young people and their families, included digital and billboards. The Healthy Chicago campaign continues with anti-smoking messaging from the US government's SmokeFreeTeen campaign.
In September, JUUL said it would suspend TV, print, and digital ads and will stop some of its lobbying efforts. Juul spent $104 million on advertising in the first half of 2019, according to Adweek.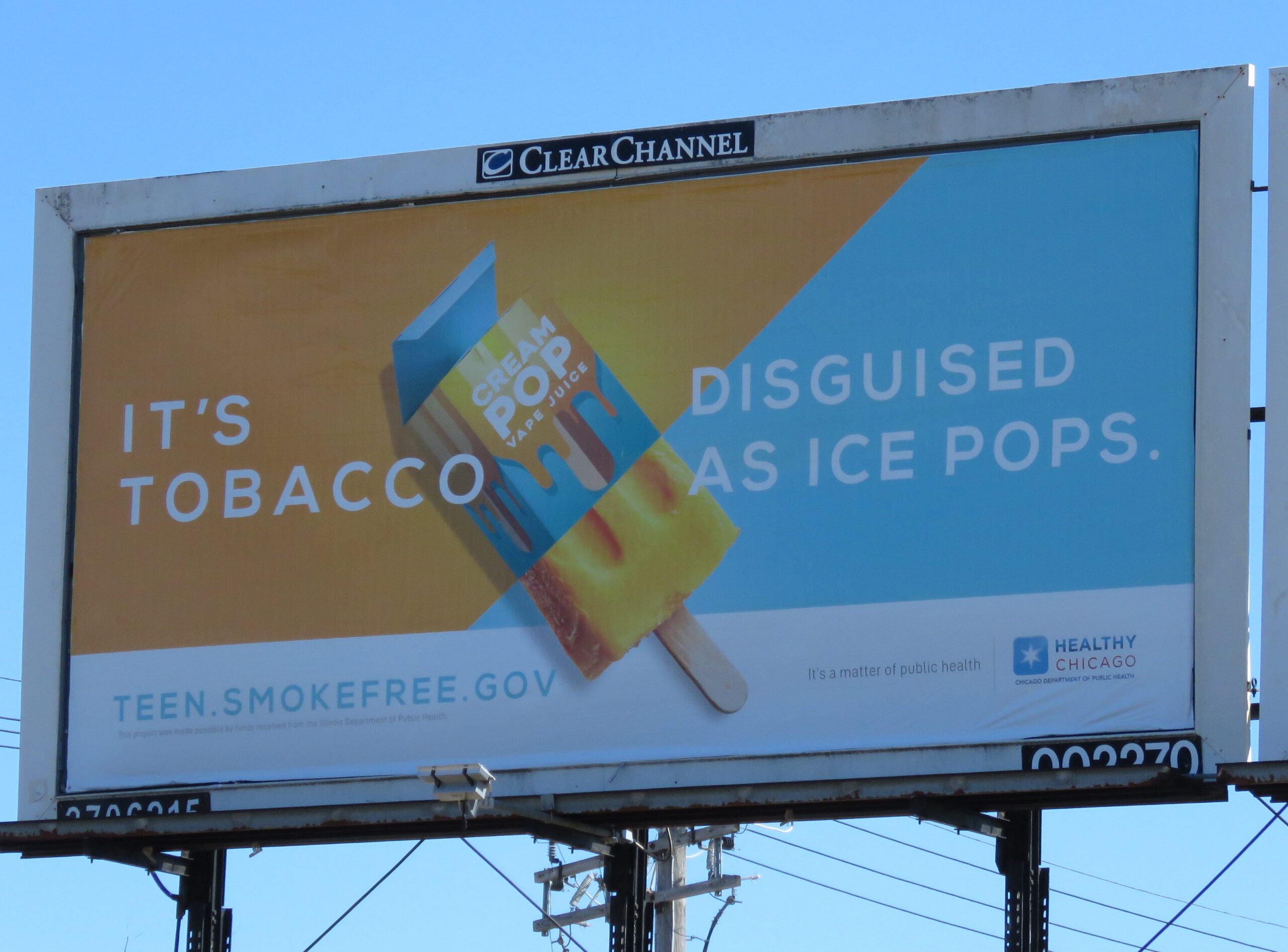 Although e-cigarettes have been around since the late 2000s, their use has grown in recent years.
State and federal authorities are taking steps to protect vulnerable populations, including youth.
North Carolina and Massachusetts have sued vaping companies, alleging improper marketing to young people.
These lawsuits and others like it allege that e-cigarette companies such as Eonsmoke are "marketing their nicotine products with advertising that both references youth popular culture, including memes, profanity and sexual imagery, and misleads consumers by omitting or minimizing the fact that most vaping products contain nicotine."
As vaping and state legalization of cannabis expand, society is debating related issues such as workplace standards, health concerns, and marketing.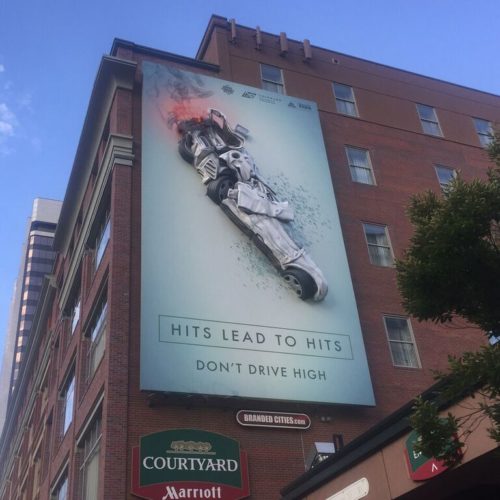 Colorado's Department of Transportation drew nationwide attention for its "Don't Drive High" campaign against impaired driving. The unforgettable image of a mangled car fashioned to look like a lit joint (complete with lighting in the tip) highlighted the dangers of driving under the influence of drugs.
For decades, the OOH industry has promoted seat belts and safe driving with "Buckle up," and "Click it or ticket" messages.
That's not surprising to Glyn S. Williams, chief revenue officer for Mahlmann Media in Los Angeles.
"Some of the most powerful OOH messaging I've seen has always been tied to health," Williams said. "Whether it's child abuse, spousal abuse, anti-smoking, or other disease-related causes, the visual nature of OOH has historically delivered the punch to the gut a campaign needs."