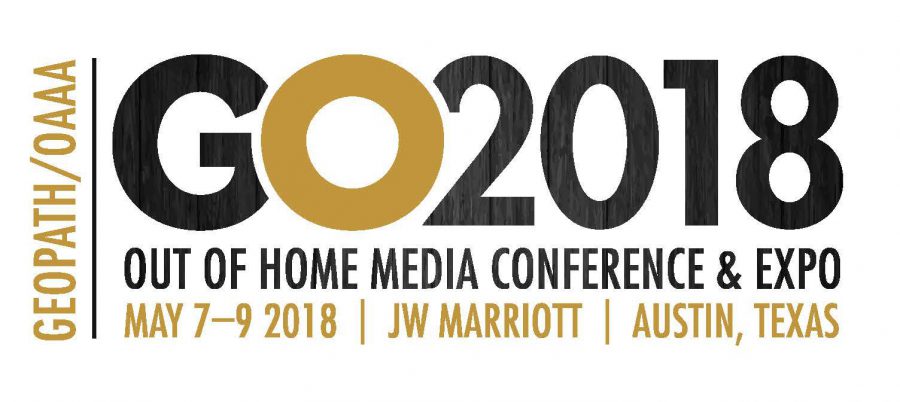 There has never been a more exciting time to be part of the out of home (OOH) advertising industry. With campaigns featuring amazing interactive technologies along with major advancements in targeting, profiling, and measurement capabilities, OOH can provide advertisers with the opportunity to connect and engage with an audience like never before, using a medium that is tangible, memorable, and impossible to ignore.
GO2018, the Out of Home Media Conference & Expo hosted by Geopath and OAAA, will serve to celebrate the collective success of the OOH industry. Taking place at the new JW Marriott in Austin from May 7-9, the GO2018 Conference will bring together colleagues, friends, and industry leaders to share insights and trends and discuss challenges and opportunities in an environment that will be fun, stimulating, and highly educational. Register before February 2 for early-bird pricing.
With less than four months to go, the GO2018 team is working hard, and the program is beginning to take shape. Some of the key features of this year's conference will include:
Prominent keynote speakers sharing a variety of global and hyper-local industry perspectives
Nancy Fletcher will deliver her popular State of the Industry address, highlighting industry successes to celebrate, challenges to address, and trends to anticipate.
I will provide the industry with the latest news about data, insights, and OOH measurement
Specialty tracks with content tailored to meet the interests of every attendee
A revamped Expo that will offer both exhibits and entertainment
Extensive networking opportunities including a speed networking event and concierge services to facilitate one-on-one sessions
A "brunch and learn" complete with a Bloody Mary bar
One of the key highlights of GO2018 will be the presentation of the prestigious OBIE Awards, recognizing the campaigns deemed to be the most creative, to be followed by the post-awards party, bringing everyone together in celebration of all the past year's hard work and achievements.
In terms of a host city, you would be hard-pressed to find a better one than Austin. Known for its food, beverage, and entertainment delivered with a unique brand of Texas hospitality, the setting for this year's conference will give attendees the opportunity to see why everything is bigger and better in the Lone Star State. In support of our host city and the "Keep Austin Weird" motto, created to promote local businesses, GO2018 will feature local cuisines, western décor, live music, and immersive city experiences.
As the agenda for GO2018 continues to evolve, our team of organizers continues to seek input from experts across a variety of fields for fresh content ideas, thought leadership panels, and compelling presentations. Prospective speakers are invited to submit ideas, proposals, and abstracts here by January 31.
We look forward to seeing you in Austin in May!