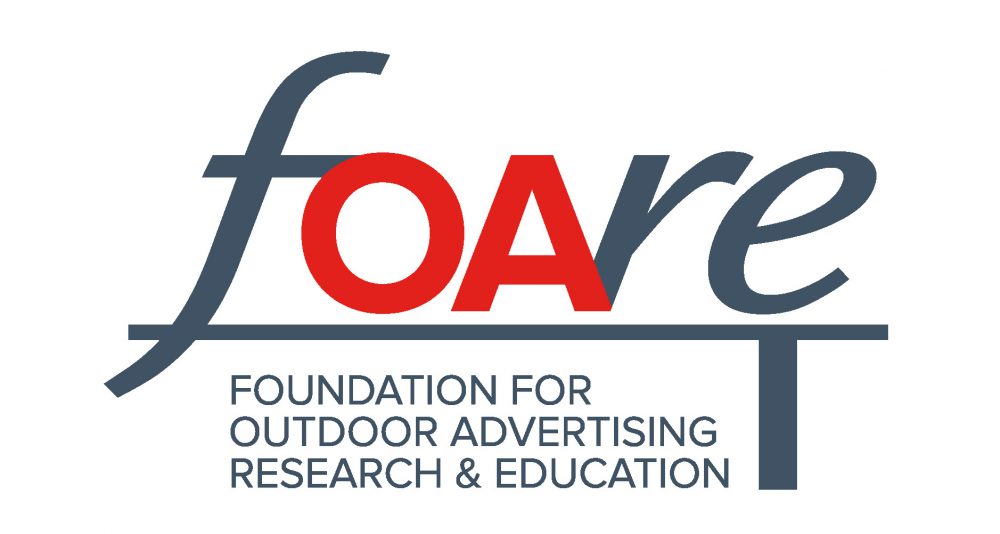 [vc_row][vc_column][vc_column_text]The Foundation for Outdoor Advertising Research & Education (FOARE) has completed a successful fundraising campaign for its Fiscal Year 2017 program with donations totaling $229,810.
Of this total, more than $189,810 is dedicated to the FOARE general fund, $30,000 is a direct contribution by the Ron & Nancy Fletcher Family Foundation for its special funds program endowment, and $10,000 to The Vern & Elaine Clark Scholarship Endowment Program.
Since FOARE was re-organized in the early 2000s, the foundation has raised over $2.7 million dedicated to supporting important industry research as well as scholarships for families within the OOH industry.
The foundation announced 12 student scholarships will be awarded this year, totaling $38,500. Three of the scholarships are endowments from: Vern & Elaine Clark Outdoor Advertising "Champion" Fund; The Allman Family Business Development, Marketing and Sales Scholarship; and, the Reagan Family Scholarship for graduate planning/urban program students.
FOARE extended gratitude to the following 2017 Annual Fund Donors:
Adams Outdoor Advertising
Alamo Outdoor Signs
Aleixo Law Offices P.C.
Allman, Donald and Cathy Charitable Gift Fund
Balestino, Jim
Brown, Heather
Bulletin Displays
California State Outdoor Advertising Association
Circle Graphics
Clear Channel Outdoor
Cook Family Foundation
Costa, Michele
Daktronics
DDI Media
Drachman, Max
Drew Katz Foundation
Duane Morris, LLP
Fairway Outdoor Advertising
Feldman, Dave
Fleck, Ralph
Fletcher Family Foundation
Fletcher, Nancy
Florida OAA
Freitas, Stephen
Futurelaw, L.L.C.
Gresham Savage Nolan & Tilden
Hanje Mkemu
Horton, Russ
Independent's Service Co.
Intersection
Jim and Laura Moravec
Johnsen, Fretty
Johnson, Jared
Justice Advertising Management
Keystone Outdoor
Klein, Ken
Kramer Graphics
Laible, Myron
Lamar Advertising Company
Lind Media
Link Media Outdoor
McGlinchey Stafford
McIIwain, Jim
Miller, Vincent
Moreno Family Foundation
Norton, Thomas
OA Foundation of New York
OAA of Georgia
OAA of Missouri
OAA of Pennsylvania
OAA of Texas
O'Donnell, Patrick & Rochelle
OutdoorLink, Inc.
Outfront Media
Park Outdoor
Peerless Development LLC
Peterson, Richard
Price, Meese, Shulman & D'Arminio P.C.
Reagan Outdoor
Reliable Electric Products
RMG Outdoor
Robinson, Rick
Rothfelder & Falick
Saunders Outdoor Advertising
Savrick, Schuman, Johnson, McGarr, Kaminski & Shirley, L.L.P.
SettlePou
Shipley Associates
Silverstrini, Jeffrey
Sirote & Permutt
Stratford, Gina
Strauss & Troy
The Siroky Group
Triad Foundation
Unity Contractor Services Inc
Watchfire Signs by Time-O-Matic
White | Goss
Wilkins, William (Bill)
Winifred & Kevin Reilly Jr. Fund of the Baton Rouge Area Foundation
Yarmark, Brad
YESCO Outdoor Media
Young, Michael
Young, Paul
Zukin, Chris[/vc_column_text][/vc_column][/vc_row][vc_row][vc_column][vc_btn title="Download PDF" color="danger" align="center" link="url:https%3A%2F%2Fspecialreports.oaaa.org%2Fwp-content%2Fuploads%2F2018%2F03%2FFOAREDonors_022618.pdf||target:%20_blank|"][/vc_column][/vc_row]