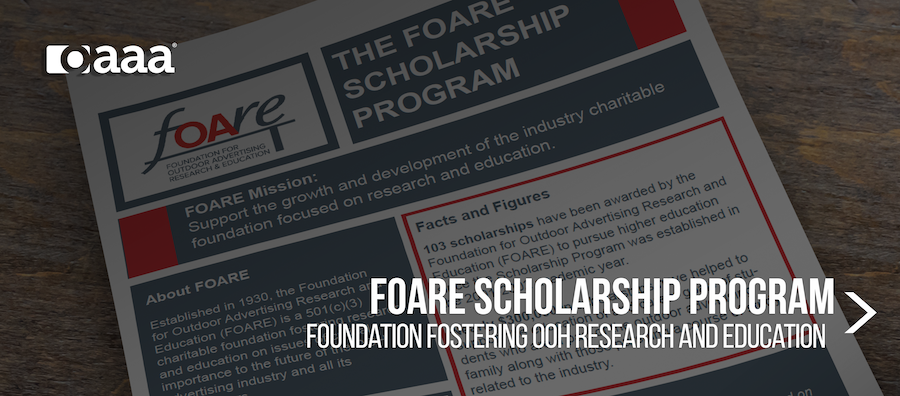 The Foundation for Outdoor Advertising Research and Education (FOARE) will award ten scholarships for the 2020-2021 academic year in the amount of $5,000 each to students with connections to the OOH industry. The FOARE Board has announced several changes in the scholarship program this year because of the COVID-19 pandemic that are intended to make it easier for students with connections to the industry to apply for the scholarship funds. The COVID-19 pandemic has disrupted nearly all educational settings with many students being forced to participate in classes remotely.
The deadline for receipt of applications has been delayed until June 30, 2020 to give students more time to complete and submit an application. Unlike previous years, only students with specific connections to the OOH industry will be eligible to apply and receive a FOARE scholarship for the 2020-2021 academic year. Students applying for a scholarship must be a current or former employee of the OOH advertising industry; have a family member who works or previously worked in the industry; or have some other specific industry connection.  Applications from students with no connection to the OOH industry will not be accepted this year.
Currently enrolled undergraduate and graduate students; high school seniors accepted to an undergraduate program; and students who have completed an undergraduate program and have been accepted into a Master's or Doctoral program – and have a connection to the industry – are eligible to receive a scholarship.
In addition to essay and other requirements, students also must submit an academic transcript.  The academic transcript may be an unofficial transcript.  All applications also should be submitted by email to Thomas M. Smith & Associates at [email protected]. Applications should not be mailed. For information on the scholarship and an application, please see the FOARE website here.
A total of 162 students have received scholarships from the Foundation for Outdoor Advertising Research and Education (FOARE) to pursue a higher education since the Scholarship Program was established in the 2001-2002 academic year. Applicants have received scholarships for pursuing study in a wide range of fields ranging from marketing to the medical sciences.
The following scholarships are awarded: the Allman Family Business Development, Marketing and Sales Scholarship Endowment; the Nancy Fletcher Leader Scholarship; the Ruth Segal Scholarship; the Vern and Elaine Clark Out Of Home Industry "Champion" Scholarship Endowment; five general student scholarships; and a Creative Arts/Design Scholarship.
Post Published May 26, 2020