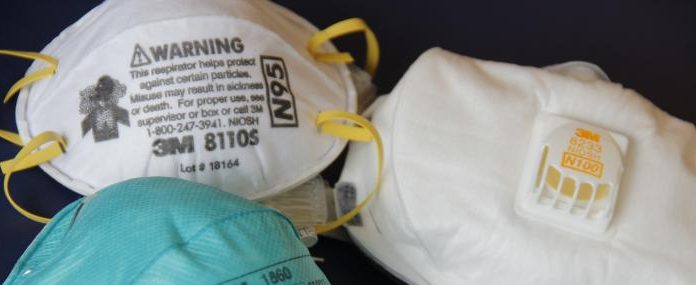 DDI Media in St. Louis found N95 masks in supply bins.
The company quickly plans to donate these respirator masks for local health-care workers. Further, the company's sales force is asking customers to look for N95 masks, to send them to hospitals.
We challenge the out of home (OOH) advertising industry to find any N95 masks in tool bins/supply cabinets and donate them for local healthcare workers. DDI located 50 masks.
 The original request for help, according to DDI Media, came from a medical center in Missouri.
"You guys wouldn't have a bunch of face masks in the shop by chance," said a text to DDI Media on Friday (March 20).
DDI Media President Vince Miller is an OAAA Board member and Executive Committee member.
Background
Common industrial uses for N95 masks include protection from dust and fumes. At billboard plants, masks were used when signs were painted.
Due to the coronavirus pandemic, hospitals face supply shortages. Health professionals use N95 respirators and surgical masks to protect from airborne particles and liquid contaminating the face, says the Food & Drug Administration (FDA).
Message from close friend/doctor in NYC hospital:

NYC hospitals and in particular many H+H hospitals are facing 1) protective equipment / mask shortages and 2) overwhelming patient volume.

Read the below — if you have masks to donate, dm me, I will connect you.

THANKS + SHARE pic.twitter.com/3NvnWWX99e

— LaurenGoldenberg (@LaurenGolden__) March 20, 2020
In Maryland, a recent Nextdoor.com list-serve post asked for help:
"Hello neighbors, I'm a nurse anesthetist and my colleagues and I do not have the masks we need to safely take care of our patients. If anyone has any they can donate please message me. I will leave a box on my doorstep. Stay safe. Tracy"
Vice President Mike Pence said Friday (March 20) that the Trump Administration would announce a major purchase of N95 respirator masks to relieve shortages. A federal stimulus bill signed last week included a provision sought by Pence to provide liability protection for manufactures of N95 masks.
The Centers for Disease Control and Prevention (CDC) said when there is a shortage of N95 respirators, health care personnel can use face masks for certain low-risk situations while prioritizing N95 respirators for aerosol-generating procedures.
What about expiration dates?
The Food & Drug Administration's coronavirus Q&A says: "These products were designed to serve as protective barriers and thus FDA believes they may still offer some protection even when they are used beyond the manufacturer's designated shelf life or expiration date."
Broader OOH Industry Response
Starting March 11, OOH media displayed public-health messages in partnership with the federal health agency (CDC). More recently, the OOH industry is part of a multi-media public service campaign sponsored by The Ad Council. Learn more about COVID-19 prevention PSAs here.
In Connecticut, the governor praised OOH media for helping public-health communications.
And now, DDI Media plans to donate N95 masks.
By the way, DDI Media's alert to OAAA about finding and donating N95 masks arrived at 1:37 a.m. on Sunday. When it comes to helping the public and serving communities, time of day is not relevant.
Thank you DDI Media and thanks to all those who lend a hand even though business is disrupted.