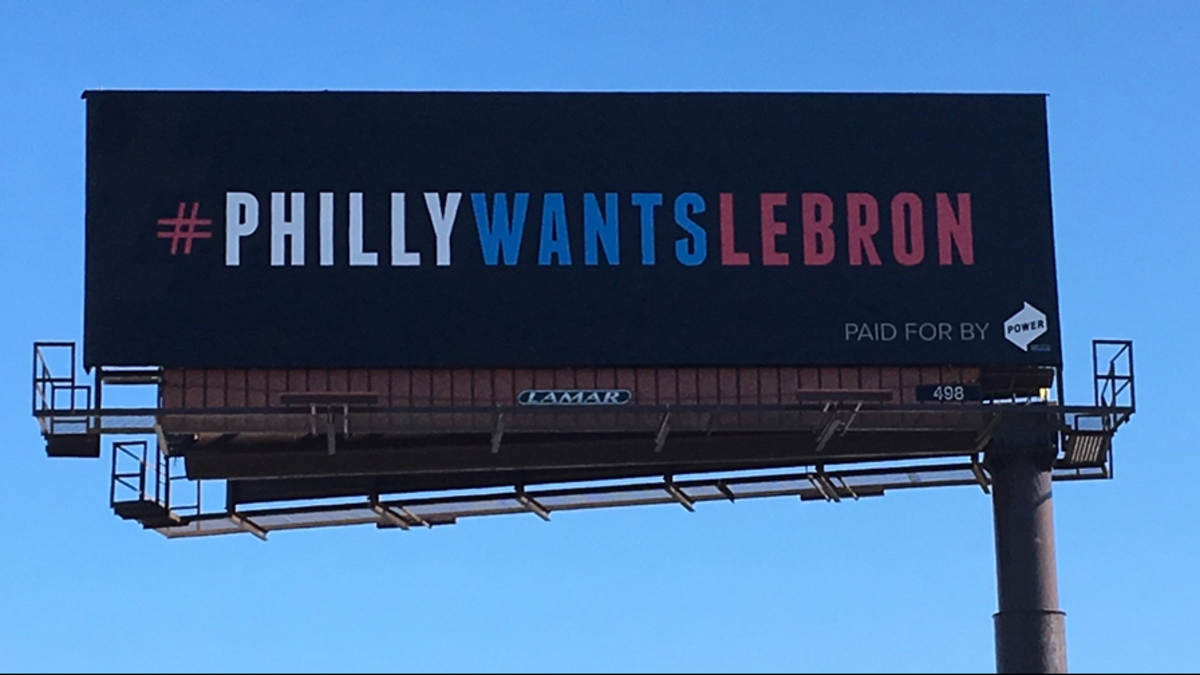 [vc_row][vc_column][vc_column_text]From Hollywood to professional sports, OOH has taken the spotlight this year.
[/vc_column_text][/vc_column][/vc_row][vc_row][vc_column width="2/3″][vc_column_text]
The Bachelor
Following part one of The Bachelor (ABC) finale on March 5, fans were outraged by his decision to break up with fiancée Becca to pursue the woman he previously chose to dismiss from the competition. Despite being asked to leave by his ex-fiancee, he lingered for another 30 painful minutes.
The next morning the #BachelorNation fan base banded together to show support for Becca and distaste for the bachelor himself (Arie). Digital billboards asking Arie to "just leave" were posted in Los Angeles (where the final episode aired), near Becca's hometown in Minnesota, and Times Square.
The billboards quickly caught the attention of celebrity and entertain media outlets, hometown papers, and fans across social media. Before part two of the finale, Entertainment Weekly, Entertainment Tonight, and PEOPLE spotlighted the billboards.
ABC also took notice, incorporating the billboards into the show's live recap March 8. Watch Becca's reaction here.[/vc_column_text][/vc_column][vc_column width="1/3″][vc_single_image image="1493″ img_size="medium" alignment="right" onclick="img_link_large" img_link_target="_blank"][/vc_column][/vc_row][vc_row][vc_column width="2/3″][vc_column_text]The Fight for LeBron
Power Home Remodeling, based in Philadelphia, PA, used billboards to reach basketball star LeBron James. The company bought three billboards seven miles from Quicken Loans Arena, home of James' Cleveland Cavaliers, requesting he sign with the Philadelphia 76ers.
Days later, Cleveland hotel The Metropolitan at the 9 responded with a billboard message of its own. The digital signs reminded the city of Philadelphia that Cleveland is "TheLandOfTheKing. (LaBron James is known as "King James.")
Los Angeles Lakers fans got in on the action, as well. A personal injury lawyer and self-described "Lakers fanatic" bought billboards in Los Angeles timed to coincide with a trip to LA by James's Cavaliers to play the Lakers.
"I am going to tell you, for the past week I think I have stopped practicing law, and this is all I am doing," Jacob Emrani joked to ESPN. "I got respect for him, and I feel like as a private citizen, I am going to put my dollars behind my passion and recruit him."[/vc_column_text][/vc_column][vc_column width="1/3″][vc_single_image image="1494″ img_size="medium" onclick="img_link_large" img_link_target="_blank"][/vc_column][/vc_row][vc_row][vc_column][vc_column_text]Serena Williams, #GMOAT
To celebrate Serena Williams' return to professional tennis, her biggest fan — husband and Reddit co-founder Alexis Ohanian — placed billboard messages featuring images of their daughter Alexis Olympia Ohanian Jr. with the caption "Greatest momma of all time."
"These just went up on alongside I-10 into Palm Springs," Ohanian wrote on Twitter and Instagram. "@OlympiaOhanian & I wanted to welcome her back to tennis. Designed them myself, with some help from Jr. #GMOAT"
"Literally am crying," the tennis star wrote in reply to Ohanian on Instagram. "This is so sweet. I love you."
William's billboards went viral on social media and featured in national and international news media, including CNN, USA TODAY, and Sports Illustrated.[/vc_column_text][/vc_column][/vc_row][vc_row][vc_column][vc_raw_html]JTNDYmxvY2txdW90ZSUyMGNsYXNzJTNEJTIydHdpdHRlci10d2VldCUyMiUyMGRhdGEtbGFuZyUzRCUyMmVuJTIyJTNFJTNDcCUyMGxhbmclM0QlMjJlbiUyMiUyMGRpciUzRCUyMmx0ciUyMiUzRVRoZXNlJTIwanVzdCUyMHdlbnQlMjB1cCUyMG9uJTIwYWxvbmdzaWRlJTIwSS0xMCUyMGludG8lMjBQYWxtJTIwU3ByaW5ncy4lMjAlM0NhJTIwaHJlZiUzRCUyMmh0dHBzJTNBJTJGJTJGdHdpdHRlci5jb20lMkZPbHltcGlhT2hhbmlhbiUzRnJlZl9zcmMlM0R0d3NyYyUyNTVFdGZ3JTIyJTNFJTQwT2x5bXBpYU9oYW5pYW4lM0MlMkZhJTNFJTIwJTI2YW1wJTNCJTIwSSUyMHdhbnRlZCUyMHRvJTIwd2VsY29tZSUyMGhlciUyMGJhY2slMjB0byUyMHRlbm5pcy4lMjBEZXNpZ25lZCUyMHRoZW0lMjBteXNlbGYlMkMlMjB3aXRoJTIwc29tZSUyMGhlbHAlMjBmcm9tJTIwSnIuJTNDYSUyMGhyZWYlM0QlMjJodHRwcyUzQSUyRiUyRnR3aXR0ZXIuY29tJTJGaGFzaHRhZyUyRkdNT0FUJTNGc3JjJTNEaGFzaCUyNmFtcCUzQnJlZl9zcmMlM0R0d3NyYyUyNTVFdGZ3JTIyJTNFJTIzR01PQVQlM0MlMkZhJTNFJTIwJTNDYSUyMGhyZWYlM0QlMjJodHRwcyUzQSUyRiUyRnQuY28lMkZ6UmNNbXhoZ0I1JTIyJTNFcGljLnR3aXR0ZXIuY29tJTJGelJjTW14aGdCNSUzQyUyRmElM0UlM0MlMkZwJTNFJTI2bWRhc2glM0IlMjBBbGV4aXMlMjBPaGFuaWFuJTIwU3IuJTIwJTI4JTQwYWxleGlzb2hhbmlhbiUyOSUyMCUzQ2ElMjBocmVmJTNEJTIyaHR0cHMlM0ElMkYlMkZ0d2l0dGVyLmNvbSUyRmFsZXhpc29oYW5pYW4lMkZzdGF0dXMlMkY5Njg1MDg0NzY3NzAwNDE4NTYlM0ZyZWZfc3JjJTNEdHdzcmMlMjU1RXRmdyUyMiUzRUZlYnJ1YXJ5JTIwMjclMkMlMjAyMDE4JTNDJTJGYSUzRSUzQyUyRmJsb2NrcXVvdGUlM0UlMEElM0NzY3JpcHQlMjBhc3luYyUyMHNyYyUzRCUyMmh0dHBzJTNBJTJGJTJGcGxhdGZvcm0udHdpdHRlci5jb20lMkZ3aWRnZXRzLmpzJTIyJTIwY2hhcnNldCUzRCUyMnV0Zi04JTIyJTNFJTNDJTJGc2NyaXB0JTNFJTBB[/vc_raw_html][/vc_column][/vc_row][vc_row][vc_column][vc_btn title="Download PDF" color="danger" link="url:https%3A%2F%2Fspecialreports.oaaa.org%2Fwp-content%2Fuploads%2F2018%2F03%2FFans_031918.pdf||target:%20_blank|"][/vc_column][/vc_row]