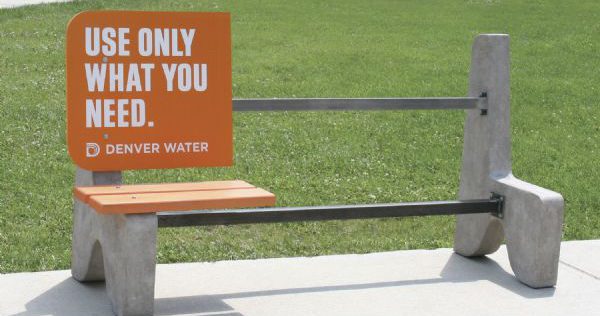 A quarter-century ago, the US Senate debated billboards. Pro-environment Sen. Barbara Mikulski of Maryland said in 1991, "I am up to my earrings in environmental problems."
Pollution in Chesapeake Bay, she said, is a real environmental problem. Cleaning up toxic-waste Superfund sites – some on military bases – is a real environmental problem.
"Let us not get into environmental issues calling them billboards," cautioned Mikulski, who would become the longest-serving woman in Congress and earn a Presidential Medal of Freedom.
Sen. Mikulski knew that OOH displays are not an environmental problem; OOH displays are a catalyst for economic development and jobs. Over the last 20 years, the OOH industry has also emerged as an ally for environmental progress, in the US and globally.
Air Purification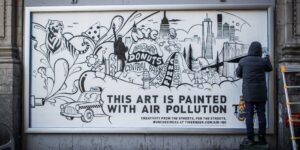 Heineken's Tiger Beer won a Gold Lion at Cannes 2017 for its global campaign ("Air-Ink") to capture exhaust pollution from delivery trucks and convert pollution to printers' ink.
Artists created public works with ink made from air pollution. Air-Ink was invented by Anirudh Sharma, co-founder of innovation hub Graviky Labs.
Toyota's eco-billboard campaign for its hydrogen-fueled Mirai used titanium dioxide coated vinyl to help purify the surrounding air.
In Chattanooga, TN, large-format printer Vincent Printing Company announced a partnership in August with Pureti Group to market a billboard material that helps purify air.
Lighting Conversions and Renewable Energy
OOH media companies large and small are converting to light fixtures that use less energy and last longer.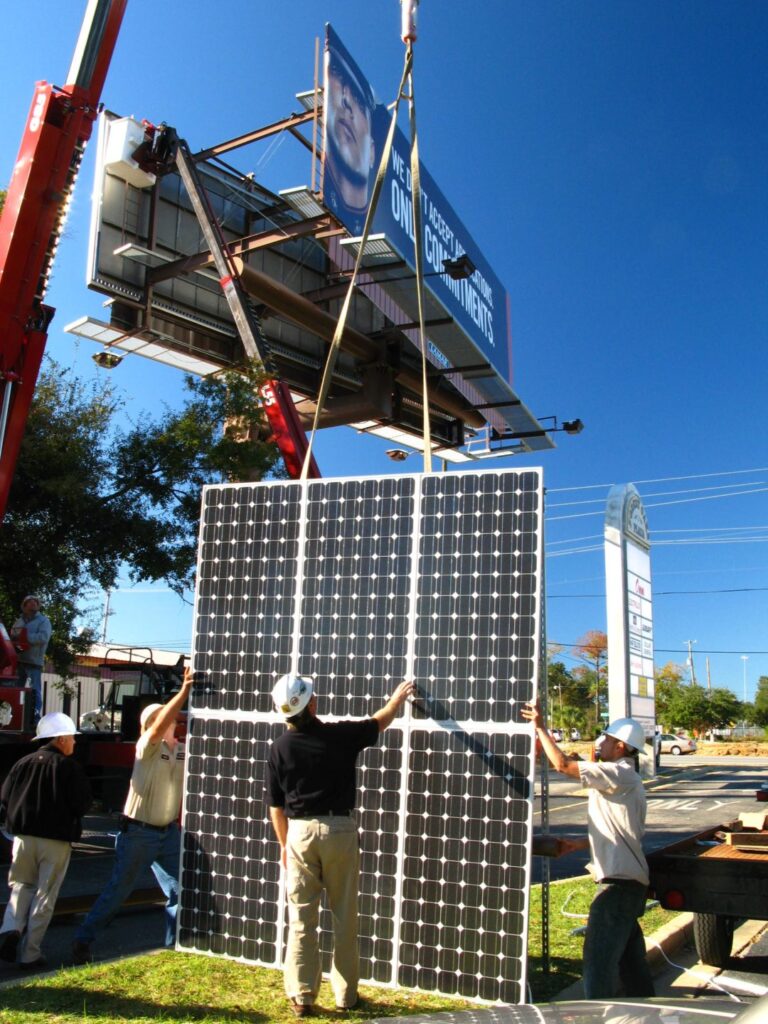 Green Signs based in Des Plaines, IL, powers its signs with renewable energy.
Lamar Advertising Company has researched and tested electric vehicles. The company is poised to convert half its light-truck fleet to electric vehicles when this emerging technology arrives in the US market.
Also on the horizon are better batteries to store power generated by renewable sources. OUTFRONT Media is testing solar lighting; Clear Channel Outdoor Americas operates solar billboards in Las Vegas. Lamar has some 3,000 solar billboards in Florida, Louisiana, and Nevada. The company is prepared to increase its solar footprint to power off-grid billboard lighting when improved batteries can store more power.
Recycling and Repurposing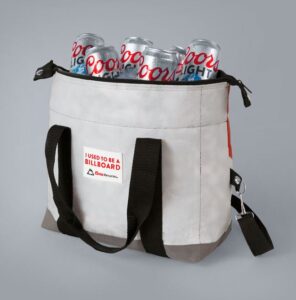 Recyclable posters and bulletin substrates have replaced printed paper and glue. PVC substrates are being replaced with those that are recyclable.
Recyclers such as Avangard, based in Texas, have recycled PE billboard materials into netting, piping, and other re-uses.
In Longmont, CO, Circle Graphics touts recyclability of its printed OOH posters and bulletins as a selling point.
As part of a new sustainability effort, Coors Light converts its billboards into coolers and its kegs into BBQ grills.
Eco-friendly artisans repurpose billboards into unique products such as tote bags, wallets, and other accessories. RAREFORM transforms "20,000 pounds a month of billboard vinyl into one-of-a-kind products."
Relan upcycles billboards into brand marketing materials, including coolers, computer cases, and more.
When digital billboards reach obsolesce or are damaged beyond repair due to a natural disaster, they are disassembled and the parts recycled, including aluminum, stainless steel, and copper wiring. LED modules are recycled for metals, and the plastic housing can be recycled for substances such as asphalt fill. Damaged fan assemblies are scraped as bulk metal, and other components are used as spare parts.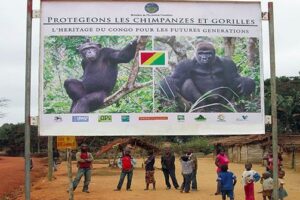 Environmental Messages
Meanwhile, OOH campaigns put a visual exclamation point on environmental messages.
The Jane Goodall Institute, based in Vienna, VA, displayed billboard messages in Africa in French and local languages to protect chimps and great apes.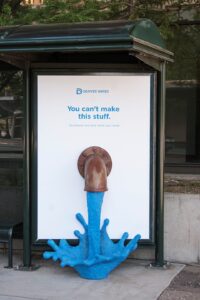 Billboards expand public knowledge and change attitudes, the Institute said.
Denver's water utility has posted award-winning conservation campaigns on bus shelters and other OOH formats, earning "Best of Show" at the 2016 OBIE Awards.
The current Secretary of Interior, Ryan Zinke, is from Montana. When he returned home to speak to western governors, environmentalists communicated their point on billboards.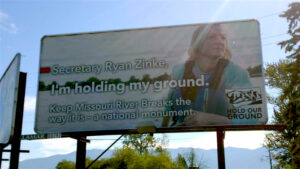 Sierra Club's clean-air campaign has appeared on billboards and other forms of OOH advertising.
In May, National Geographic photographer Joel Sartore spoke in New Orleans at the 2017 OAAA/Geopath National Convention + Expo asking for help in publicizing his Photo Ark campaign to prevent animal extinction (he was the top-rated speaker).
"You guys inspire for a living," said Sartore, ending with a plain-spoken pitch: "Help me out. Let's get to work."
Sartore's Photo Ark images appeared in more than 72,000 donated OOH ad spaces nationwide, generating awareness and social media buzz.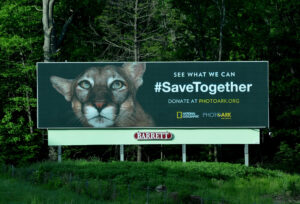 Documentary filmmaker Ken Burns calls the national parks "America's best idea." When the nation launched its celebration of the centennial of the National Park Service (1916-2016), Interior Secretary Sally Jewell was in Times Square with high-tech billboards.
As an industry we are and always have been made up of responsible corporate citizens. I'd love to hear your stories about being responsible to customers, communities, and our world. You can reach at me [email protected] or call OAAA at (202) 833-5566.
Excited to help launch #FindYourPark to inspire people to connect with @NatlParkService.SJ http://t.co/DOM7TNKsyJ pic.twitter.com/XvfJIuuMUN

— Sally Jewell (@SecretaryJewell) April 2, 2015