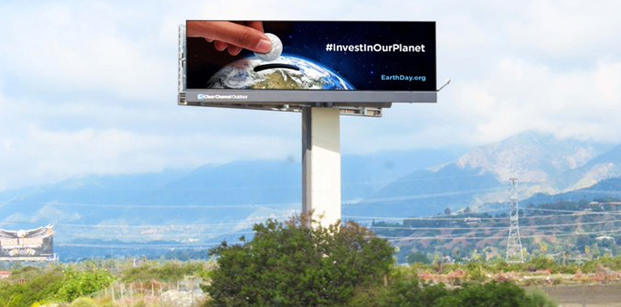 To celebrate Earth Day 2022, the Out of Home Advertising Association of America (OAAA) once again joined forces with Earthday.org for a national out of home campaign. This year's theme is "Invest in our Planet" and focuses on reaching businesses and government entities — those with capital to literally invest in the planet through corporate decisions and sustainable changes.
Extra Credit Projects designed a variety of bulletin, poster, and kiosk creative to grab attention, which we encourage you to download here. As OOH continues to experience rapid growth, there is no better time to leverage it for the greater good.
"The campaign is a strong demonstration of the OOH medium being a force for good in responding to important world issues at massive scale and with rapid speed," said Anna Bager, President and CEO, OAAA. "Consumers are reporting greater appreciation for being out of home, so this critical campaign is sure to capture attention of people all across the nation."
"Climate change is one of the most important issues of our time and big business and government organizations play a vital role in addressing this crisis, along with everyday citizens," said Tom Cosgrove, Chief Creative and Content Officer, earthday.org. "This OOH campaign will showcase the ways that sustainability is good for the planet, while leading to a prosperous future across the board. OAAA and its membership understand the need for a healthy planet in order to build a better tomorrow."
Several OAAA members committed to the campaign as soon as it was unveiled — including Clear Channel Outdoor, Lamar Advertising, Intersection, Norton Outdoor Advertising, OUTFRONT, Vector Media, and Yesco — and many of the industry's biggest publications have helped expand awareness. Daily DOOH, OOH Today, and BIllboard Insider all posted feature articles and pictures of the campaign in the wild.
We appreciate your support in working together to unlock the powerful scale that only OOH can deliver to save our planet. To help generate even more awareness, share pictures on social media of your creative in the wild, tag OAAA, and use the hashtag #InvestInOurPlanet.