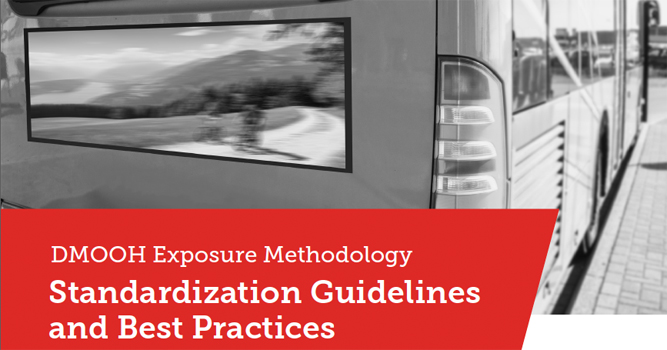 The ability to have your digital out of home (DOOH) ad placed on a vehicle that moves around your target areas to reach different members of your target audience is powerful – assuming you can determine who was exposed to it. Marketers have been slow to adopt digital moving out of home (DMOOH) because there has been no standard for measuring exposure.
OAAA's newest report aims to change that.
"DMOOH Exposure Methodology Standardization Guidelines and Best Practices" is a new framework for standardizing the methodology for capturing mobile advertising IDs that represent the audience exposed to DMOOH media. In addition to encouraging the adoption of DMOOH, the objectives of this report were to bring the industry together to collaborate and provide data solutions that empower omnichannel marketers in new ways.
How does it work?
The methodology uses additional input data to provide more context to traditional mobile location information. By capturing two sets of timestamped latitude and longitude data (based on the beginning and the end of your DMOOH ad's journey) and media position (where your ad is placed on the vehicle), you can generate definitive insights about who was exposed, and where.
This new report focuses on retargeting and attribution use cases, and it is a valuable supplement to OAAA's previous report, "DOOH Exposure Methodology Standardization Guidelines and Best Practices."
Click here to download the report.
Post Published May 25, 2022