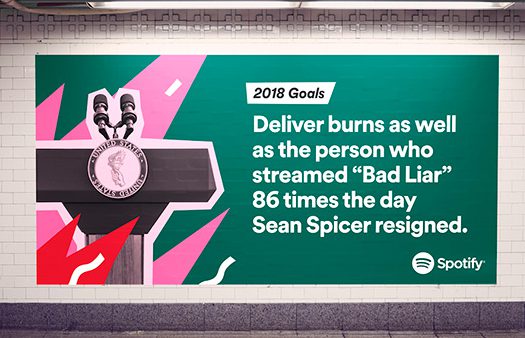 OAAA regularly features Thought Leadership Q&A from its committee members. This month, OAAA spotlights the Creative Committee, asking members:
"This year's Platinum OBIE Award winner, Spotify, was a spectacular OOH campaign. Which other campaigns stood out for you in this year's OBIE Awards show and why?"
I love when a local business puts out a campaign that competes on a national level. That to me is the power of OOH… it gives opportunity to all, and it's up to individual brands to make their message matter. The San Diego Taco Fest, despite being unheard of, did that. They owned who they are and owned their market because of it.
The Stranger Things 2 upside down bus was stand out for us. Spectacular. Attention getting. No one could possibly miss this! The Great Society for UnTattoo Parlor was also cool: a large tattoo the public could see being removed.
Other notables this year were Visible Distance/Second Sight mountain execution in the Contextual category, the Shepard Fairey Obey Giant campaign, and the Lamar Irma Gives Back initiative. We love these for the relevance and art of it all.
A standout for me was VICELAND's Gold-winning campaign in Experiential for Weed Week along with a Bronze for Integrated. Two separate awards but same in-house team/creative strategy/campaign.
VICELAND did an amazing job at leveraging simple, bold, and clean creative across various platforms. The message drove awareness for the TV series, generated buzz (pun intended), and maximized the power of OOH. They were committed to delivering a campaign that was extremely difficult to place due to the subject matter but they never gave up and the results speak for themselves with multiple OBIE Awards.
San Diego Taco Fest stands out because it's just plain ole' good advertising at its core without the help of a prestigious brand name or massive budget for a flashy execution. Unique concept, clever copywriting, and solid execution earned this little client a win amongst much bigger advertisers.
I really loved the San Diego Taco Fest campaign from OUTFRONT Studios. The look and feel completely nailed this meme-loving generation. It was so well targeted in content, relevance, aesthetics, and execution. They couldn't have done a better job promoting this client.
When asked this question, I resorted back to what got my reaction while sitting in the audience during the OBIE Awards show. When I saw the work for Milwaukee Brewers Baseball Club, it stood out as one of my favorites not only for the beautiful design, but also for the way it made me feel. I felt like I was missing the big game. It made me smell hot dogs and nachos and want to eat peanuts. I'm always a sucker for a good custom installation, especially when coupled with a teaser. The Brewers' campaign was executed beautifully. They utilized vastly different colors for the before and after designs, which really made it stand out as the first design was gradually removed. Any time you introduce 3D to a market where it's not prevalent, it gets a ton of buzz. Baseball…billboards….'Merica!
One of my absolute favorites was the Heinz campaign. First, it's great advertising because it encourages the viewer to get involved in finishing the idea. It's selling ketchup, but there's no ketchup. That image is supplied by the viewer's own imagination. Second, it's a shining example of great out of home in its simplicity and boldness. Third, it was pitched on Mad Men and made its way to real life. Fourth, the agency in the show, Sterling Cooper Draper Pryce, was given credit. So much goodness in this campaign.