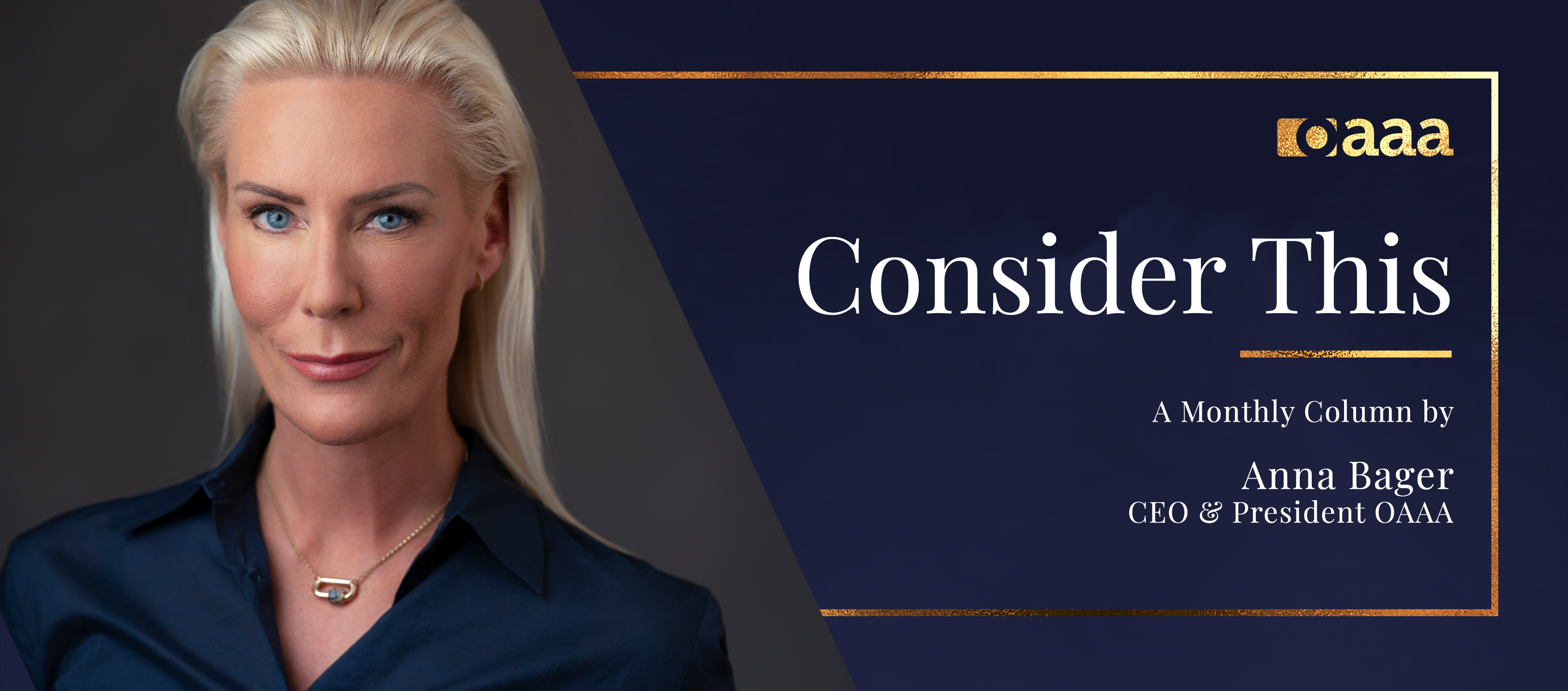 I want to thank the many OAAA members I've met for your guidance and warm welcome. While traveling the country on my nationwide listening tour over the past five months, I have seen first-hand the passion our members have for this industry. The future of OOH is incredibly bright, and our opportunities are vast. There is so much we can accomplish together.
It is now time to transition from listening to leading, and to doing the right thing for the OOH industry. Here then, are the five most important priorities OAAA will focus on in 2020. They reflect member suggestions from every corner of our industry, and they are based on five key goals:
Protect our assets
Protecting OOH assets in the legislative and regulatory arena, and enhancing our industry's value at the federal, state, and local level will always be OAAA's most important priority. The regulatory framework for billboards that has been in place for over fifty years is constantly under pressure. Our legislative priority is to retain a regulatory structure that includes payment of just compensation for removal of billboards. We are also committed to helping our industry better understand and seize new opportunities, like the expanding cannabis category and implementation of privacy laws like the new California Consumer Privacy Act (CCPA), which will likely be a model for national regulation.
I will never forget what Vince Miller, President of DDI told me, "OAAA is our insurance!" I am committed to continuing OAAA's leadership in legislative and legal advocacy, and OAAA's dedication on this front will never waver.
Promote unity
We all win when the broader advertising and media world sees OOH as one unified, cohesive medium. With unity comes scale, reputation, and a story that resonates. That's why I plan to work together with other associations and organizations to ensure that our industry speaks with one powerful, amplified voice.
Build a higher profile for OOH and the OAAA
We will work hard in 2020 to find new entry points with new customers to generate more sales for OOH. To get there, we'll expand our presence and participation at non-OOH media events, to position our medium with audiences who may not know us as well as they should. We will also increase our profile with brands and media professionals in top-tier markets around the country, with a schedule of advertiser and agency-targeted events. In 2020, we plan on hosting these events in big media markets, including Seattle (planned for March 24), New York, Chicago, Los Angeles, Detroit, Houston, and Minneapolis. We'll increase our share of voice beyond traditional OOH channels by evangelizing our medium, and telling OOH's powerful story in new channels and media outlets. To help us reach new audiences, we plan a more aggressive communications strategy in 2020.
Make OOH easier to plan, buy, and sell.
As our medium continues to evolve, technology is our friend. The best way to increase OOH's share of the advertising pie is to help it be planned, bought, and sold in the same ways and on the same platforms as other media. To make this happen, the industry must reduce friction in the buy-sell process. In 2020, OAAA will continue to work together with members and non-members to develop the unified policies, standards, guidelines, and protocols that will help all of our members, large and small, and in all parts of our diverse industry. Several OAAA committees are currently working on a range of best practices and guidelines related to data use and analytics, automation and programmatic transactions, video content, and creativity, and we will continue to prioritize and support these efforts.
Make OAAA even more powerful and inclusive.
My vision is to make OAAA more valued and inclusive, to grow its importance, size, and influence to make it the big tent organization representing the interests of a diverse and respected industry. I envision more members and more events in more places, as we focus on education, training, and networking, with an expanded calendar of conferences, seminars, town-hall meetings workshops, webinars, and more. To boost the OOH industry and OAAA's profile we have opened an office in New York City. This will allow us to have a bigger presence and be more engaged with the larger media community, keeping the conversation about OOH top of mind and highlighting our medium's advantages to this important constituency all year long.
These five 2020 priorities are highly synergistic, building upon each other to create more opportunity and momentum for the OOH industry. If our assets are protected and their value is secure, OOH operators can focus on growth. If OOH creates a higher profile, we can elevate our medium and participate in more media buys. If we make OOH easier to buy and sell, we can increase our transaction volume and continue to take share from other advertising formats. And, if we are a more unified industry, we can increase awareness, affinity, scale, and appreciation for OOH advertising, and make it more of a core media buy than ever before.
By the way, my listening tour is not over and it never will be. I will continue to embrace your good counsel. Thank you to all of our members for your warm welcome and your valuable input and support. I know we are heading down the right path. As always, I look forward to hearing from you! Reach me at [email protected].