A pandemic was not in your 2020 plan. But the crisis has revealed/highlighted valuable lessons for out of home media about what is essential.

Staying in Touch with Customers is Essential
Remaining close to customers is always essential, but it is a business imperative when personal contact is severely limited. With stay-home orders in effect for several weeks already and continued quarantine certain, it is critical to stay connected with customers, reminding them about the benefits of OOH and how the medium can help reinforce brand messaging.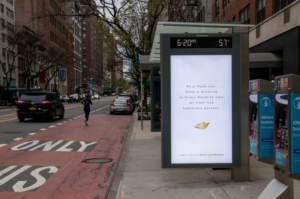 By staying close to longtime customer Dove, JCDecaux was able to help the brand realign its "Real Beauty" campaign into a "Courage is Beautiful" campaign this month, ensuring the brand understood the value of running a new OOH campaign during the middle of the crisis and in the most impacted city in America. Connecting to their broader purpose of highlighting real beauty everywhere, the campaign spotlighted women medical workers on the front lines of the fight against COVID-19. The campaign was intended to demonstrate Dove's support and thanks to medical workers and raise awareness about corporate social responsibility actions that have already donated $2.5 million in products to people in need. The campaign ran across 30 digital shelters and 20 digital newsstands in New York, all targeting hospitals throughout the city.
Tone is Essential
Majority of daily stories covered in the 24-hour news cycle relate in some way to the crisis. The tone is always important, but right now, for brands, striking the right tone with consumers is essential as everything is perceived through the COVID-19 prism.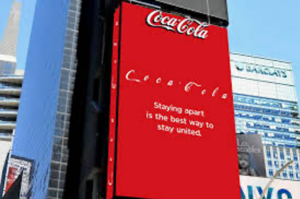 The smart brands, both local and national in scale, have pivoted corporate messages to align with the realities of living with COVID-19. Coca-Cola changed the messaging on its Times Square digital sign to remind people that "Staying Apart is the Best Way to Stay United." Product benefits have been replaced with socially relevant messages. The payoff is long term consumer goodwill.
One of the great moments for a student is the walk across a stage to receive their diploma. Since the Burnsville, WV High School Commencement Ceremonies have been canceled, the city gathered donations and purchased a LINK Media billboard to honor the graduates. Cars lined up to take pictures of their graduates on the billboard.

Staying in touch with the industry is Essential
Industry colleagues share the same passion for the OOH business, and they understand how best to protect and advance the industry, both in good times and in bad. The industry trade association is a steady constant, the unified voice of the industry, and a clearing-house for the most critical information that companies need to know.
At the very onset of the COVID-19 pandemic, OAAA quickly adapted its focus and began producing information and resources to help members. OAAA has helped small businesses understand and access financial government support through Paycheck Protection loans. OAAA has produced ongoing and timely thought leadership and webinar education, sharing what works in sales, updating on market conditions, and providing a forum for conversations as the convening industry body.
After a COVID-19 update webinar earlier this month, Blip VP for OOH Marketing Daniel Fleischer wrote, "Very informative webinar. I'll be taking a lot of this back to our team and disseminating it through various channels, as well as our database of over 150,000 small business advertisers. Thank you for the great research and data."
Change of Copy is Essential
Change of copy has always been part of out of home media. The crisis showcased the medium's ability to change on a dime.
Before the stay-home orders and mandatory masks, Matt Harrold knew what to do when the pandemic began to grip the economy. His first instinct: contact restaurant advertisers to change their copy.
Harrold runs the Lamar Advertising market in Duluth, MN. In Duluth and nationwide, out of home copy changed quickly to message such as "We Deliver," and "We're Open."
The speed of change in commercial messages was matched in (non-commercial) public service.
Out of Home is Essential
Connecticut's executive order specifically mentioned billboards as essential. Lamar Advertising Company (LAMR) asked, and New York State answered: Yes, Lamar performs an essential business function.
"Based on the information you have provided, that business function is an essential business and/or supports an essential business and is not subject to the required 100% workforce reduction pursuant to the revised Executive Order 202.6," the State said.
As New York and other states restricted mobility to slow the virus, the government exempted workers for essential functions. These executive orders typically listed media and-or communications as essential.
Out of home companies build their case as essential as a long-recognized venerable communications medium displaying important public-health messages for government and also advertising for other businesses deemed essential as the delivery of food and medicine.
Cannabis is Essential
Government edits to fight COVID-19 are prima facie evidence of marijuana's conversion from scourge to acceptance.
Formal orders from state after state designated medical and recreational marijuana as essential.
A proclamation from Hawaii's governor that listed essential businesses started with "Food, beverage, cannabis production and agriculture." Next was education.
A list of essential businesses in New Jersey began with grocery stores, followed by pharmacies and medical marijuana dispensaries.
"Medical marijuana grower/processors and dispensaries are considered life-sustaining businesses," announced Pennsylvania's Secretary of Health, Dr. Rachel Levine.
About half the advertising spending for cannabis goes to out of home media, according to the Kantar media tracking service.
Government Remains Schizoid About Cannabis
Although California and other states deemed cannabis "essential," its problems include high taxation, low margins, robust competition from illegal sales, and — like other businesses — the pandemic.
Unlike other businesses hammered by COVID-19, the pot business has no safety net. It did not qualify for stimulus help because the federal government considers marijuana a controlled substance, like heroin.
From April 3-16, the feds sent $350 billion in "Paycheck Protection" assistance to prop up small businesses. Marijuana growers/retailers watched from the sidelines.
Your Banker is Essential
People love bankers . . . when they need them (like lawyers).
The coronavirus crisis — and the ensuing scramble for government help — brought a sharp focus to the importance of bank relationships.
Some out of home companies sailed through the application process for Paycheck Protection loans sponsored by the Small Business Administration (SBA), others were frustrated by delays.
Two weeks after the Paycheck Protection process opened, one out of home company lamented that its bank was "useless" because the company's application was not submitted. Another miffed out of home company was notified by its bank, on Easter Sunday, to get another bank.
The need to work with bankers/lenders in crisis "really is evidence of the importance of strong banking relationships," said an out of home media principal who applied for and received Paycheck Protection funds.
Health messages authorized by CDC (Centers for Disease Control and Prevention) were updated to keep pace, adding public-service pitches for social distancing and wearing masks. Out of home health were displayed in multiple languages.
Post Published April 27, 2020