Vice President Pence's brother Greg joined the committee that controls billboard issues in Congress. A pro-life Marine, Greg Pence (R-IN) says President Trump needs more Marines in Congress to accomplish Trump's mission.
Pence will be joined on the transportation committee by anti-Trump Congresswoman Sharice Davids (D-KS). She unseated a GOP incumbent in red-state Kansas, posting a martial-arts video of her slamming punching bags to show how she would stand up to Trump.
Despite America's political division, the House Transportation & Infrastructure Committee has been fairly nonpartisan. Current Chairman Peter DeFazio (D-OR) and top Republican Sam Graves (R-MO) are expected to work cooperatively on infrastructure legislation.
The 24 newcomers to the transportation committee – 16 Democrats and eight Republicans – reflect broader trends.
The mid-term election set a record for overall ad-spend, including gains in political messaging via out of home media. In Minnesota, winning congressional candidate Pete Stauber (R-MN) – who joined the transportation committee in January — put up billboards in Duluth and St. Cloud in September and October.

"Pete Stauber is a good, solid family man, pro-business and highly respected in our community," said Matt Harrold, general manager for Lamar Advertising Company in Duluth.
Trump as lift or load
In West Virginia, Carol Miller ran for Congress as pro-Trump, pro-coal, and pro-Second Amendment. Her winning slogan: "Take the bull out of politics."
Miller's freshmen colleagues on the House transportation committee include Democrats who defeated Republicans on the defensive due to Trump. A billboard manager in the Midwest described this dynamic as "Trump whiplash."
Diversity
Four members of Congress newly assigned to this committee are foreign-born, from Dominican Republic, Ecuador, Mexico, and Poland.
Newcomers to the transportation committee include women from:
Florida: Debbie Mucarsel-Powell, an Ecuadorian immigrant who defeated a Hispanic incumbent.
Iowa: Abby Finkenauer, who turned 30 just before she was sworn in.
Kansas: Sharice Davids, a Native American martial arts pro with a law degree from Cornell.
Minnesota: Angie Craig defeated incumbent Jason Lewis, a former talk-radio host. She made history as the first openly lesbian mom elected to Congress.
Puerto Rico: Jennifer Gonzalez-Colon, the first woman "resident commissioner" elected to represent the island in Congress.
Texas: Lizzie Fletcher, a lawyer who supports Planned Parenthood, defeated a Republican incumbent.
West Virginia: Carol Miller, a Republican elected to a congressional seat held by Democrat Nick Joe Rahall from 1977 to 2015.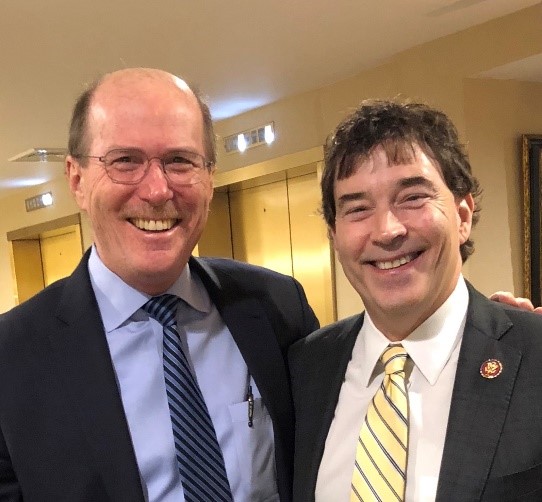 A common springboard for congressional candidates is state or local office. For example, freshman Congressman Troy Balderson (R-OH) served in Ohio's House and Senate.
Resumes of other newcomers to the House transportation committee reveal the occupational diversity of Congress' freshmen and sophomores:
Brian Fitzpatrick (R-PA) – lawyer, accountant (CPA), and emergency medical technician (EMT) elected to Congress in 2016 – fought corruption as an FBI agent.
Colin Allred (D-TX) – law degree from UC-Berkeley – played football at Baylor and was a linebacker for the Tennessee Titans.
Antonio Delgado (D-NY) – Rhodes scholar, Harvard Law – worked to empower young people through Hip-Hop.