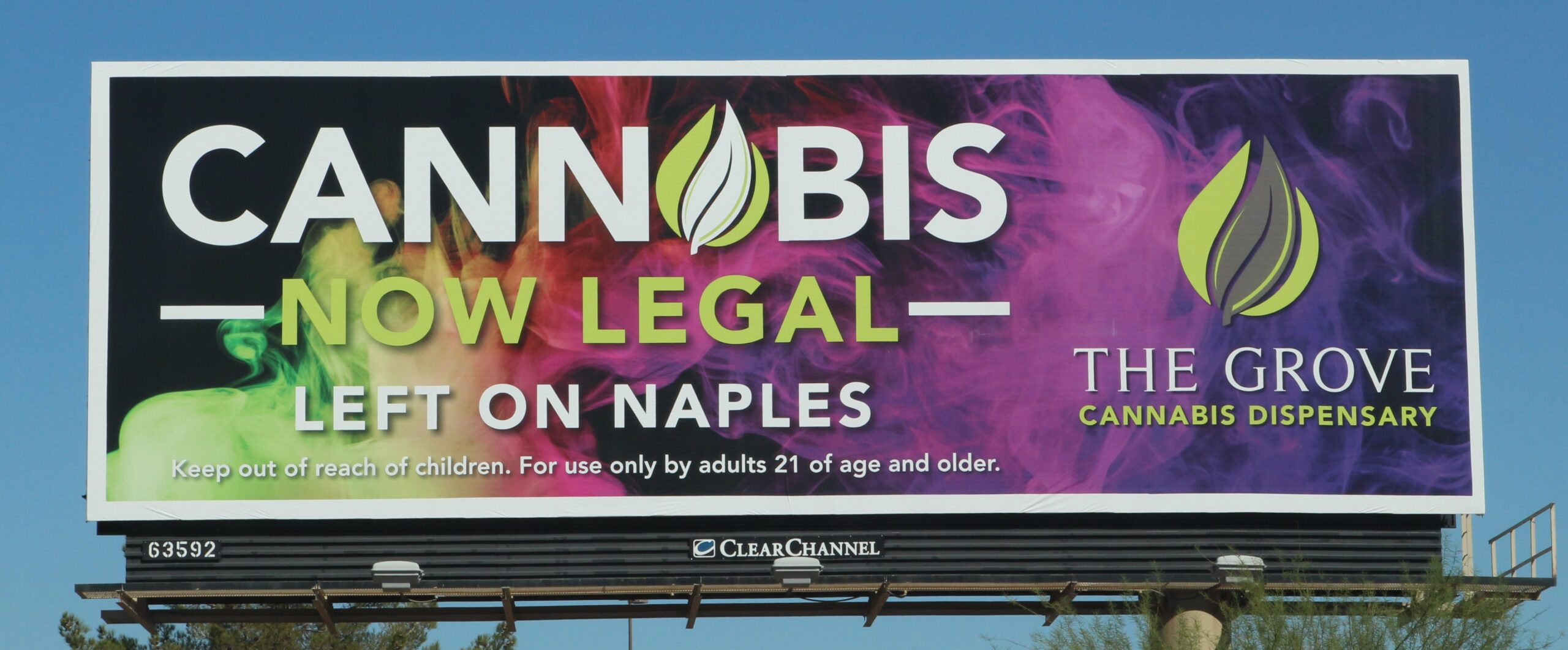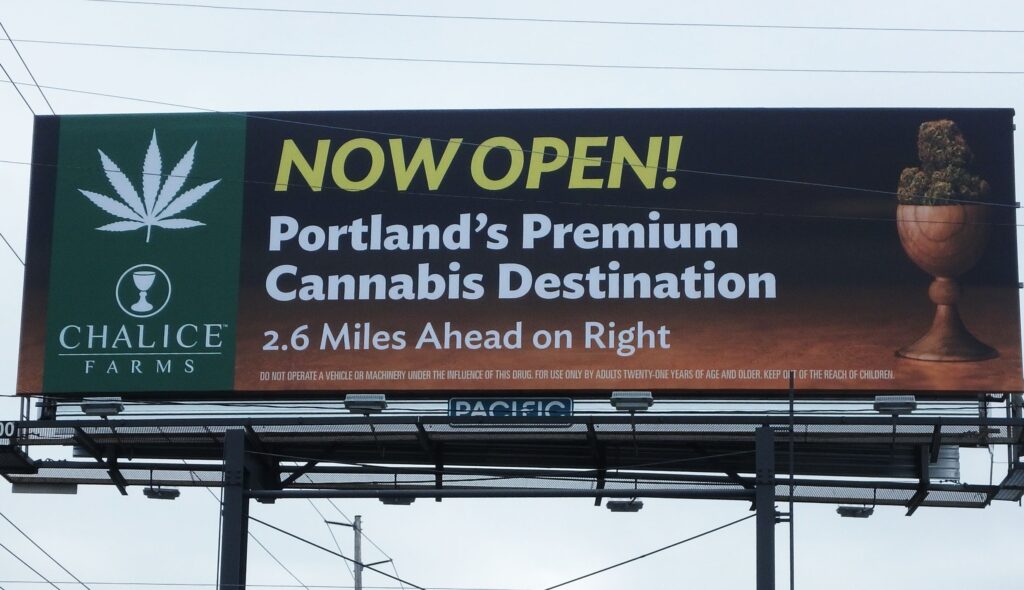 As the legal cannabis industry buys more advertising, this emerging category is spawning niche ad agencies and new regulations.
Thirty states and the District of Columbia currently have laws broadly legalizing marijuana in some form, led by Colorado and Washington State in 2012. The first retail shop in Washington State opened in mid-2014.
Overall spending on legal cannabis in North America is projected to grow from $9.2 billion in 2017 to 47.3 billion a decade later, according to research published by Forbes. The recreational cannabis market will generate two-thirds of the spending; medical marijuana accounts for the remaining 33 percent.
By 2016, cannabis was the fastest growing category in the Seattle OOH market, which spans Olympia and Bellingham, says Korbe Palmer of Lamar Advertising Company. The cannabis category now generates nearly 8 percent of Lamar's sales in that market.
Agencies
Branding experts and full-service ad agencies are guiding this start-up industry through complicated, evolving marketing rules.
"Let's grow together," beckons the Foot Traffik agency in San Francisco, which calls itself an "ROI focused marijuana dispensary marketing agency."
In Denver, Cannabrand describes itself as "the world's first cannabis marketing agency." Digital 303 wants "to help turn your dreams into stunning visuals." COHNNABIS is the cannabis-focused creative offshoot of brand agency COHN.
Seattle-based Canna Ventures asks "Are you ready to grow?"
Regulations
Advertising rules vary state to state, including for OOH ads (click here for a state-by-state list).
The ad scheme for cannabis borrows from marketing protocols for other highly regulated products alcohol and tobacco.
The National Association of Cannabis Businesses (NACB) pushes self-regulation. Launched in 2017, NACB is led by president Andrew Kline, who served as an Assistant US Attorney and a senior advisor to Vice President and then-Sen. Joseph Biden (D-DE).
NACB ad standards say: no false claims, don't encourage underage consumption, don't show consumption in ads, stay away from transit advertising, and medical marijuana is for patients.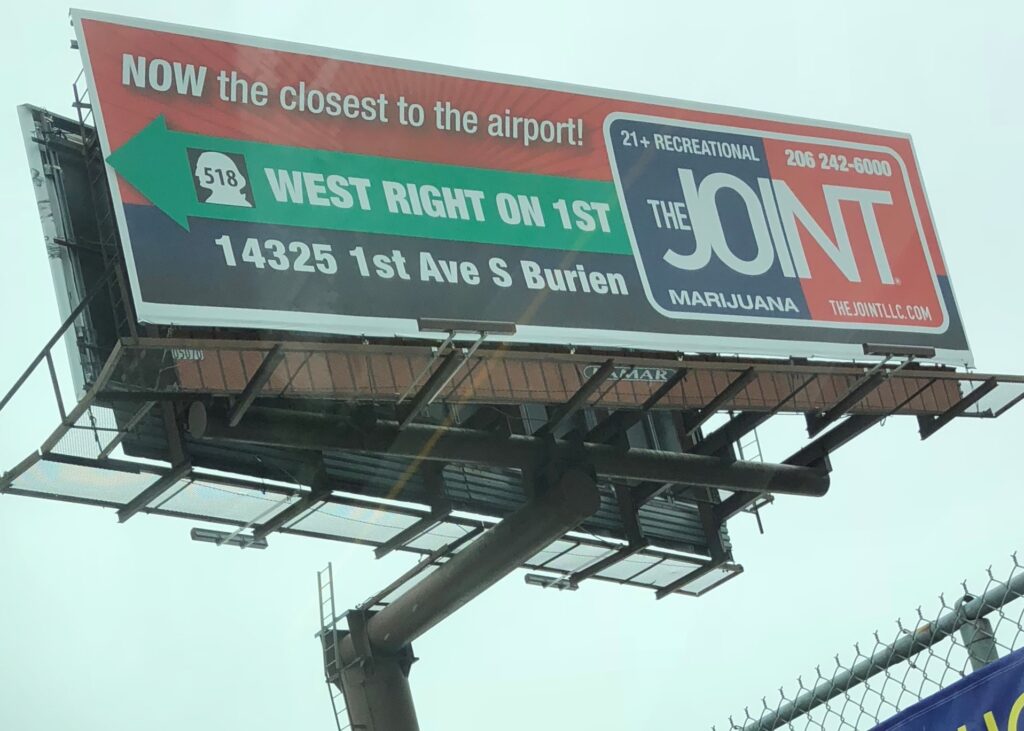 A year ago, Albuquerque rejected a medical marijuana ad on city buses. In November, the San Francisco Municipal Transportation Agency voted to ban recreational pot ads on its buses. Cheryl Brinkman, chair of the local transit board, said San Francisco was aligning with standard advertising practices.
Billboard ads in Washington State, says Palmer at Lamar, typically display cannabis-business names, logos, and directions.
New York State's regulation of ads for medical marijuana stifles exaggerated claims, unsubstantiated research, and trash talk about competitors' products.
Oregon requires disclaimers:
"Do not operate a vehicle or machinery under the influence of this drug"
"For use only by adults twenty-one years of age and older"
"Keep out of the reach of children"
Colorado's marijuana regulations ban billboards ads: "…it is unlawful for a retail marijuana establishment to engage in advertising that is visible to members of the public from any street, sidewalk, park or other public place."
Meanwhile, Colorado's Department of Transportation has won national recognition for the creative excellence of its "don't drive high" billboards and wall signs, designed by the award-winning Denver agency Amélie.
Colorado's public health agency also tasked Amélie to create multi-media campaigns for responsible use of marijuana.
About half of Colorado's Adopt-A-Highway signs are sponsored by cannabis enterprises. Olivia Mannix, founder of the Denver-based CannaBrands marketing agency puts it this way: "We can't really have outdoor billboards, but we can have our names on these Colorado DOT signs. Cannabis marketers have to be extra creative and strategic in all of their marketing efforts" due to restrictions on advertising.
Lawyers
Just as some ad agencies specialize in cannabis, law firms are eager to advise this newly legal, growing industry. Well-known law firms which have handled regulatory issues for OOH media companies now also tout their ability to counsel cannabis growers and sellers.
Duane Morris' cannabis webpage features a blog and promotes its cannabis webinar series.