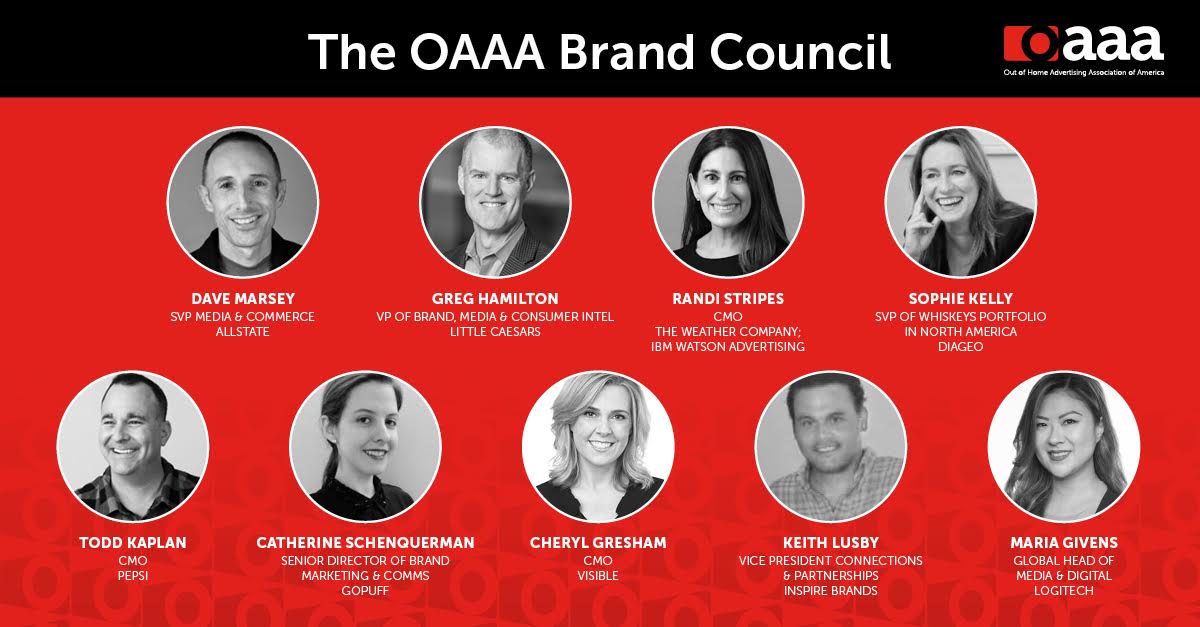 As part of our mission to serve as  a passionate advocate and a progressive thought leader that protects, unites, and advances the interests of the OOH  industry, we are continuously creating new ways to drive OOH forward. The OAAA Brand Council is the newest example of our mission in action.
Designed to bring top media leaders together, the OAAA Brand Council provides a platform for these experts to ideate and contribute to the most critical aspects of OOH. OAAA will host multiple closed-door sessions to facilitate open dialogue on developing trends and issues — while also discussing how to best advocate for OOH's value in an omnichannel marketing mix and how to showcase the impact it promises for marketers. 
The Brand Council will be an ever-growing group of top experts, and leaders from a variety of global brands have already signed on:
Cheryl Gresham, CMO, Visible

Greg Hamilton, Vice President of Media, Insights, and Content Strategy, Little Caesars

Todd Kaplan, Chief Marketing Officer, Pepsi

Sophie Kelly, Senior Vice President of Whiskeys Portfolio in North America, Diageo

Keith Lusby, Vice President Connections & Partnerships, Inspire Brands

Dave Marsey, SVP Media & Commerce, Allstate

Catherine Schenquerman, Senior Director of Brand Marketing & Comms, GoPuff

Randi Stipes, CMO, The Weather Company; IBM Watson Advertising

Maria Givens, Global Head of Media & Digital, Logitech
"As we enter a post pandemic world there is a big moment occurring for OOH to play an even more important role for marketers, reaching consumers at the critical moments of their journey," said Anna Bager, President and CEO, OAAA. "Advertisers are in search of opportunities that can guarantee brand safety, meaningful connections, and business outcomes and OOH can be this solution. We are excited to work together with this esteemed group of brand leaders to get there."
Brand Council conversations will guide the imperatives in the industry and media precedents and help shape a bold future for OOH.