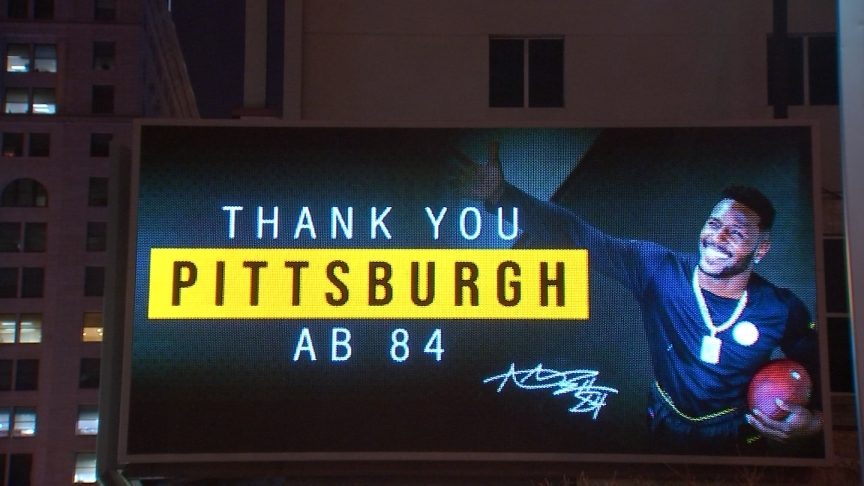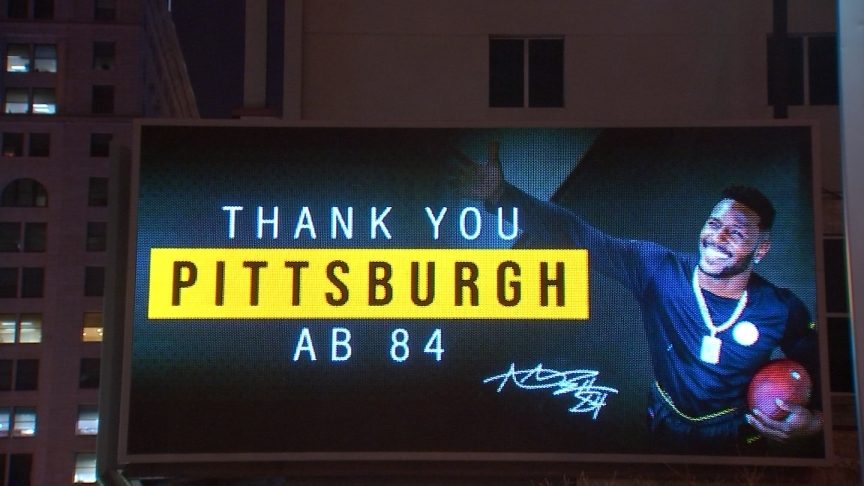 Just introduced as an Oakland Raider, former Steeler wide receiver Antonio Brown has parting words for fans in Pittsburgh: "Thank you."
Brown's good-bye gesture – after nine seasons and 74 touchdowns in Pittsburgh – is the latest example of the sports thank-you billboard.
Athletes' expression of thanks on billboards is part of a complex mix of loyalty and departure.
Some Steelers fans weren't receptive to Brown's message. Concurrent to his introductory press conference in Oakland, Joe Starkey published this unflattering summary in the Pittsburgh Post-Gazette regarding Brown's ruptured connection to the team: "What he did here was skip meetings, show up late, live in a separate residence at training camp, blow off work from time to time, blow out of training camp for a week last August and, yeah, finally quit before the Cinci game."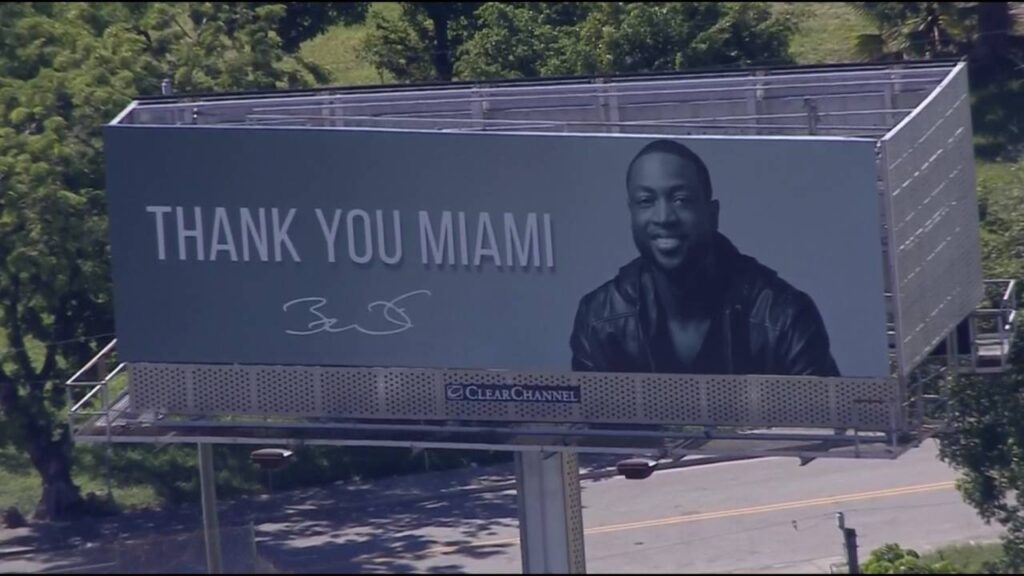 After a messy divorce from the Miami Heat, all-star guard Dwyane Wade thanked fans in Miami with a billboard along I-395 near American Airlines Arena.
Steve DelVecchio of Larry Brown Sports says "billboards have managed to withstand the test of time through the internet and new media generation."
Jason Taylor posted a thank-you billboard after 15 seasons in the National Football League (13 seasons with Miami). DelVecchio called it a classy move by a great defensive end.
When Philadelphia Phillies catcher Carlos Ruiz was traded to the Dodgers, his agent arranged an emotional message seen by thousands of motorists.
Carlos Ruiz thanks Phillies fans with a billboard along I-95. We'll miss you too Chooch! https://t.co/hErd8eTIuK pic.twitter.com/PsVcEA3MQM

— Action News on 6abc (@6abc) September 15, 2016
"So happy fans like the billboards! Carlos chose the pic, he and I penned the message, and Interstate Outdoor Advertising was awesome with design and locations," tweeted agent Marc Kligman in September 2016.
So happy fans like the billboards! Carlos chose the pic, he & I penned the msg & InterstateOutdoorAdvertising awesome w/design & locations

— Marc J. Kligman (@MLBAgent) September 14, 2016
After four years with the Cowboys, running back DeMarco Murray bought a billboard in downtown Dallas to thank fans in 2015.
Demarco Murray billboard in downtown Dallas (H/T @DaveMaryles) pic.twitter.com/ZooKvIWft1

— Darren Rovell (@darrenrovell) March 18, 2015
Defensive end Vinny Curry won the 2018 Super Bowl with the Philadelphia Eagles. When Curry signed with Tampa Bay in the offseason, he expressed appreciation to "Eagles Nation" on a billboard in Philly with team colors.
Near the stadium @MrGetFlee99 Vinny Curry posts billboard message with his thanks and goodbye . @SportsRadioWIP pic.twitter.com/CyECxYmVNr

— Howard Eskin (@howardeskin) March 22, 2018
Athletes' messages on billboards highlight a close connection between social media and OOH media. When wide receiver Brian Hartline signed with the Cleveland Browns after six seasons in Miami, he posted his "Fins Up" thank-you billboard on twitter.
So it took a little longer then expected but I wanted to thank as many Dolphins Fans as possible. So Thank You! pic.twitter.com/GWNtnEXYbZ

— Brian Hartline (@brianhartline) March 31, 2015
Last week Clemson linebacker Kendall Joseph tweeted his excitement after a congrats bulletin appeared in his hometown Belton, SC.
https://twitter.com/KendallJoseph34/status/1105971133768232960