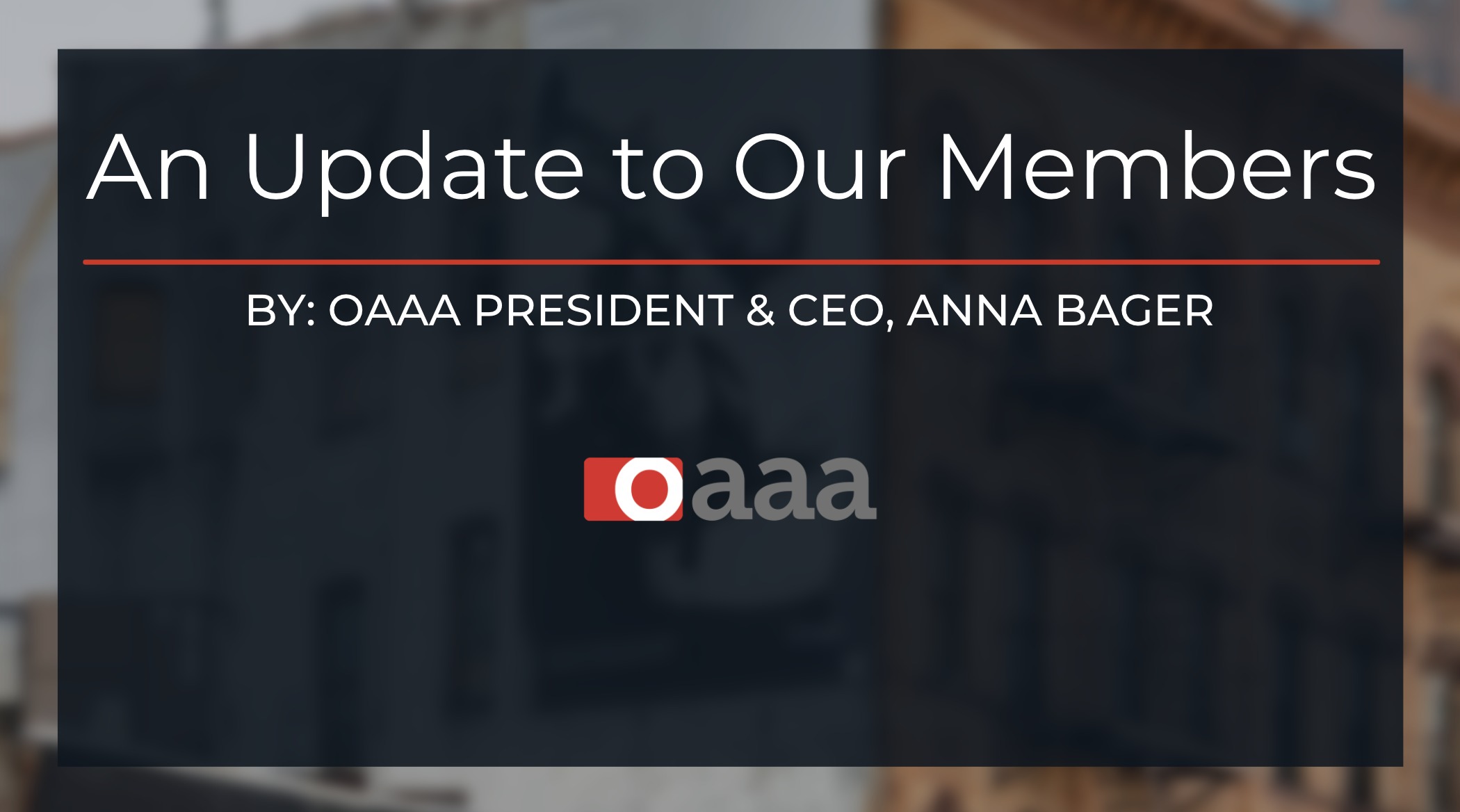 Dear Members,
As we prepare for the coming months and consider the opportunities 2022 will bring, there is so much to look forward to and even more to be thankful for. Our industry and its unshakable people have weathered an unimaginable storm during the pandemic. I've spoken to many of you over the past months, and you've shared with me a renewed sense of optimism about our industry's future. In fact, it appears this optimism is well founded, with some of our members reporting robust 2nd quarter revenue growth last week.
As we look to the fall, OAAA will continue to arm our members with important industry research, advertiser insights, and tools to position OOH as a must-buy in the post-pandemic media mix. We are not out of the woods yet. We are keeping an eye on all pandemic-related developments to continue assisting our member companies and promoting OOH at this unique opportunity in time. As health and safety protocols permit, OAAA will once again plan and host live gatherings, including events and meetings. Our team counts on representing you at important advertising industry events this fall. If all continues to go as planned, you can find us at:
Association of National Advertisers (ANA) Masters of Marketing, October 5-8, Orlando
New York Digital Signage Week, October 11-15, New York City
Advertising Week, October 18-21, New York City
Adweek Elevate, November 10, New York City
The Advertising Club OOH: Now, December 9, New York City
While I shared OAAA's mission with you a few months back, I feel it is worth restating now. Our priority – as the leading trade association representing this transformative industry – is to protect, advocate for and accelerate the growth of OOH media on behalf of all our members. As always, you can rely on OAAA to serve your interests on Capitol Hill and in statehouses, on Madison Avenue and Main Street – just as we always have done.
We're focused on advancing our efforts to produce important new guidelines that will help make the OOH medium easier to evaluate and transact. This includes current work being done through a MMM/MTA group focused on proving how OOH contributes to media-mix models, how our industry can unlock the benefits of multi-touch attribution as well as continued work on video and programmatic. Our Creative Committee is working on an exciting new creative primer for designers. And plans are already underway for next years' 80th OBIE Awards celebration.
We would also like to take a moment to express our gratitude to OAAA's Chief Marketing Officer, Christina Radigan, who will be stepping down from her current role to pursue a new position at OUTFRONT Media. We value the contributions Christina has made to the organization and wish her well in this new role, where we know her skills and expertise will be a terrific fit. Consequently, I am pleased to share that Stephen Freitas, who served OAAA for over 20 years, will return as our interim CMO, ensuring a seamless transition as we move ahead on initiatives. OAAA thought leadership and marketing teams will continue to effectively deliver for its members under the continued leadership of our VPs Steve Nicklin and Karen Germ.
Complementing our five-year strategic positioning plan developed in partnership with MediaLink this spring, we have engaged their executive search team to recruit a senior executive who will help implement this new plan. The timing is ideal for OAAA to capitalize on the growing momentum in the OOH market and bring our mission and future vision to life over the next five years.
We appreciate your support and look forward to working with all of you – and fervently to seeing you again soon. Here is to bigger and better in these promising months ahead.
_______
Anna Bager
President & CEO
OAAA