Unproven Health Claims
The feds continue to warn against unproven health claims regarding CBD products (cannabidiol. from the hemp plant, a cousin of the marijuana plant).
On October 22, the Food & Drug Administration (FDA) and Federal Trade Commission (TFC) sent a warning to a Naples, FL-based company selling online CBD products for infants' teething pain and earaches, attention deficit disorder, and Parkinson's and Alzheimer's disease.
In July, the feds warned Curaleaf to stop making health claims about cancer, Alzheimer's, opioid withdrawal, and pet anxiety.

Driving High
A government-sponsored don't-drive-high campaign appears on billboards. The creative – from the National Highway Traffic Safety Administration and the Ad Council — looks like this: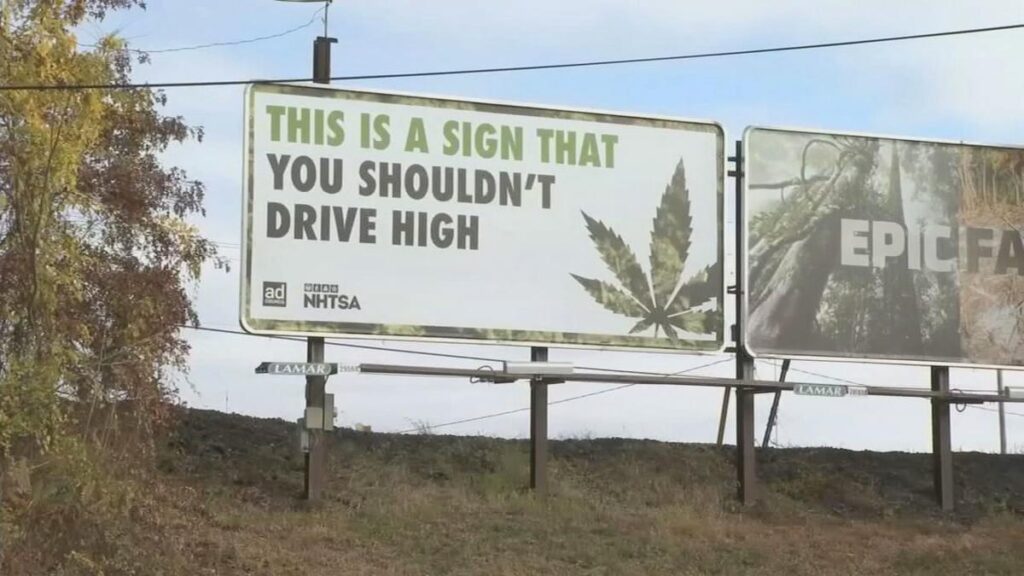 Bernie is On Board
Presidential candidate Bernie Sanders (D-VT) wants to legalize cannabis nationwide, expunge certain marijuana convictions, convert cannabis-tax revenue to community grants, and keep tobacco companies out of the weed business.
Vaping
Recent vaping deaths involved THC (the main psychoactive component of cannabis), not nicotine, says the government (CDC, Centers for Disease Control and Prevention). In 19 deaths studied, most involved exclusive use of THC.
Legalization Continues
Recreational marijuana is legal in Illinois effective January 1, 2020. Illinois is the 11th state to legalize adult-use recreational pot; Michigan was #10. Illinois is licensing stores to sell cannabis.