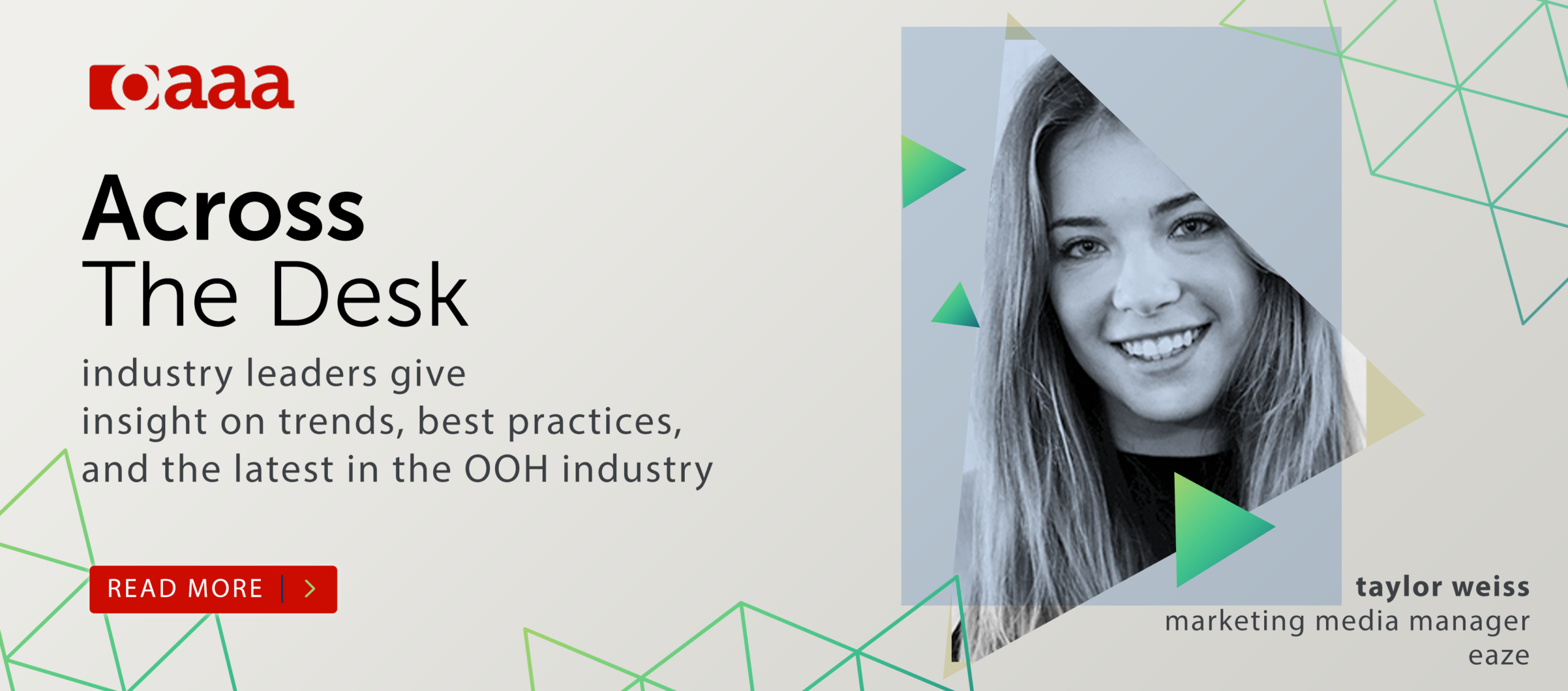 Across the Desk is a brand new series from OAAA. In this series, we interview industry leaders and ask them about trends, best practices, and the latest in the OOH industry. In our second part of the series, we interview the Marketing Media Manager at EAZE, Taylor Weiss.
What excites you about OOH right now?
It's exciting to see OOH respond so quickly to what's going on in the world and use the platform for good. More than ever, OOH is being used by advertisers to promote positive messages and advocate for local communities.
I personally love that OOH is educating people about COVID-19 safety and showing gratitude for healthcare professionals and essential workers (a great example is Cedar Sinai's "You're the heroes" and "Thank you to the hand washers" campaigns). OOH is also helping cheer people up during this hard time. Freeform's "StaytheFFHome" OOH always makes me laugh.
Which recent OOH campaign inspired you?
Eaze's "420 Isn't Cancelled" campaign focused on the message to "celebrate safely all month long." This wasn't our original theme, but we pivoted quickly to address COVID's impact on our customers. At a time when everything got cancelled, we decided to lean into 420 as the perfect holiday to celebrate at home. And, as an essential service provider, we want to reassure customers that delivery is available and safe.
On a lighter note, I'm inspired by the 3D neon theater buildout on a bulletin here in LA for The Marvelous Mrs. Maisel. It does a great job of capturing the show and it really stands-out. The OOH nerd in me gets excited every time I pass it. I think it provides a glimmer of hope of things to come while the world re-opens.
What is the next big thing for OOH?
Looking ahead, I hope we see more augmented reality integrated with OOH. There's huge potential with AR that's still untapped. Shorter term, I think there will be a spike in OOH for place-based ads in essential businesses (i.e. grocery stores, gas stations), and partnerships with companies in the food industry as shelter-in-place orders and other COVID-19 restrictions slowly ease-up.