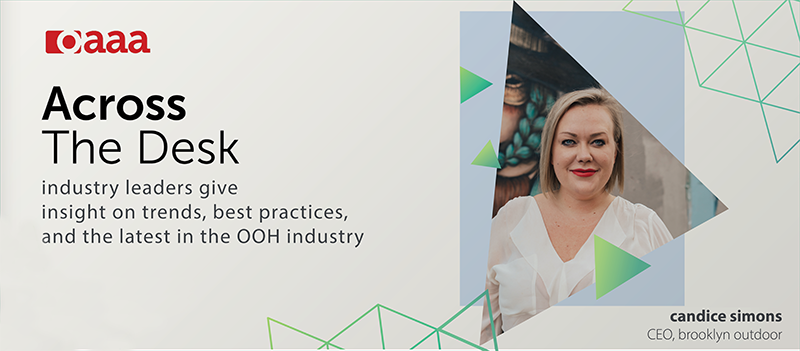 What excites you about OOH right now?
What excites me about OOH right now is how essential our messaging is in the communities we serve. With OOH being deemed as an essential business during this pandemic only reinforces what we all know about OOH; It works!
I'm also super impressed with leadership at OAAA. By pivoting messaging and programming to assist members inclusive of vendors, agencies, and advertisers alike, we have been consistently armed with the tools to move us forward as an industry during and after this unprecedented time in history. Geopath has also taken immediate action with their partners in data to provide us with real-time information on traffic patterns and dynamics that have assisted tremendously in client communications and increasing positive thought processes related to OOH. Right now, OOH is the medium, and data is king. Data measurements are allowing us to differentiate between in-market impressions and impressions that come from passersby and commuters. This will help us to determine whether or not ads should be focusing on hyper-local or more broad exposure. I'm totally geeking out over data, but with all the uncertainty in the world right now, data is the one thing that is certain. It's the way we keep our clients informed and unified.
Which recent OOH campaign inspired you?
I may be biased, but I've always been really proud of the ability of our industry to come together. The PSA campaigns that we've put out in partnership with the Ad Council and the CDC were another prime example of how OOH can be used for the greater good of the community. Our client, TCF Center in Detroit was converted into a Covid-19 relief hospital. It was inspiring to see socially responsible brands taking the opportunity to post campaigns that support front line workers and social distancing.
What do you envision as the next big thing for OOH?
What I envision as the next big thing for OOH is an even stronger demand for Digital OOH formats that are smart. Considering the stop-and-go information we're receiving in the world, clients will want the ability to update ads in real-time, exclude areas, hyper-target, and use creative to the fullest to be relevant and timely in all areas.
I also envision an even greater shift toward hyper-local and a concentration on the WHERE of the reach versus impressions. With the traffic counts continuously increasing in all markets, it is all about making the connection with your audience at the right time. Our worlds have all gotten a bit "smaller" with the stay at home orders; however, people are starting to leave their homes more often and increasing their distance traveled with each day that passes. Being inundated at home with screens right in front of their faces, people are aware and excited to get out-of-home with more focus and attention to their surroundings. They are in a more relaxed state when moving out and about while viewing OOH messaging and when they do leave their home – it is for a purpose. Most likely, they are leaving their house with the intent to make a purchase. Travelers will be more apprehensive to take packed trains in confined spaces and more likely to be riding in a bus or a vehicle – perhaps taking different routes than they are used to. This will likely bring a higher demand for intentional ad placement closer to home, outside of retail locations, and on strategic thoroughfares considering these consumer patterns on mediums such as bus shelters and benches, digital and static kiosks, smart digital taxi top advertising, and other street level static and frequency based formats as opposed to vanity plays.
We absolutely love working with strategy to deliver on clients' needs and are looking forward to what comes next as we work together to ensure OOH continues to be front facing and vital for our staple brands and new brands looking for growth.