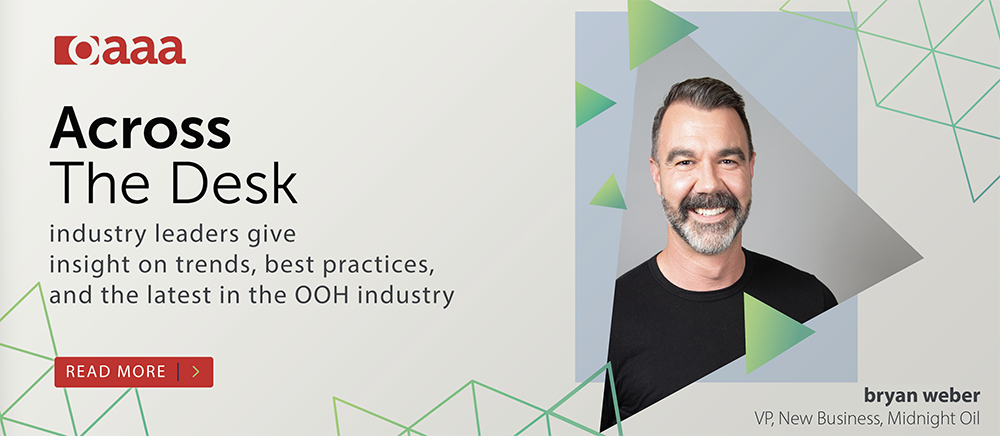 What are some recent OOH campaigns that have inspired you?


This year's Platinum OBIE Award winner, Google Brand Studio for their "The Most Searched" campaign was such a powerful use of OOH and reminds us of the power of a simple message and image.

It's certainly not a recent example, but I've always been inspired by OOH executions that respond to audience engagement. The Twitter-powered Jell-O Pudding campaign done by Crispin Porter + Bogusky back in 2011 will always inspire me and put a smile on my face as it monitored the mood of the world based on the number of smiley- and sad-face emoticons posted to Twitter. Loved seeing an out-of-home ad responding in real time to social engagement.

What are some of the emerging trends in creativity that you're seeing in OOH campaigns in 2021?


Digitisation, dynamic messaging, stunning imagery, etc., are all keys trends. Instagrammable billboards are things that exist in this digital age.

At Midnight Oil, we focus on leveraging our in-house fabrication capabilities with our knowledge of outdoor advertising to create specialty boards in key markets that compliment and elevate the full outdoor campaign for our clients.

Outdoor advertising itself has become a social channel where, if the execution is compelling enough, people, including the talent featured will take on the work of amplifying the brand themselves.

How can brands and marketers leverage technology to better optimize creative?


When thinking about how to answer this question, I kept focusing on the word "optimize" and it's relationship to creative. To make the best or most effective use of something is to optimize.

Technology's role in enabling people to be more productive has been central to the evolution of many industries, including outdoor advertising. Technological advancement has also allowed us to see the world differently and push the boundaries of creative exploration. It's not to allow technology to think for us, but afford us the ability to think bigger.

As an industry-leading national provider of visual print communications and experiential marketing solutions, Midnight Oil (part of The IMAGINE Group) partners with companies to realize a better way via teams of trained experts that listen, understand, and move at the speed of change to deliver beautiful pieces that inspire.

Whether it be pre-media, out of home, décor, commercial print, location signage, specialty packaging, and fulfillment, we are always on the hunt for innovative solutions and emerging tools coupled with state-of-the-art equipment and processes to solve our client's business challenges.

On the creative executional side of the OOH adversting industry, we are always looking for emerging tools like press/color matching, 3D printing as well as innovation in lighting, specialty materials and in some instances monitors to make the best creative executions for our clients.

Technology and creativity complement each other and enables us to be more creative and productive – pushing our industry forward.