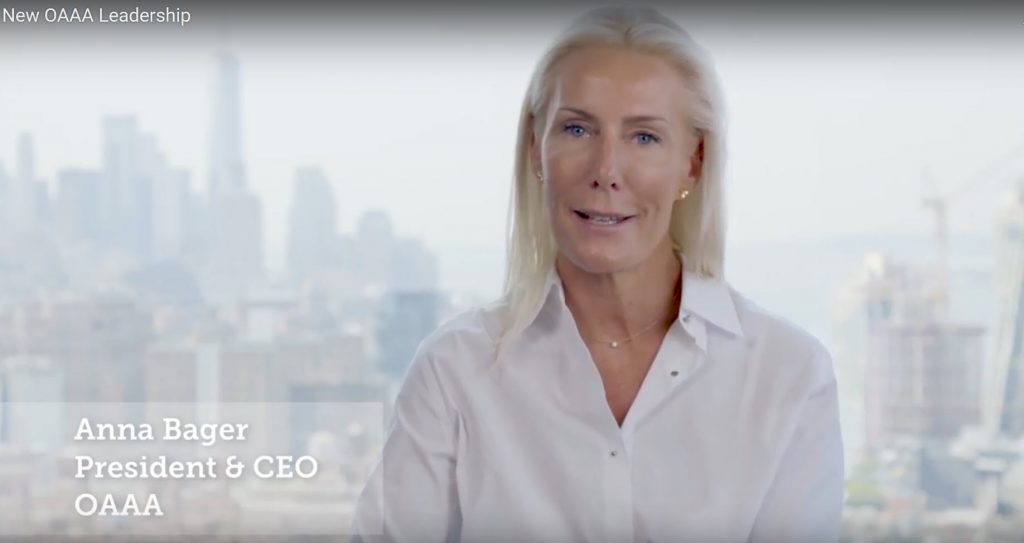 I'm excited about the Out of Home Advertising Association of America's (OAAA) decision to appoint the IAB's Anna Bager as its president and CEO. The appointment of a tenured digital executive is a promising sign of the exciting road ahead for the OOH medium as technology and data both fuel channel growth and present entirely new possibilities for advertisers.
Anna is joining our industry at a time when OOH has experienced 35 consecutive quarters of growth, reaching $8 billion in 2018 based on figures released by OAAA. The digitalization of OOH has been swift in the past few years, and media owners and programmatic marketplaces alike are investing in technology to replicate the digital experience via biddable auction, a true programmatic experience, on street corners, highways, bus stops, gyms, and bars.
Currently, less than 5 percent of DOOH is bought programmatically. We know this figure will continue to rise. We have a rare opportunity to shape this previously traditional medium for the digital world, so we need to tread carefully and apply learnings, processes and best practices from digital while understanding that the OOH medium has some intricacies that require consideration.
Although I am enthusiastic about the influx of interest in the OOH industry by those with extensive digital and mobile backgrounds, my hope is that we don't seek to carbon copy the digital buying experience for OOH. The industry is rapidly transforming, and while there is a lot we can take from digital's pioneering path, it is also important to remember that OOH is truly a unique medium. Digital newcomers and legacy OOH leaders should consider the special nature of this channel as we partner to create the best possible future for the OOH medium.
Having transitioned myself from digital media into the world of OOH, here's what I'm focused on.
Standardization is needed
Now is the time to push for standardizations across an industry with a lot of stakeholders and existing politics. Digital experts are needed in our industry right now, as understanding the importance of things like common transaction currencies and methodologies can help our industry more efficiently solve hurdles unique to OOH, such as impression multipliers. This topic is something that OAAA, partnering with groups such as MRC and others, can help our industry grapple with.
Cast the spotlight on place-based advertising
We need to give place-based media its due. Historically, the OOH industry has been heavily focused on large format (billboards), but the landscape has shifted. Billboards are still a vital piece, but there are many interesting new contexts arising that deserve support. Bringing more place-based leaders to the table will ensure that our industry is representing the full diverse array of OOH, including new and smaller-scale networks.
Integrate OOH into omnichannel strategy building
I look forward to the day when we can see a deep integration of OOH into omnichannel strategy building. To get there, we need to engage with brands more directly and with digital agencies and traders to educate them not only on the value of OOH as a medium, but how to bridge the gap between digital strategies and OOH executions. I would love to see OAAA continue to grow its role in partnering with groups such as the 4As, ANA and omnichannel advertising conferences.
Prioritize programmatic education and research
Making programmatic not just a sideshow with limited resources allocated but prioritizing programmatic as an educational opportunity. OAAA is already taking steps to provide education as the future of the industry, and I hope this remains a priority for all OOH companies. Additionally, a critical missing element is data on programmatic revenue in OOH. I hope OAAA will also take steps to incorporate programmatic as a part of its annual research.
Eager advertisers have been quick to realize the potential for OOH as buying this channel becomes faster, easier and more accessible than ever before. The programmatic OOH marketplace will continue to further accelerate as brands and their agencies infuse rich data assets into their planning and make buying decisions.
Herein lies the biggest opportunity of all: the chance to take the best of what we have learned from the digital and mobile revolutions, while keeping in mind that OOH is very different. We don't have to carbon-copy digital exactly to create the path forward for OOH. We can innovate and create a unique way forward that works best for us.