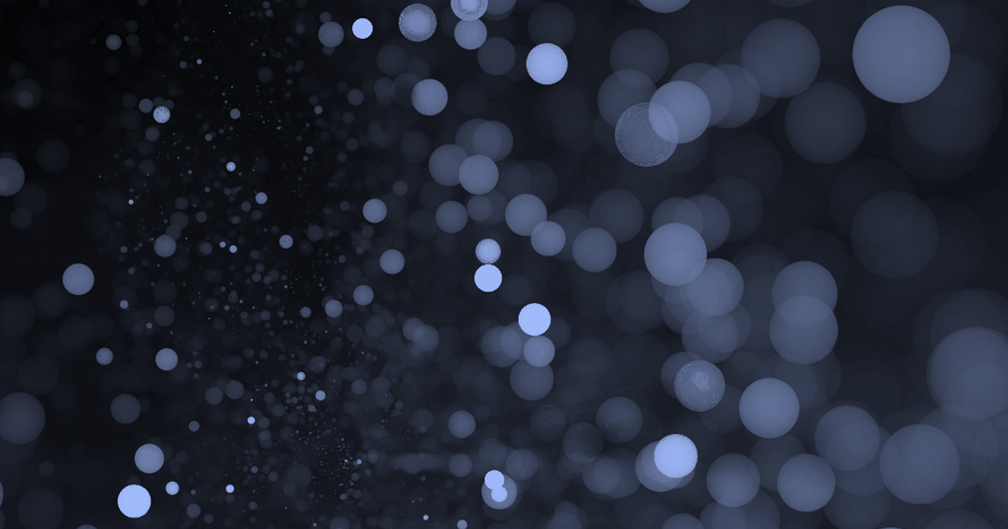 We are thrilled to unveil the 2021 OOH Industry Award winners. The awards, first launched in 1991, honor individuals who have added to the legacy of the OOH industry with extraordinary contributions made over the years.
The Hall of Fame Awards are dedicated to those who have spent their careers as advertising trailblazers for the OOH industry.
This year's Hall of Fame winners include: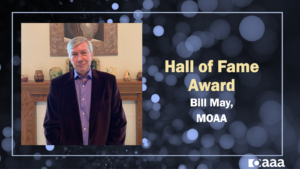 Bill May, Former Executive Director, Missouri Outdoor Advertising Association
May began his career with Pioneer Outdoor Advertising in Springfield, MO, becoming General Manager and General Counsel. In 1999, May became the full-time Executive Director & General Counsel to the MOAA to provide his full attention to the Proposition A Campaign. May retired as Executive Director from the MOAA at the end of 2019, but his industry contributions remain. Winning "just compensation" rights, May was instrumental in defeating a state-wide ballot campaign pushed by Scenic Missouri, known as Proposition A. It would have effectively eliminated any new growth in the state and created a broad mechanism for the removal of billboards. This "blueprint" was used to thwart scenic groups from across the country to try similar tactics. May has been a steadfast champion for the OOH industry throughout the state. He is still considered "THE" expert in the state regarding all statutory regulations and rules, local regulations.  His counsel is sought by the industry, DOT officials, legislators, and other attorneys. He provides invaluable guidance to all member companies, private landowners, and others pertaining to operating and regulating an OOH plant in Missouri.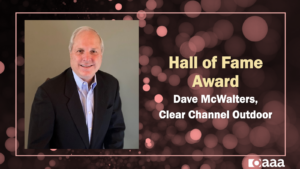 David McWalters, Senior Vice President, Real Estate, Clear Channel Outdoor
In an OOH career spanning more than 30 years, McWalters has blazed a trail across the Wild West navigating complex legislation and pioneering new ways to influence policy makers while creating a favorable business environment for his company and the industry. Some of his more notable accomplishments include co-authoring the California just compensation statutes, which set the bar for what the industry could collect should an asset be removed. And in this same area, he co-wrote the corresponding relocation language (CA 5412) that allows Caltrans to grant the industry relocation in place of compensation. A tireless fighter for industry rights, McWalters helped pass the statutory rebuttable presumption language that grand-fathered in signs after five years of being in service. He was also successful in securing an allowance for permits on landscaped freeways with OOH trade-in inventory. As a political insider who knows how to get things done, McWalters was instrumental in advocating for industry rights across numerous Administrations ranging from Brown (x2) through Schwarzenegger to Newsom and among hundreds of state legislators.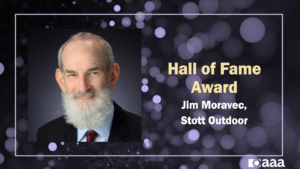 Jim Moravec, President and CEO, Stott Outdoor
Moravec has dedicated more than 34 years to the OOH industry producing consistent and robust growth, building relationships with local and state politicians, and garnering support for the industry and service on various trade association boards. His experience spans sales, real estate, management, legislative work, lobbying, and much, much more. He has served on numerous industry committees, including the OAAA Board of Directors. Moravec embodies integrity in all that he does. His leadership approach has always been thoughtful, empathetic, and caring of those in his personal and professional life. Moravec is organized, regimented, and as reliable as they come mentoring numerous individuals in the industry and at Stott Outdoor. He continues to provide training and leadership ideas on a daily basis.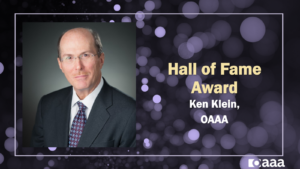 Ken Klein, Executive Vice President of Government Affairs, OAAA
Klein has forged award-winning partnerships that support public safety and the environment. He is widely published and frequently quoted on topics like fast delivery of emergency messages and other public service communications, and innovation in digital technology. He also serves as an expert witness on behalf of the industry. He has a deep understanding of policy issues that intersect media, advertising, politics, the First Amendment, and the regulation of OOH media.  Klein leads the Legislative Team for OAAA, and he is a trusted organization leader who provides thought provoking guidance to industry members. He has encouraged and supported all who have worked at OAAA. He is a mentor to OAAA interns and Ohio University interns. Klein is entertaining, thoughtful, the ultimate professional, and forever humble in his leadership approach.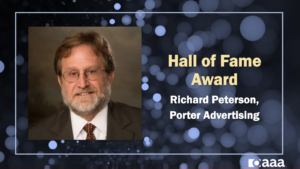 Richard Peterson, President, Porter Advertising 
Peterson began work at Porter Advertising in the 1990's, moving into the President's role in 2002. Having sold advertising in multiple markets for Porter, as CEO he embraced and moved the company into the industry "green" efforts in 2009 by shifting print materials to PE. He has served on numerous Outdoor Advertising Boards of Directors, and in 2017 Peterson significantly expanded Porter's market coverage by purchasing 75 Interstate faces from the former Tom Rapier Enterprises. Peterson continues to look for a variety of Outdoor Advertising opportunities for the company to expand, particularly in the area of digital advertising. His industry contributions include serving on the OAAA Board of Directors, Ohio Outdoor Advertising Board of Directors, and Indiana Advertising Board of Directors. Peterson is compassionate, professional, yet accessible to staff. He works to ensure a team-like atmosphere and treats employees with respect. He has a strong commitment to his staff, family, and community, and his integrity sets him above others who have similar leadership qualifications.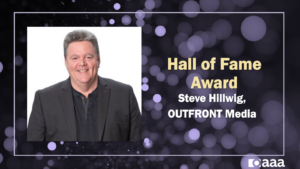 Steve Hillwig, Executive Vice President of Operations, OUTFRONT Media
Head of Operations at OUTFRONT, Hillwig is a trailblazer in all aspects of OOH operations including billboards, spectaculars, and transit. He has pioneered many safety initiatives, new production formats and fabrications, and processes that support sustainability. The OOH industry relies on Hillwig's expertise and guidance, especially in areas of safety. He launched the "HOOK UP" campaign in all OUTFRONT offices as a constant reminder of safety protocols and continuously sets the standard with these practices. Hillwig is the consummate leader of our labor force including many unionized employees. He engages in fair and smart negotiations and leads by example. His work ethic is exemplary and sets a standard for his teams.

Tom Sirmon, Vice President Regional Manager, Lamar Advertising Company
Sirmon started his career at Lamar Advertising Company in 1979 in an entry-level operations position. He was tasked with rebuilding inventory in Mobile, Alabama after Hurricane Frederick, which destroyed the market. His work partner at the time was Kevin Reilly, Jr. -little did they know that they would work together for the next 40+ years. Today, Tom oversees Lamar's operations in Louisiana, Mississippi, Alabama, Arkansas, and the Florida panhandle. Sirmon was instrumental in the passage of Just Compensation laws on both the federal and state level in Alabama. The passage of these laws had a positive effect on the entire outdoor industry. Those who have worked for Sirmon can attest to the that he has an unparalleled loyalty toward Lamar and is a leader who ALWAYS has his employees' best interests in mind. As is often said at Lamar, "he bleeds green." His employees take comfort in the fact that he always has their backs. One of his employees stated, "he may be riding you hard in the morning, but he will defend and protect you that same afternoon."
The 2021 Rising Star Recipients
Additionally, we are excited to present awards to the rising leaders of the industry – those individuals under the age of 40 who have exhibited notable leadership qualities and are making important contributions to the OOH landscape. This year's winners include: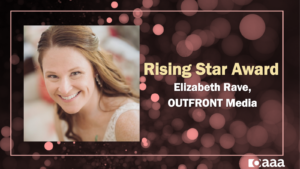 Elizabeth Rave, Senior Director, Marketing, OUTFRONT Media
Rave is a leader and a mentor at OUTFRONT. Her knowledge of the industry and her ability to coach and lead is a huge asset to not the OUTFRONT team and the entire industry. A superstar herself, she has built a team that mirrors her passion and work ethic. Rave's contributions shine through in her committee participation serving on IAB Digital OOH task force, DPAA we.dooh, and OAAA/Geopath event planning and her can do attitude for any industry initiatives including WooHoo and helping competitors. Her outward facing presence is a benefit to the entire industry.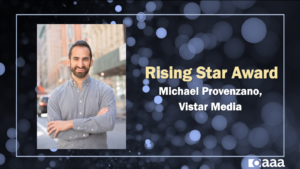 Michael Provenzano, CEO & Co-Founder, Vistar Media
Provenzano's passion for making the industry better is best illustrated through his contribution to launching one of the first OOH programmatic platforms. In his nearly ten year career, he has always shown steadfast work as an evangelist of disruptive technologies. His work at Vistar Media continues to disrupt the OOH industry today.