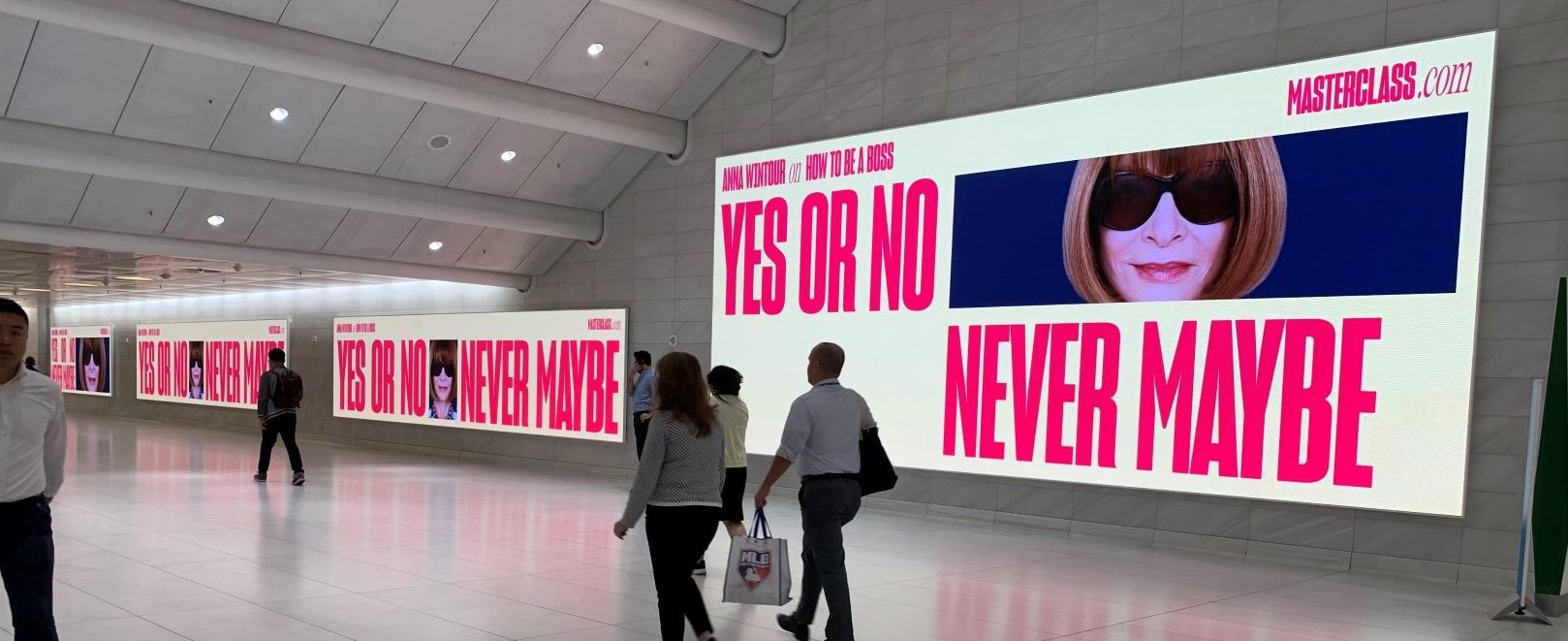 [vc_row][vc_column][vc_column_text]OAAA has revealed 112 finalists for the 2020 OBIE Awards. Now in its 78
th
year, the OBIE Awards program is the oldest and one of the most prestigious shows in advertising, awarding creative excellence in the out of home (OOH) advertising medium.
Bronze, Silver, and Gold OBIE Awards, including four Gold Craft Awards, will be presented to those selected amongst this year's 112 finalists. One Gold OBIE Award winner will receive the Platinum OBIE Award, the highest honor of the year. Campaigns were chosen from 18 different categories, including advertiser product, digital design, engagement, and customization.
"A smart strategic approach combined with great creative execution in OOH has the stopping power that other mediums can't match," said OBIE Chief Judge Joe Maglio, Chief Executive Officer at McKinney. "The finalists we've chosen for this year's OBIE Awards have that power and are deserving of this coveted advertising award."
The OBIE Awards show will not take place on April 28 in Phoenix, AZ. Next month, winners and finalists will be featured on the OBIE Awards website at obieawards.org and shared on industry social media platforms.
Below is a selection of finalist images:[/vc_column_text][vc_raw_html]JTNDYSUyMGRhdGEtZmxpY2tyLWVtYmVkJTNEJTIydHJ1ZSUyMiUyMGhyZWYlM0QlMjJodHRwcyUzQSUyRiUyRnd3dy5mbGlja3IuY29tJTJGcGhvdG9zJTJGMTU5NTkxODY0JTQwTjA2JTJGYWxidW1zJTJGNzIxNTc3MTM0NTEzMjQyMjMlMjIlMjB0aXRsZSUzRCUyMlNlbGVjdGlvbiUyMG9mJTIwMjAyMCUyME9CSUUlMjBGaW5hbGlzdHMlMjIlM0UlM0NpbWclMjBzcmMlM0QlMjJodHRwcyUzQSUyRiUyRmxpdmUuc3RhdGljZmxpY2tyLmNvbSUyRjY1NTM1JTJGNDk2NDkxNjMwNjZfZTBjNTJiODQxZl9jLmpwZyUyMiUyMHdpZHRoJTNEJTIyODAwJTIyJTIwaGVpZ2h0JTNEJTIyNTMzJTIyJTIwYWx0JTNEJTIyU2VsZWN0aW9uJTIwb2YlMjAyMDIwJTIwT0JJRSUyMEZpbmFsaXN0cyUyMiUzRSUzQyUyRmElM0UlM0NzY3JpcHQlMjBhc3luYyUyMHNyYyUzRCUyMiUyRiUyRmVtYmVkci5mbGlja3IuY29tJTJGYXNzZXRzJTJGY2xpZW50LWNvZGUuanMlMjIlMjBjaGFyc2V0JTNEJTIydXRmLTglMjIlM0UlM0MlMkZzY3JpcHQlM0U=[/vc_raw_html][/vc_column][/vc_row][vc_row][vc_column][vc_column_text]
Here is the full list of finalists:
| | | |
| --- | --- | --- |
| Agency/Submitter | Brand | Campaign |
| 5IVE | Unrestrict MN | Unrestrict MN |
| Adams Outdoor Advertising | Peacefield Gardens | Jaw-droppingly beautiful back yards |
| Adams Outdoor Advertising | The Mix Bartending School | The Mix Bartending School |
| Adams Outdoor Advertising | Adams Outdoor Advertising | Actually Fall Back an Hour |
| Adams Outdoor Advertising | Gordon Water Service | Clean and Safe |
| Adams Outdoor Advertising | Marchant Chevy and Ravenel Ford | Ford vs Chevy |
| Adams Outdoor Advertising | Kalamazoo Vapor | Get lost in the clouds. |
| Adams Outdoor Advertising | Discover Kalamazoo | Go Wild |
| Adams Outdoor Advertising | The Charleston STEM Festival | Periodic Table |
| Anchorstar / Colossal Media | Kodansha – Attack on Titan | The Colossal Titan |
| Anomaly, NY | Panera Bread | Panera Stacks – Grilled Cheese and Tomato Soup |
| Anomaly, NY | Panera Bread | So Much More Than Coffee |
| Anomaly, NY | Panera Bread | Souptacular |
| Baird & Warner | Baird & Warner | We get you |
| BBH London | Absolut Vodka | Absolut, LA Live Mural |
| BETC | Peugeot e-208 | Recycle the noise, silence the city |
| Big Wave Media | San Francisco Community Living | End Ageism |
| Black Forest Distillers / Colossal Media | Monkey 47 | Monkey 47 Mural |
| BLT | Walt Disney Studios Motion Pictures | Aladdin Double-Deckers |
| BLT Communications | Paramount Pictures Playing With Fire | Fire Engine Bus Wrap |
| Brian Communications | Penn Museum | #MovetheSphinx |
| Brunner | Atlanta Fire Rescue Foundation | Diversity Recruitment Campaign |
| Brunner | YellaWood Pressure Treated Pine | Woodland's Most Wanted |
| BVK | Wyoming Office of Tourism | That's WY |
| Change the Ref / Colossal Media | Change the Ref – Parkland Shooting | You Stole My Heart |
| Clear Channel Outdoor | Wild Florida Drive Thru Safari | Herd the News |
| Clear Channel Outdoor | San Antonio Zoo – White Rhino | Rhino's Return |
| Clear Channel Outdoor | San Antonio Zoo – Koalas | Wild Australia |
| Clear Channel Outdoor/Groove Jones | Luka Donic | Luka Magic |
| CNX / Colossal Media | Proactiv | Paint Positivity |
| Colle McVoy | Jackson Hole Tourism | Jackson Hole OOH Ski Lift Shelter |
| Connelly Partners | New England Aquarium | Protecting the Blue Planet |
| DASH TWO | Klarna | Who's A Good Shopper? |
| Dedica Group | Diet Coke | [unlabeled] |
| DentsuBos | The Audacity of Thomas G. Bright | The Underground Vineyard & Cellar |
| DeVito/Verdi | Baycare | Right Care Right Place |
| DeVito/Verdi | Legal Seafoods | Welcome to Legal |
| Disney's Yellow Shoes | Disney's Hollywood Studios | Star Wars: Galaxy's Edge OOH Spectacular |
| Doe Anderson Advertising | Maker's Mark | Brooklyn "Character" Handpaint Mural |
| Doe Anderson Advertising | Maker's Mark | Brooklyn "Harder to make" Handpaint Mural |
| Doe Anderson Advertising | Maker's Mark | Louisville Handpaint "Character" OOH |
| Dunn&Co. | Grow Financial Federal Credit Union | People Over Profit Always |
| Dunn&Co. | Tampa Bay Lightning | Strike |
| Extra Credit Projects | D. A. Blodgett – St. John's | D. A. Blodgett – St. John's |
| Extra Credit Projects | Michigan State University College of Human Medicine | Holiday Kiosk |
| Extra Credit Projects | Independent Bank | Increase Your Wingspan |
| Extra Credit Projects | OAAA | OOH Is Real "The Real Lounge" |
| Extra Credit Projects | OAAA | OOH is Real |
| Extra Credit Projects | YMCA of Greater Grand Rapids | YMCA Kiosk Campaign |
| MilkMoney | FENTY | RIHANNA FENTY MIRROR WALL |
| Garrison Hughes | Heinz History Center Vietnam Exhibition | Napalm |
| Grand Visual | Amazon Prime Video Good Omens | The end of the world |
| Grand Visual | JetBlue Card | Fly Faster – Escape the Cape |
| Hearts & Science + Experiential Supply Co. | Warner Bros. IT Chapter 2 | The Derry Canal Days Festival & Funhouse |
| Hearts & Science / HBO | HBO Watchmen | Countdown to Watchmen |
| Honey | Honey | Honey Feels Like |
| Hydrogen Advertising | The Polyclinic | Pick Your Nose Doctor |
| In the Company of Huskies | Smurfit Kappa Group | Better Planet Packaging |
| In the Company of Huskies | The Society of Saint Vincent de Paul | Some Things Shouldn't be a Family Tradition |
| In-House Creative | Universal Pictures CATS | CATS Launch Campaign |
| Isobar (Dentsu Aegis), Posterscope | Budweiser | Impact |
| Kenneth Cole Productions | Kenneth Cole | The TECHNI-COLE Bus |
| Kolle Rebbe GmbH, Headdraft, Colossal Media | Lufthansa | Life Changing Places |
| Lamar Advertising Company | Lamar Advertising Company | Gloria Vanderbilt – Swan tribute |
| Lamar Advertising Company | Lamar Advertising Company | Mayhew Tribute |
| Lamar Advertising Company | Lamar Advertising Company | National Suicide Prevention Awareness Month |
| Lamar Advertising Company | Bojangles | Picnic Bears |
| Lamar Advertising Company | Sun Drop | Sun Drop Summer |
| LaneTerralever | Valley Toyota Dealers | Mud Drip |
| LGA | Bojangles' Famous Chicken & Biscuits | All-Star Biscuit Makers |
| Madwell | Visible | Unlimited Massages |
| Midnight Oil | Sony TriStar Pictures A Beautiful Day In The Neighborhood | Trolley Wrap |
| Midnight Oil | Freeform Grown-ish | Grown-ish Season 3 OOH Board |
| Midnight Oil | STX Films UglyDolls | UglyDolls– Painted Bus Bench |
| New York Road Runners / Colossal Media | TCS New York City Marathon | New York City Marathon Mural |
| Observatory, EXVERUS, NPRP Media | MasterClass | ANNA, ANNA, EVERYWHERE |
| OUTFRONT Studios | The Big Ketch | #ketchyjokes |
| OUTFRONT Studios | Midway Dispensary | Brand Campaign |
| OUTFRONT Studios | Dunkin' Donuts | Dunkin' Donuts directional |
| OUTFRONT Studios | Earth Day Network | Earth Day 2019 |
| OUTFRONT Studios | Wild Florida | Giraffe's Suck at Hide and Seek |
| OUTFRONT Studios | Kansas City Zoo | Go Wild |
| OUTFRONT Studios | Skeeter Products Inc. | It's Only Your Spot If You Get There First. |
| OUTFRONT Studios | Kruter Motors | Kruter |
| OUTFRONT Studios | Tarka Indian Kitchen | Naan Stop? |
| OUTFRONT Studios | Nalley Ford | Nalley Ford |
| OUTFRONT Studios | Autoliv | Our Job Is to Save Lives |
| OUTFRONT Studios | Prestige Exotics | Rent a Lambo |
| OUTFRONT Studios | Chattahoochee Plastic Surgery | Sweetest Peaches |
| OUTFRONT Studios | Traverse City | Traverse City Summer – Beach Ball |
| Overall Murals | E! Network | E! Front 5 |
| Overall Murals | Project Sunshine | Celebrating 20 Years |
| Overall Murals | Charlotte's Webb | Trust the Earth |
| Overall Murals | Instagram | Untold Pride |
| PPK | The Florida Aquarium | Father's Day Tool Fish |
| PPK | The Florida Aquarium | Spring Butterflyfish Campaign |
| Public Office | Starbucks | CF Toronto Eaton Centre Tree Lighting Event |
| R/GA | Amazon Prime Video | Jack Ryan |
| Rapport | JetBlue Card | Fly Faster – Escape the Cape |
| Rock Orange | Zoo Miami | Dinosaurs Live! |
| Serve Marketing | Lacey's Hope Project | Sex Trafficking is Here |
| StreetMedia Group | Pueblo Department of Public Health & Environment | Not as Easy to Get Out |
| The Buntin Group | Nashville Soccer Club | Nashville SC Dual-Board |
| The Buntin Group | Nashville Soccer Club | Nashville SC Guerrilla Marketing |
| The Buntin Group | Stillhouse Spirits | Stillhouse Spirits Word Cans |
| The Johnson Group | West Tennessee Healthcare | Big Baby Campaign |
| Translation LLC | AT&T | Codes of Culture |
| Uber, Geosophy | Uber | Sea-Tac |
| Vector Creative | Vector Media | Spring Looking Glass |
| VICELAND | VICELAND | SXSW Skateland |
| VICELAND | VICELAND | The Hunt for the Trump Tapes Bus |
| VICELAND | VICELAND | VICE LIVE |
| Zulu Alpha Kilo | KitchenAid Small Appliances | Mix 'N' Match |
[/vc_column_text][/vc_column][/vc_row]