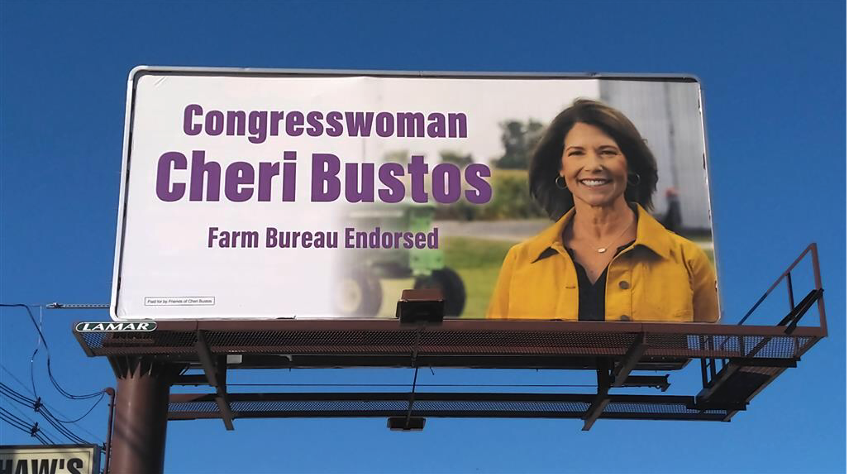 A clear winner in the 2020 election is out of home media.
Political customers bought more out of home ads than ever
Out of home displays were employed in sophisticated ad strategies to reach and motivate mobile voters
The record-setting election showcased a multitude of out of home formats
Kantar media tracking says the political-ad category was up 35 percent for out of home media for the first nine months of 2020 compared to the same period in 2016 (the previous presidential election).
Out of home media appeals to political advertisers' interest in widespread messaging, branding, publicity, and nimble change of copy on digital formats.
Nationwide, local supporters of President Trump and Joe Biden "spoke" on billboards and other out of home ad formats, like this pro-Trump billboard operated by DDI Media based in St. Louis, MO.
Biden for President bought billboards in contested states to reach rural voters.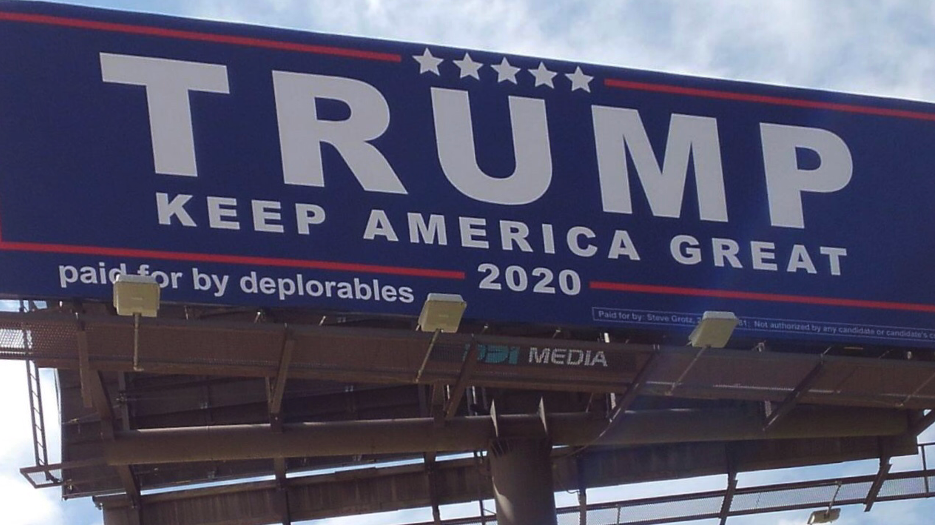 The Democratic National Committee (DNC) bought more than $5 million in out of home ads in battleground states to "get out the vote," encouraging early voting. Millions voted early in battleground states, according to Michael McDonald of the US Election Project at University of Florida.
Targeted Reach
In Illinois, Congresswoman Cheri Bustos (D-IL) put up billboards throughout her sprawling district to tout the Farm Bureau's endorsement of her re-election in a tight race. This swing district is comprised ofsmall towns and farms producing corn, soybeans, pork, dairy, beef, and poultry; it went for President Obama in 2012, Donald Trump in 2016.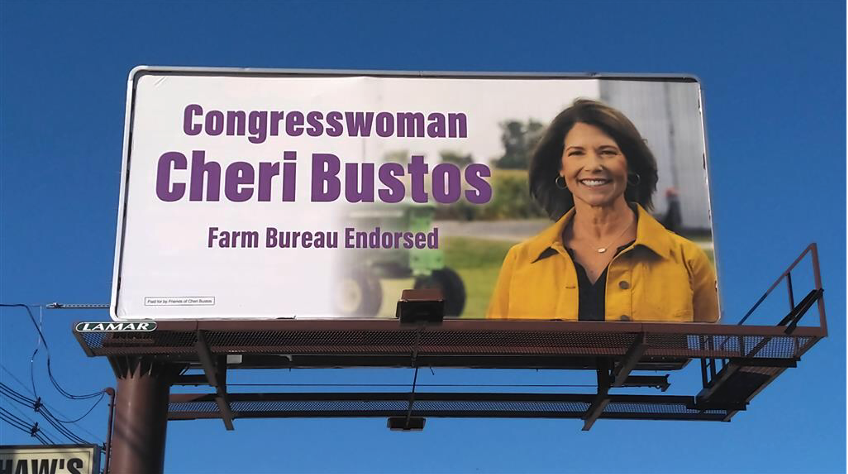 On November 3, Bustos won a competitive race by a margin of 52-48 percent.
In Nevada, Congressman Mark Amodei (R-NV) advertised on digital billboards in Reno and Carson City, winning a fifth term. Digital billboards look sharp and modern, says Amodei, noting that the pre-election airwaves can be crowded with political ads, many of them "negative."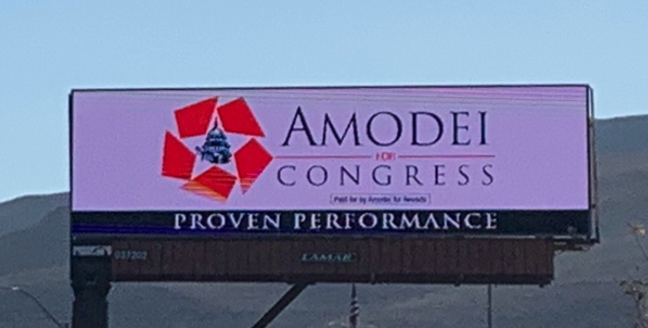 In metro Atlanta, Congressman David Scott (D-GA) won his 2020 primary using billboards to reach commuters.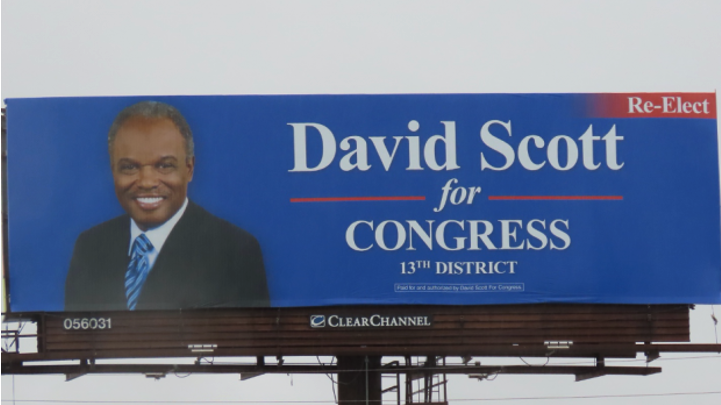 OOH Formats
Political ads showcased politicians' intense desire to connect with voters outside their homes using varied formats in out of home media: aerials, beauty shops, billboards, bus shelters, buses, coffee sleeves, college campuses, gas pumps, posters, truck-sides, sidewalk stencils, smoke shops, and more.
As the 2020 election season closed, light projected ads appeared on college campuses in battleground states, colorful large-format reminders that many young people did not vote in 2016.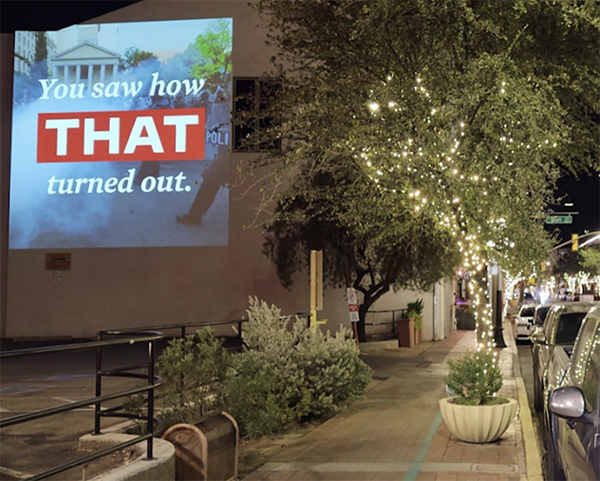 At thousands of locations in battleground states, coffee sleeves put political messages into
the hands of voters, says Don Winter of Encompass Media Group based in Long Island City, NY. Posters in English and Spanish were displayed in buildings, lobbies, and shops.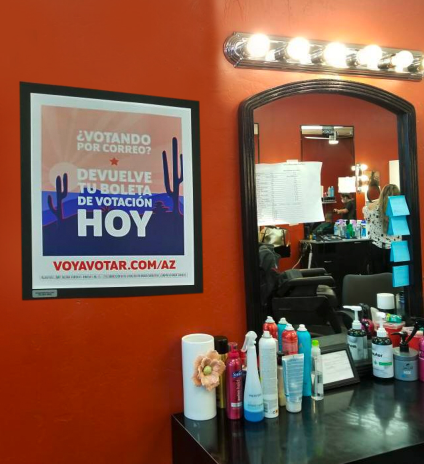 Beauty shop in Arizona

The momentum for OOH with the political category in 2020 will help push continued growth during election cycles in the future. Another reason to be confident in our medium moving forward.
(Steve Richards is a partner of Mile High Outdoor and Pacific Outdoor Advertising Chair of the OAAA Legislative Committee)