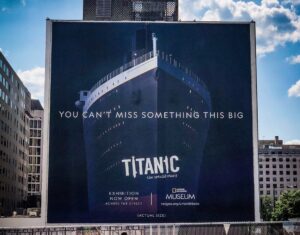 OAAA has revealed 134 finalists for the 2019 OBIE Awards. Now in its 77th year, the OBIE Awards program is the oldest and one of the most prestigious shows in advertising, awarding creative excellence in the out of home (OOH) advertising medium.
Bronze, Silver, and Gold OBIE Awards, as well as four Craft Awards, will be presented to those selected amongst this year's 134 finalists. One Gold OBIE Award winner will receive the Platinum OBIE Award, the highest honor of the year. Campaigns were chosen from 18 different categories, including advertiser product, digital design, engagement, and customization.
"OOH has always been known as one of the most exciting and challenging advertising mediums for design and creativity," said OAAA's Chief Marketing Officer Stephen Freitas. "For many creatives, winning an award for OOH design is a true career milestone, and we're excited to honor those deserving of a coveted OBIE Award."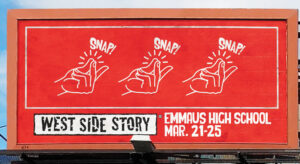 Campaigns nominated this year showcased the value of simple OOH creative. Local and national advertisers took care in designing clean, effective OOH messaging and imagery to tell a brand's story. In Washington, DC, National Geographic used a wall the same size as the fated ship to promote its newest series Titanic: The Untold Story. In Emmaus, PA, the high school theater needed only three snaps to entice the town to attend its rendition of West Side Story.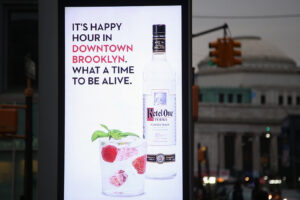 Many finalists highlight the effectiveness of customized, contextualized messaging. Ketel One used digital OOH to target New Yorkers by borough with timely messages about Happy Hour and weekends. The St. Louis Bread Company used a printed billboard right next to exit 4 on I-170 to encourage drivers to skip exit 4 and order delivery.
OBIE Chief Judge Andy Bird, chief creative officer at Publicis New York, said, "The standard of OOH work we judged was so high. These finalists deserve to be honored for creativity in OOH that rose to the top."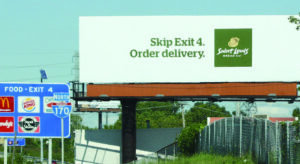 The 2019 winners will be announced at the OBIE Awards Show on Tuesday, May 21. The event will be held as part of the OAAA\Geopath OOH Media Conference + Expo at the Aria Resort in Las Vegas, NV.
Here is the full list of finalists:
| | | |
| --- | --- | --- |
| AGENCY/SUBMITTER | BRAND | TITLE OF WORK |
| 1xrun // Brooklyn Outdoor | Murals in the Market | Murals in the Market 2019 |
| Abbott Mead Vickers BBDO | Dewar's | Take a Trip to Dewar's Distillery |
| ABV Agency | Greg Mike | LOUDMOUF SAYS |
| Adams+Fairway | Emmaus High School | West Side Story |
| Adams+Fairway | Adams+Fairway | Meanwhile… |
| Adams+Fairway | The Wurst Bar | We're The Wurst |
| Adams+Fairway+Goodtype | Adams+Fairway+Goodtype | Adams+Fairway+Goodtype |
| Adams Outdoor Advertising | Whack'em and Stack'em | Chainsaw |
| Adams Outdoor Advertising | First Class Painting | Colors of Charleston |
| Adams Outdoor Advertising | Kalamazoo Public Schools | Free College |
| Adams Outdoor Advertising | Primary Doctors | Medical Scare |
| Adams Outdoor Advertising | Comfort Generation | Upgrade today. |
| Adams Outdoor Advertising | Prairieland Feeds Pet Supply Store | Vote For Me |
| Adams Outdoor Advertising | West Michigan Honda Dealers | West Michigan |
| AMC | The Walking Dead | AMC's The Walking Dead Invades New York Comic Con |
| Anomaly | Diageo | Crown Royal NFL Partnership |
| | | |
| Arsonal | truTV | Bobcat Goldthwait Misfits & Monsters |
| Betches Media LLC | Betches Media, LLC | Betches Election Day Bus |
| Billups | Blue Apron | Blue Apron Weekday Campaign |
| Billups | Lyft | Drop the L |
| Billups | Jordan | Jordan All Star 2018 |
| Billups | Jordan | Jordan Maya Moore |
| Billups | Postmates | We Get It |
| Billups | Sierra Nevada | Sierra Nevada Phoenix |
| Boelter + Lincoln | Wisconsin Dells Visitor & Convention Bureau | Fun Takes Over |
| BPG | Spectrum News 1 SoCal | Network Launch |
| Brooks Brothers In-House | Brooks Brothers | Brooks Brothers Supima® Campaign |
| Brunner | Atlanta Fire Rescue Foundation | Pride Week Extinguishers |
| Clear Channel Outdoor | Public service | A league of her own |
| Clear Channel Outdoor | K-BACH | Bach ON! |
| Clear Channel Outdoor | Celebrity Smiles | Hiding Your Teeth? |
| Clear Channel Outdoor | Pest Control | The Centipede |
| Clear Channel Outdoor | Audi | Soon |
| CMD | Dairy Farmers of Washington | Keep it Real, Keep it Washington |
| Coastal Outdoor Advertising | PSA | E-A-R-N-E-D |
| Colle McVoy | Visit Jackson Hole | Stay Wild VRnoculars |
| Colossal Media | Peapod | Peas of Art |
| Copacino+Fujikado | Intrinsic | Intrinsic Wallscape |
| Cossette | McDonald's of Canada | Follow the Arches |
| Cramer-Krasselt | Pacifico | Live Life Anchors Up (Extension) |
| Crowley Webb | Eat Smart Western New York | Eat Smart Western New York |
| DASH TWO | The Beatles | Beatles D&N White Album |
| Driven Studio | Cabot Cheese | Come Shred Vermont |
| Duncan Channon | California Tobacco Control Program | Flavors Hook Kids |
| Dunn Co. | Tampa Bay Lightning | Lightning Strike |
| Dunn&Co. | Crisis Center of Tampa Bay | Stitches of Duty |
| Extra Credit Projects | PSA | Aretha Franklin Tribute |
| Extra Credit Projects | PSA | George H.W. Bush Tribute |
| Extra Credit Projects | PSA | Stephan Hawking Tribute |
| Extra Credit Projects | OAAA | Three Billboards Award Season |
| Extra Credit Projects | PSA | Veterans Day Tribute |
| Extra Credit Projects | Will Rogers Motion Pictures Pioneers Foundation | Will Rogers Cinemacon Lightboxes |
| Fortnight Collective | Health-Ade Kombucha | Real Real. |
| Fortnight Collective | Upslope Brewing Company | Welcome to Can Country |
| Garrison Hughes | American Spirits: The Rise and Fall of Prohibition | Intoxicating |
| Garrison Hughes | American Spirits: The Rise and Fall of Prohibition. | Shook and Stirred |
| Groove Jones | The Dallas Mavericks | Slam Dunk with Augmented Reality |
| GTB Agency, LLC | Ford Mustang | Ford Mustang Hand Paint |
| Hart | Ohio Farm Bureau | Grow Membership |
| Hub San Francisco | Silver Peak Systems | '80s Boom Box |
| Humanaut, Exverus & NPRP Media | Suja Juice | Suja Living Media |
| In the Company of Huskies | Epic- The Irish Emigration Museum | THE FIRST THING TO DO WHEN YOU ARRIVE. FIND OUT WHY THEY LEFT. |
| Kinetic Worldwide | Miller Lite | Miller Lite Summer 2018 |
| Kinetic Worldwide | The Grinch | The Grinch |
| Kre8 Media Outdoor | Vegas Golden Knights | Through the glass |
| Lamar Advertising Company | Flying Heart Brewing & Pub | Craft Beer & Pizza |
| Lamar Advertising Company | PSA | Farewell, First Lady (Barbara Bush) |
| Lamar Advertising Company | PSA | Horns Down |
| Lamar Advertising Company | PSA | Robert Indiana Tribute |
| Lane|Terralever | Phoenix Zoo | Bug Shadows |
| Liberty Science Center | Jennifer Chalsty Planetarium | Black Holes! |
| LRXD | Friday Health Plans | "That Friday Feeling" |
| Marvel Studios, Walt Disney Studios Motion Pictures | Marvel Studios | Avengers: Infinity War |
| Mekanism | Method Products, PBC | Method Products, PBC |
| MMGY Global | TravelSouthDakota.com | Monumental Experience in Chicago's Millennium Park |
| National Geographic Society | National Geographic | Titanic, The Untold Story |
| Outdoor Nation, Anomaly NYC | St. Louis Bread Company | Skip Exit 4, order delivery |
| OUTFRONT Studios | PSA | Stan Lee Tribute Digital |
| OUTFRONT Studios | OUTFRONT Media | 100% of Boring Ads Don't Matter |
| OUTFRONT Studios | Florida's Space Coast | 30 Foot Rocket |
| OUTFRONT Studios | PSA | California Love |
| OUTFRONT Studios | Dunkin' Donuts | Dunkin' Donuts, 2018 |
| OUTFRONT Studios | Dunkin' Donuts | Lovestruck |
| OUTFRONT Studios | Dunkin' Donuts | XOXO |
| OUTFRONT Studios | Flying Biscuit | Let Your Biscuits Fly |
| OUTFRONT STUDIOS | Meals on Wheels, Orlando | Meals on Wheels, Orlando |
| OUTFRONT Studios | Jerome's Furniture | No Töøls Required |
| OUTFRONT Studios | PSA | Stephen Hawking |
| OUTFRONT Studios | MD Now | Your Neighborhood Healthcare Clinic |
| PER HØJ | World Chess Championships | Chess Live! |
| Periscope | Project Peace Paper | Peace |
| PHD/Outdoor Media Alliance | Google | Explore |
| Postermedia | Coca-Cola | #SeamosSanta (Let's be Santa Claus) |
| Posterscope USA | Jaguar E-PACE | #UNWRAPAJAGUAR |
| PPK | The Florida Aquarium | Holiday Fish Flakes |
| PPK | Big Cat Rescue | Smiling Tiger |
| Prime Weber Shandwick | The Out of Home Project | The Out of Home Project |
| Publicis | OAAA | Get Out of Home |
| Rapport WW | Spider-Man: Into the Spider-Verse | Times Square Augmented Reality Experience |
| RETHINK | Battered Women's Support Services | This is No Ordinary Door |
| Ruder Finn | Bayer | Growing Walls Billboard Campaign |
| Saatchi & Saatchi X, Burrell, Studio B | Pantene Gold Series | #BLACKGIRLSDO |
| Skurnik Wines in-house Design Department | The Pinot Project | The Pinot Project: Summer in a Bottle |
| SoulCycle | SoulCycle | All Souls Welcome |
| Spotify | Spotify | David Bowie "Subway Takeover" |
| Stash | Stash Retire | Retire Like a Baddie |
| Sukle Advertising & Design | Great Outdoors Colorado | Generation Wild: What They See |
| TEDxPortland & Enjoy The Weather | TEDxPortland | Year 9 Event – theme: Br / dges |
| The Gathery | High Maintenance | Smoking Joint Steam Vents |
| TWA | Miller Lite | Miller Lite Dragon |
| Twentieth Century Fox | Deadpool 2 | Deadpool 2 |
| Twitter | DIVE Networks | Fantastic Beasts: The Crimes of Grindelwald & Twitter | WB & Twitter are "Fantastic" in Times Square |
| VICELAND | VICELAND | VICELAND: The Pride Ride |
| VICELAND | VICELAND | WEED WEEK: A Double Decker Now With More Weed |
| VICELAND | VICELAND | WEED WEEK: Border Billboards |
| VICELAND | VICELAND | WEED WEEK: Now With More Weed |
| VICELAND | VICELAND | WEED WEEK: Smoking with Jeff Sessions |
| Walt Disney Studios Creative Marketing | Walt Disney Studios Motion Pictures | Mary Poppins Returns |
| Walt Disney Studios Creative Marketing, Soapbox Films | Walt Disney Animation Studios | Ralph Breaks the Internet – Contextual Airport Campaign |
| Wieden + Kennedy New York | Delta Air Lines | Delta SweatLag |
| Wieden + Kennedy New York | OkCupid | OkCupid: DTF |
| Wieden + Kennedy New York | Tinder | Single, Not Sorry |
| Wieden + Kennedy Portland | Travel Oregon | Only Slightly Exaggerated |
| Williams Lea Tag | Ketel One | Hyper-Local, Data-Driven DOOH |
| WONGDOODY | FLOWFUSHI | +1 °C SWIRL Launch |
| Work in Progress and Arsonal | truTV | Adam Ruins Everything |
| Zulu Alpha Kilo | Coalition for Gun Control | Encased City |
| Zulu Alpha Kilo | Tim Hortons | Ho Ho Ho |
| Zulu Alpha Kilo | CAMH | Mental Health is Health |
| Zulu Alpha Kilo | Consonant Skincare | Reskinning Queen Street West |
| Zulu Alpha Kilo | DesignThinkers | Speak the Truth |
| Zulu Alpha Kilo | Coalition for Gun Control | Trigger Change |
| Zulu Alpha Kilo | Coalition for Gun Control | Trigger Change: Bullet Point |