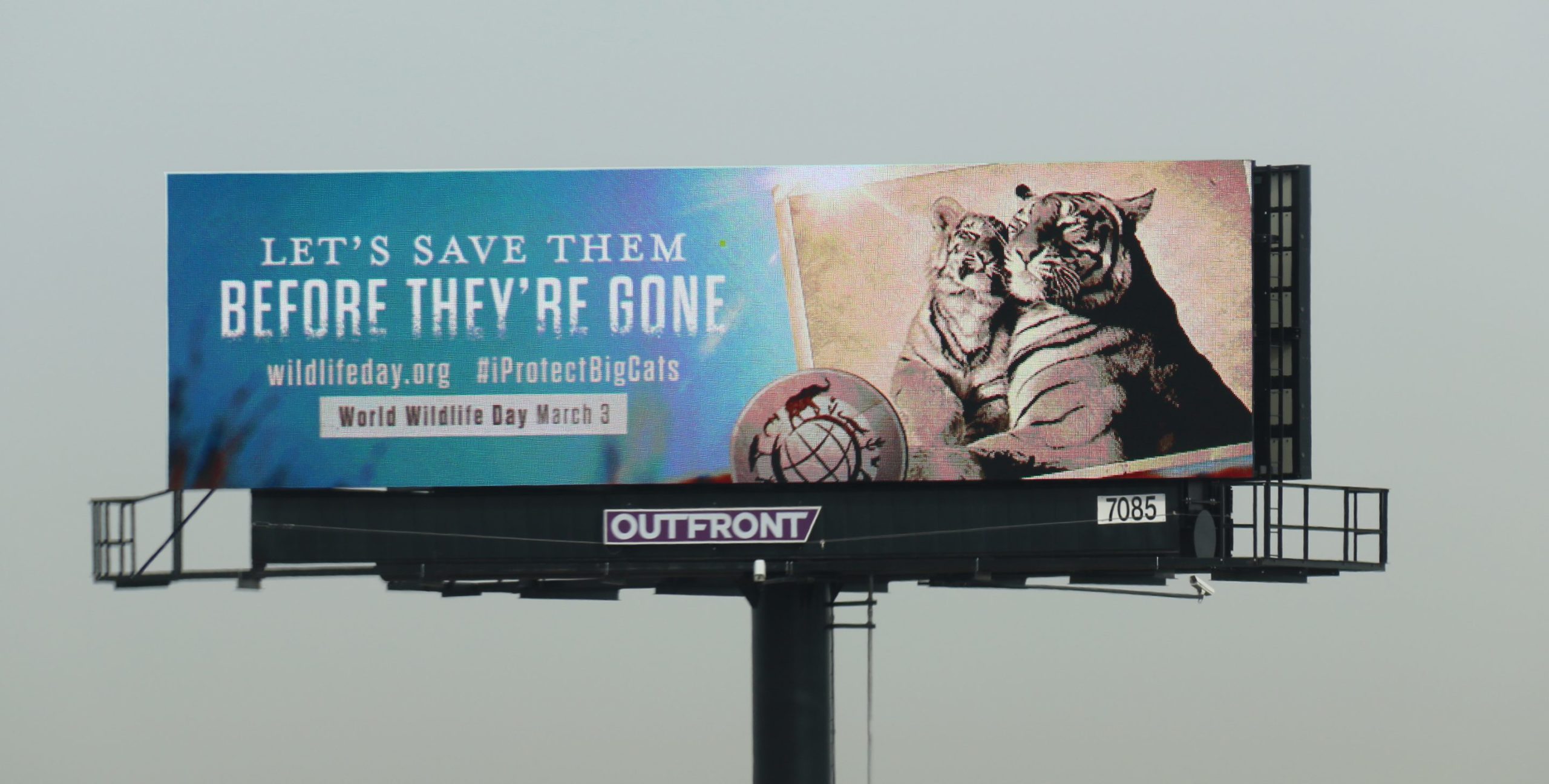 In 2018, OAAA launched new public service efforts, forged lasting relationships, and continued to support long-time partners that get out of home, facilitating the industry's donation of more than $500 million in media space.
Serving & Uniting Communities
OAAA worked with members to honor Team USA medalists in the 2018 Winter Olympics, posting congratulatory messages to digital billboards in athletes' hometowns. Photos were provided to elected officials, who used their social media channels to promote the effort to local constituents.
OAAA worked with the Ad Council to launch a "Child Passenger Safety" campaign road block. More than $135,000 in OOH assets were sold out in eight days.
The OOH industry worked with the United Nations to support World Wildlife Day (March 3) with billboard creative to honor the UN's 2018 theme "Big Cats."
This is so cool! #WorldWildlifeDay promoted on digital billboard at Times Square in New York thanks to @YourOAAA.#BigCats #PredatorsUnderThreat #WWD2018 pic.twitter.com/sQ3vkR3cWh

— World Wildlife Day (@WildlifeDay) March 7, 2018
It is incredibly encouraging to watch a business association also make a commitment to our planet.

Rep. Don Beyer (D-VA)
In partnership with the National Geographic Society, OAAA helped to launch a global Photo Ark OOH campaign on Endangered Species Day. Digital OOH assets in 22 countries featured Photo Ark creative for a week, reaching more than 100 million people.
Supporting Law Enforcement & Government
In August, OAAA worked with the National Center for Missing & Exploited Children (NCMEC) to post missing child posters on digital billboards in Ohio one year to the day Jacob Caldwell was last seen. The child was located days later, and law enforcement credited the billboards to his safe recovery. NCMEC produced a video to highlight the effort, which was shared across multiple social media channels and has received more than 240,000 views.
Jacob had been #MISSING for more than a year after witnessing his father shot to death.
Last week, @MissingKids' longtime partners at @YourOAAA donated space & put his information up on billboards in Dayton, #Ohio. It worked! pic.twitter.com/7RKFMX0W8S

— NCMEC (@MissingKids) August 28, 2018
Thank you for working with us to quickly get billboards live. We seriously went from no leads to a recovery in a week. Thank you for helping to make his safe recovery possible.

Meagan Clark
National Center for Missing & Exploited Children
OAAA worked with the Federal Emergency Management Agency (FEMA) to post emergency preparedness messaging and alerts to digital billboards in areas believed to be in the path of Hurricanes Florence and Michael. Hurricane recovery support creative from FEMA and the American Red Cross was featured on digital billboards following both hurricanes.
Read the OAAA 2018 Annual Report
Post Published January 18, 2019