OAAA defended the industry's interests in court, assisted members with local regulatory issues, and represented the industry on Capitol Hill to ensure members of Congress get out of home.
Upholding Laws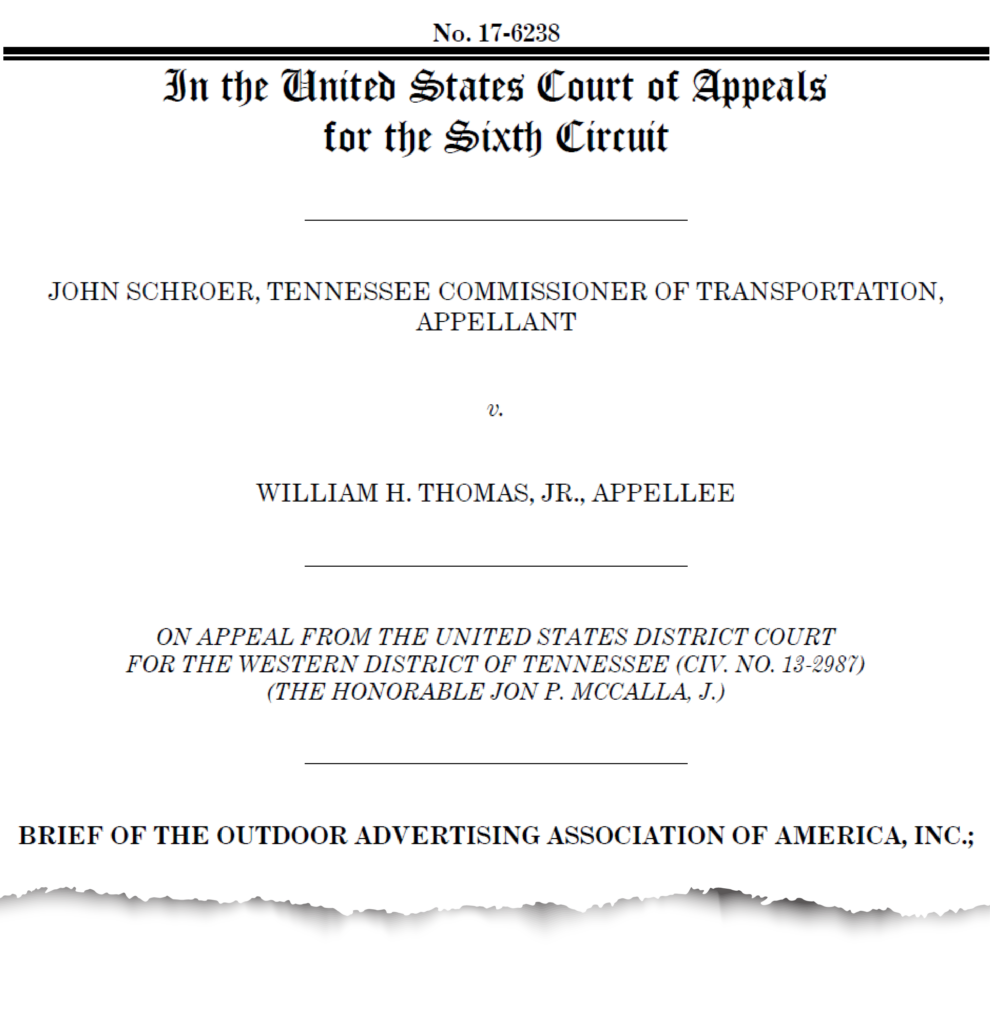 For the first time in more than half a century since Congress enacted the Highway Beautification Act, courts are considering the constitutionality of the billboard regulatory scheme.
The OOH industry argues that existing billboard regulations and the First Amendment guarantee of free speech can co-exist. In February, OAAA filed a brief to a federal appeals court supporting the State of Tennessee's defense of its billboard-control law. Likewise, the federal transportation agency is supporting the state's position.
The US Sixth Circuit Court of Appeals is scheduled to hear arguments in this case January 30, 2019; further appeal to the US Supreme Court is possible. The plaintiff, William Thomas of Tennessee, asserts that billboard law is improperly based on content because of the distinction between regulation of on-premise and off-premise signs.
In part, the plaintiff's case relies on a 2015 Supreme Court ruling in Reed v. Town of Gilbert, AZ, which struck down a local ordinance because it treated various temporary signs differently. However, in that ruling, Justice Samuel Alito said the on-premise/off-premise distinction did not violate free speech.
Fighting Targeted Taxation
At the local level, courts considered legal challenges against targeted billboard taxes. Court of Common Pleas Judge Curt C. Hartman issued a permanent injunction to block Cincinnati's billboard tax, citing concerns that the tax would burden speech protected by the First Amendment. The city has indicated its intention to appeal.
Cincinnati imposed a billboard tax and higher fees, effective July 1, as part of an emergency measure to balance its budget. Norton Outdoor Advertising and Lamar Advertising Company challenged the tax and higher fees on constitutional grounds, prompting six days of testimony in September.
On October 10, Cincinnati's City Council voted unanimously to repeal the higher fees. A week later, Judge Hartman granted a temporary injunction against the billboard tax. He converted the temporary injunction to permanent on November 9, also criticizing the legal reasoning used by courts in Maryland to uphold Baltimore's billboard tax.
Clear Channel Outdoor is challenging Baltimore's tax, imposed in 2013. In Baltimore and Cincinnati, counsel for the cities argued that billboards are economic activity that does not convey protected speech. Judge Hartman, in Cincinnati, said that claim has been "clearly repudiated by well-established case law."
Following Transit
In July, the federal appeals court for the District of Columbia upheld transit limits on advertising content (Archdiocese of Washington v. Washington Metropolitan Area Transit Authority). Transit systems typically claim that their ad spaces are not public forums, and seek to limit controversial copy.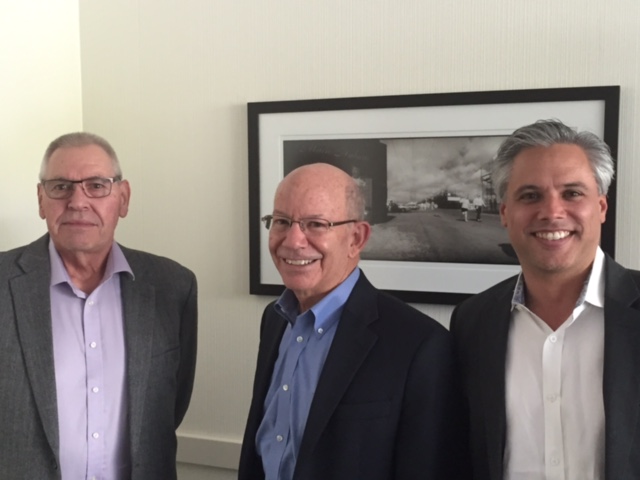 Engaging Congress
After Democrats won control of the US House in the November 6 mid-term election, Rep. Peter DeFazio (D-OR) will be the next chairman of the House Transportation & Infrastructure Committee.
DeFazio's re-election campaigns have used billboards. The top Republican on the transportation committee is Rep. Sam Graves (R-MO), a longtime ally.
In the passing of an era, central Pennsylvania will not be represented in Congress by a member of the Shuster family for the first time in 46 years. Rep. Bill Shuster (R-PA) is immediate past chairman of the transportation committee. He was term-limited as chairman, and did not seek re-election in 2018. Bill Shuster was elected to Congress in 2001, filling a vacancy created when his father Bud Shuster left Congress; Bud also chaired that committee.
As the year ended, Congress began work on re-authorizing a new Highway Bill; the current five-year bill expires September 30, 2020.
Following Vegetation Control
In March, President Trump signed a multi-agency spending bill (2,232 pages) that included a public-policy rationale for vegetation control on public lands: safety, fire prevention, and protection of electric-power lines.
Utilities sought the vegetation-control legislation, intended to allow pruning or removal of vegetation to avoid disruption of electric service and reduce fire hazards.
Spotlighting Law Enforcement Support
In April, the FBI presented a director's award to Clear Channel's Las Vegas office for assisting law enforcement after the mass shooting on October 1, 2017, and the on-going fight against human trafficking.
US Senator Catherine Cortez Masto (D-NV) published a tribute in the Congressional Record on April 18, praising the community's efforts to come together after the tragedy.
Guiding on Privacy
OAAA Counsel Eric Rubin, working with industry counsel and privacy experts, recommended new guidance on privacy, which was accepted by the OAAA Board of Directors in November. The new principles express the industry's support for transparency, compliance with law, individual control of data, and protection of personal information.
Supporting State & Local Issues
Nationwide, OAAA assisted 19 state associations (Arkansas, California, Connecticut, Florida, Georgia, Illinois, Indiana, Kentucky, New York, North Carolina, New Jersey, Ohio, Oregon, Pennsylvania, South Carolina, Tennessee, Texas, Virginia, and Wisconsin).
OAAA provided expert testimony regarding the importance of billboards as "speech" at a tax hearing in Cincinnati, OH; the judge issued a permanent injunction against a targeted billboard tax. Additionally, OAAA explained the Thomas v. Schroer case to members and impact of the 2015 Supreme Court decision in Reed v. Town of Gilbert.
OAAA and member companies monitored the Transportation Research Board (TRB) sessions as well as the American Association of State Highway Transportation Officials AASHTO conference in Baltimore, MD.
Serving Members
OAAA fulfilled approximately 350 requests for legislative/regulatory information and research. Local managers from around the country say these resources helped avert problems and also strengthen protections.
OAAA's biennial Legal Seminar attracted approximately 100 practitioners and advocates to New York City on November 14. Additionally, OAAA Counsel Eric Rubin authored six Legal Reports for members in 2018.
Read the OAAA 2018 Annual Report