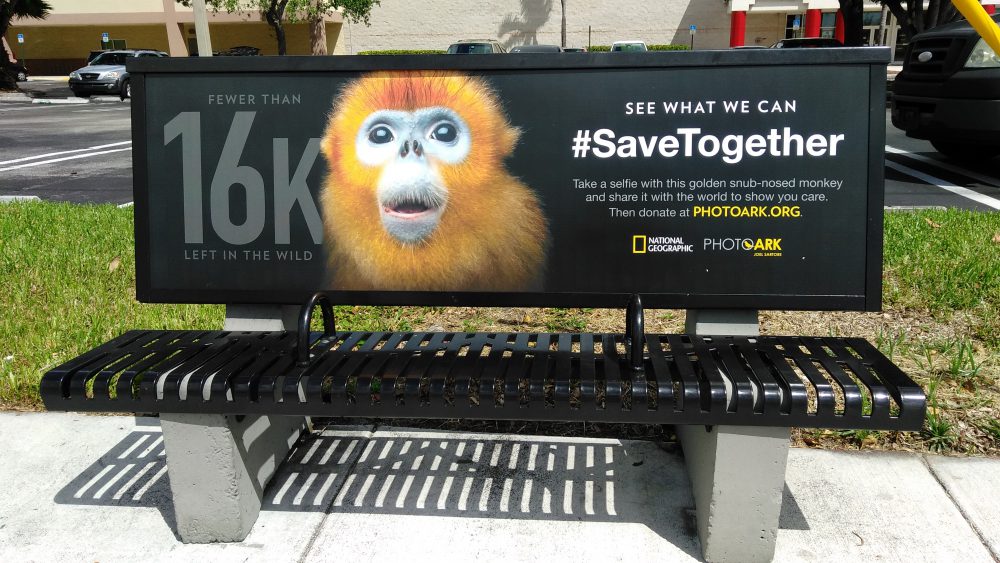 In 2017, OAAA was the voice of a united industry in serving and protecting communities, donating more than $500 million in media space.
Serving Communities
OAAA continues to support Ad Council campaigns and inform members when new OOH inventory is available. In April, OAAA worked with the Ad Council to launch an OOH roadblock to support NHTSA's Seat Belt Safety campaign. In three days, $100,000 worth of printed inventory was claimed by OOH media companies.
OAAA assisted long-time public service partner The Boys and Girls Clubs of America in honoring the group's Youths of the Year. Congratulatory messages were featured on digital billboards in the hometowns of regional and national winners.
On May 19, Endangered Species Day, OAAA and the National Geographic Society launched the Photo Ark #SaveTogether OOH public service campaign following two soft launches in combination with Photo Ark gallery exhibits at zoos in Omaha and Dallas. The official launch took place in Times Square with a one-hour digital takeover of several signs. National Geographic conducted a street-activation to engage Times Square revelers, and a reception with National Geographic stakeholders was held following the launch. The launch expanded beyond New York as a national digital OOH roadblock. The launch event alone generated 425,000 OOH media impressions as the campaign was viewed on more than 72,000 OOH displays. Website views increased that day from a standard 300 to 18,000 – the largest number ever recorded on the site.
https://www.instagram.com/p/BUSkjbtj0OV/?tagged=oaaa
The campaign rolled out across the US over the summer with printed inventory, concluding after Labor Day. The OOH campaign generated more than 4.3 billion OOH media impressions. Press coverage produced more than 3 million impressions.
An engaging component of the campaign invited people to take a selfie with one of the animal images featured in the OOH creative and then sharing it on social media using #SaveTogther. More than 10,000 direct mentions were posted using #SaveTogether, which reached more than 600 million users.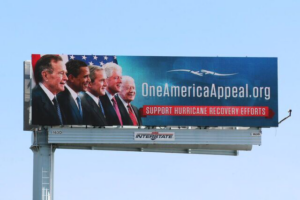 Following a summer of devastating hurricanes, OAAA worked with the Federal Emergency Management Agency (FEMA) and the Red Cross to quickly support relief efforts. The industry also supported the One America Appeal campaign, an effort in which all five living former presidents came together to help collect donations for those affected by hurricanes. Campaign creative was posted to digital OOH across the country.
Serving Law Enforcement
The FBI remains a strong industry partner of 10 years in its use of digital billboards to locate wanted criminals. Each time a new addition was added to the FBI's Top 10 Most Wanted list, the OOH industry supported the search with digital OOH. According to the FBI, digital OOH publicity is responsible for the apprehension of 57 fugitives in 10 years.
OAAA continues to transmit AMBER Alert activations provided by the National Center for Missing & Exploited Children (NCMEC) to digital billboards across the country. Since the program was implemented in June 2008, more than 1,700 AMBER Alerts have been posted to digital billboards in the US. OAAA was presented with a plaque from NCMEC to honor 10 years of partnership.