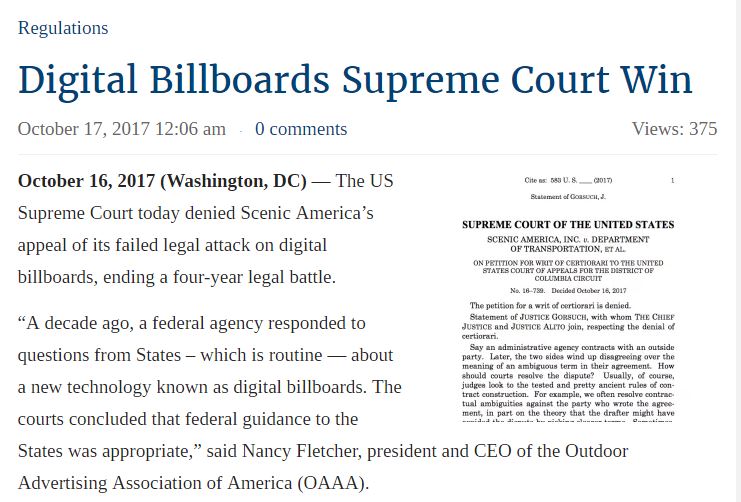 Legal Advocacy
On October 16, the US Supreme Court ended Scenic America's four-year legal attack on digital billboards by denying to hear Scenic's case, which had failed in lower courts.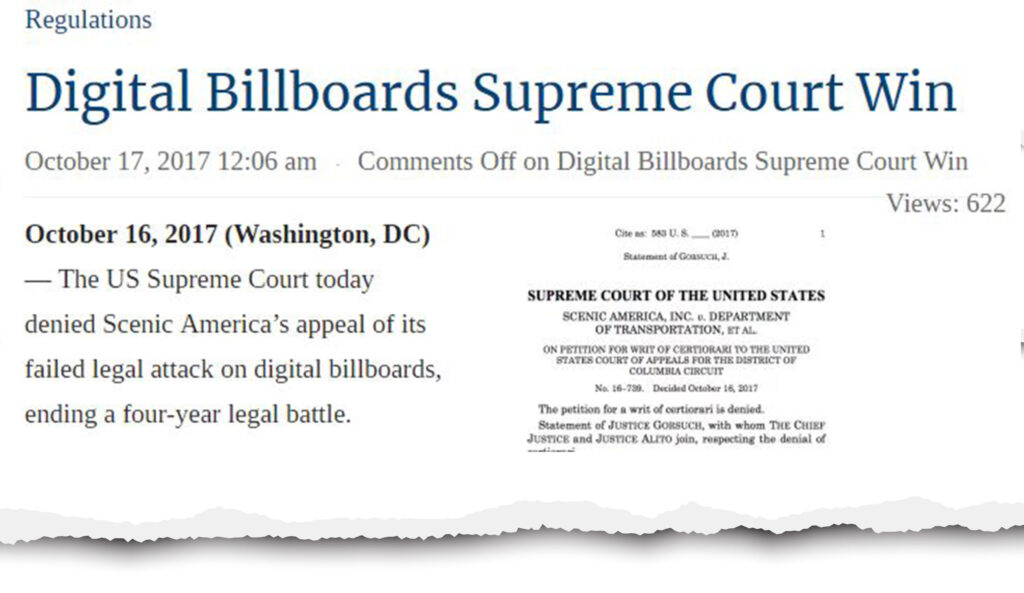 In 2013, the anti-billboard group sued the federal transportation agency which had provided guidance to the States in 2007 on how to regulate digital billboards. A federal judge dismissed the case; the dismissal was upheld on appeal. Scenic America petitioned the US Supreme Court to take the case. When the high court declined to take the case in 2017, the lawsuit ended.
OAAA had intervened on behalf of the industry, convening in-house counsel to help guide strategy and retaining experienced outside litigation counsel (Williams & Connolly). The trade association invested $1.3 million defending digital billboards.
Meanwhile, OAAA coordinated the industry's response to a 2015 Supreme Court ruling that prompted Tennessee and Texas to invalidate billboard controls. In Reed v. Town of Gilbert, AZ, the Supreme Court said regulation of signs should not be based on content.
Government regulators, scenic groups, and the OOH industry share interest in reasonable regulation, versus chaos and no regulation. As Tennessee prepares an appeal in federal court to defend its billboard controls, OAAA worked with counsel for the state. A core industry goal is to preserve property-rights protections for billboards in federal and state laws.
In California, a federal appeals court ruled against San Francisco's mandated warning labels on ads for sugary drinks, citing First Amendment concerns.
Federal Advocacy
In Texas, a united OOH industry opposed the state's proposal to sell corporate sponsorships of official traffic signs overhanging the highways. From US Department of Transportation (DOT) headquarters, its Federal Highway Administration (FHWA) rejected the proposal on June 7, citing federal law and regulations.
As leadership changed in Congress, OAAA managed transitions and educated newcomers to House and Senate committees with jurisdiction over OOH media.
Digital Partnerships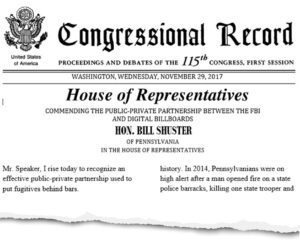 The FBI honored its 10-year partnership with OAAA to help law enforcement on behalf of public safety. FBI Assistant Director Stephen E. Richardson delivered an in-person thank-you to the OAAA Board of Directors on November 7. He said tips generated by FBI copy on donated digital billboards had directly resulted in apprehending 57 fugitives.
In the Congressional Record on November 29, Rep. Bill Shuster (R-PA) praised the FBI-OAAA partnership as an effective, no-cost, innovative means to empower the public on behalf of safety. Shuster is chairman of the US House Transportation & Infrastructure Committee.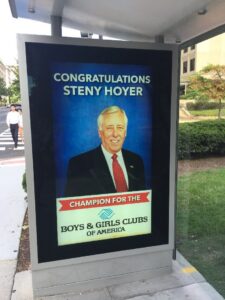 The speed and flexibility of digital technology also enables OAAA partners to communicate quickly with the public. In September, Boys & Girls Clubs of America honored Rep. Steny Hoyer (D-MD) for life-long dedication to the Clubs. Within hours, a congratulatory message appeared on digital bus shelters in Washington, DC, which was spotlighted in Capitol Hill publication Roll Call.
Assisting States and Local Communities
Nationwide, OAAA assisted 17 state associations (California, Florida, Illinois, Indiana, Missouri, Montana, New Jersey, New York, North Carolina, Ohio, Oregon, Pennsylvania, South Carolina, Tennessee, Texas, Virginia, and Wisconsin).
OAAA provided expert testimony on digital technology, customary maintenance, and billboard "speech" at a tax trial in Baltimore, MD. Throughout the year, OAAA explained the impact of the 2015 Supreme Court decision in Reed v. Town of Gilbert and provided specific assistance in Gulfport, MS; Grand Junction, CO; and Denver, CO.
In Montana, OAAA helped members and the FHWA defeat two adverse special exemption bills in the Legislature and assisted to overturn a DOT regulatory ban on bus shelter ads.
OAAA assisted members on vegetation control measures in Delaware, New Jersey, and Texas, and helped to obtain legislation in South Carolina to allow rebuilding of nonconforming billboards when signs are vandalized.
In May, OAAA and member companies presented to state regulators at the National Alliance of Highway Beautification Agencies (NAHBA) annual conference in Indianapolis, IN. Later that month, OAAA coordinated presentations by state outdoor advertising association leaders at the 2017 OAAA/Geopath National Convention + Expo in New Orleans, LA.
Serving Members
OAAA fulfilled more than 400 requests for legislative/regulatory information and research. Local managers from Pocatello, UT, to Gulfport, MS, say these resources helped avert problems and strengthen protections.
OAAA coordinated a webinar on billboard tax appraisal/valuation with the International Association of Assessing Officials (IAAO) featuring industry valuation and tax experts.
Member companies participated in a successful effort to preserve advertising deductibility as Congress approved tax reform in December.
As an industry advocate, OAAA publicly spotlighted members' accomplishments in environmental progress, global exports, emergency messaging, safety, and supporting transit.
Seven OAAA Legal Reports analyzed progress and challenges, while OAAA's legislative team hosted or co-hosted webinars on industry trends, structures, appraisal, workplace safety, and a four-part billboard education series.